Every product is carefully selected by our editors. If you buy from a link, we may earn a commission.
These Skincare Sets Make Treating Acne Easy
Rather than piecing together your own DIY recovery plan, pick a kit with the essentials included.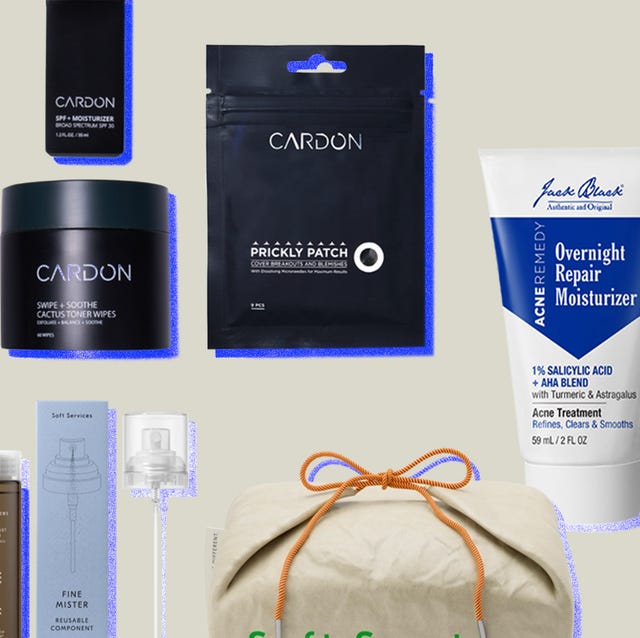 Addressing acne isn't an easy task, no matter how mild or extreme the breakouts may be. Unfortunately, some cases undoubtedly require medical-grade resolutions only a dermatologist can prescribe. But there's hope for those who only face pimples from time to time. On a broader scale, how we manage stress, what medications we take, what we eat, how much water we drink, what products we use and the environments we work and live in can cause changes in the skin's tone, oil and moisture levels and its ability to cleanse itself — of the bacteria that cause acne included.
Even the most minor adjustments — or irritants — can trigger a stubborn blackhead or whitehead, or a larger breakout. You're also more likely to worsen the issue, and lengthen the pimple's stay, if you try to pop them on your own. According to the American Academy of Dermatology (aka the AAD), "unwanted side effects are likely when you pop pimples at home."
"If you push some of the contents inside the pimple deeper into the skin, which often happens, you increase inflammation. This can lead to more-noticeable acne. Some people develop acne scars and pain. When you pop pimples yourself, you also run the risk of getting an infection from the bacteria on your hands," the association adds. To properly treat acne, they say "many people can clear their acne with treatment that they can buy online or at a drugstore," but that "treatment takes time to work. If you don't see results in 4 to 6 weeks, a dermatologist can help you clear your skin."
If the issue lingers longer the aforementioned timeline, it's smart to solicit advice from a professional. However, there are plenty of kits out there for folks who will likely see resolve within this window, because of the roughly 85-percent of individuals that experience acne at some point in their adult lives, under 20-percent need prescription-strength treatment plans.