Every product is carefully selected by our editors. If you buy from a link, we may earn a commission.
Are You Overlooking Your Eyebrows? Here's How to Take Care of Them
Are your eyebrows irritated? Itchy? Flaking? Falling out? Start here.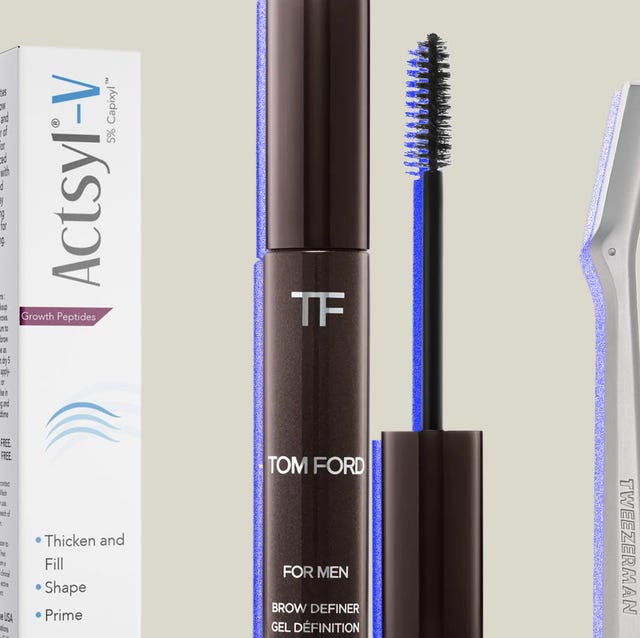 The same issues that plague the hair on top of your head can impact your facial hair, too — and that includes your eyebrows. Eyebrow... dandruff? It's really more common thank you'd think — 50-percent of the population has dandruff — and it can accelerate issues like thinning and complete hair loss. Dandruff causes itching, flakes and general redness and irritation, but what causes dandruff remains sort of up in the air.
"Dandruff occurs when the microbiome of their scalp becomes imbalanced," Anabel Kingsley, consultant trichologist at Philip Kingsley, says. "Yeasts naturally live on our scalps, and usually do not cause any problems. However, when a certain species of yeast called the Malassezia yeasts overgrow, this can cause skin cells to divide too rapidly – leading to tell-tale flakes and itching. Malassezia yeasts thrive in an oily environment, and so are likely to overgrow if you shampoo infrequently or have a naturally oily scalp."
How to Care for Your Eyebrows
Since the scalp is merely skin, oil overload and product deprivation can cause dandruff in the places covered by hair on your face, too. Face washes not designed to treat hair can also trigger an itch and frequent flakes. Harsh cleansers can strip the skin of its oil entirely — you don't want too much oil, but you also don't want too little — causing dry skin, or in the case of an actual reaction to the formula itself, contact dermatitis. (Seborrheic dermatitis is the medical term for dandruff — typically, though, seborrheic dermatitis is used to describe more intense bouts of it.)
Unfortunately, treating an eyebrow issue isn't as easy as applying a product intended for your hair and scalp. Sure, a moisturizing serum might solve the problem in the interim — especially if you're only dealing with dry skin — but flakes will inevitably fly again. (Sorry for the visual there.) When they do appear, exfoliating your way through it isn't the best option either — even if you feel like you've scratched off those few final flakes. "Over-exfoliating creates inflammation, which leads to dryness and flakiness, so more is not always better," Dr. Jessica Krant, an assistant clinical professor of dermatology at SUNY Downstate Medical Center in New York, says.
In order to probably care for your eyebrows, which I'd argue is the most overlooked step of a complete grooming routine, you need dedicated eyebrow products: a growth serum, conditioner, brow definer, eyebrow brush and facial razor. Shop them all below.
What You'll Need