Every product is carefully selected by our editors. If you buy from a link, we may earn a commission.
6 Nose Hair Trimmers to Complete Your Grooming Kit
Nose hairs: We all have them, but some grow faster (and longer) than others. Here's how to keep them in check.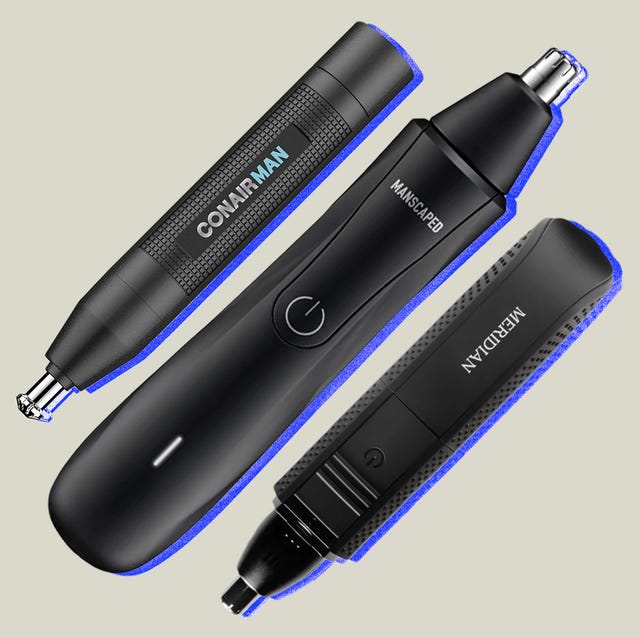 Nose hair, however annoying (and unsightly) it may be, plays an important role in our overall health. Collectively, they're the body's filter, tasked with preventing dust, pollen and other particles from reaching the lungs. And they really do work — but it depends on the density.
According to a study published by the International Archives of Allergy and Immunology, "The rate of asthma was 44.7, 26.2 and 16.7% in the few, moderate and many groups, respectively." The "few, moderate, many" references the amount of nose hairs the individual had, and the "many" group proved most protected against seasonal allergens (like pollen).
This doesn't mean that you should let your nose hairs grow, though, despite evidence suggesting they serve as effective protection against seasonal allergies. Nose hairs are a matter of personal, not medical, preference, so you should address them only as you see fit. However, there is a right way to do it.
Plucking vs. Trimming
While plucking is not permanent — if you pluck a hair it will probably grow back — there are more risks associated with this form of hair removal than trimming, for example. Plucked hairs leave vacant follicles, which can result in ingrown hairs or infection. It's best to trim despite the satisfaction some folks derive from forcefully plucking a few hairs. Just ask former NBA player Ira Newbie, who missed several games (and spent eight days in the hospital) because of an ingrown nose hair.
What to Look for
While a lot of body trimmers come with nose hair trimmer attachments, you're probably better off getting a dedicated tool. Why? Well, nose hairs grow fast — and up to six feet long in our lifetime — and you could be trimming as often as once every week. Sure, your multi-head body groomer could do the job, but these do-it-all designs are rarely the top of the line in any category — they're masters of none, if you will. It's better to get the best tool you can in every category, not one that barely does them all.
The Best Nose Trimmers for Men