Every product is carefully selected by our editors. If you buy from a link, we may earn a commission.
The Best White Sneakers for Warmer Weather
White sneakers are an annual signal nicer weather has arrived (or is at least on its way).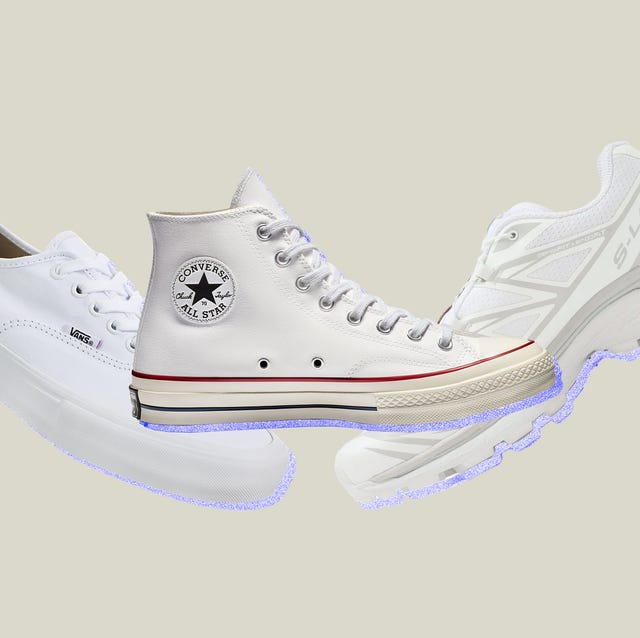 White sneakers are a classic spring and summer staple— and for good reason. The colorway is rooted in early 20th-century athletics, and over the years, the practical justification hasn't changed: white reflects the sun's rays, keeping your feet cooler than sneakers with darker uppers. Another major plus is their versatility — white sneakers go with most casual clothes, regardless of the color.
Why White? Won't They Get Ruined?
Sure, white sneakers are more susceptible to staining, but all sneakers deteroriate faster than boots or hard-bottomed dress shoes. It's a matter of construction, and while there are sneakers out there that are as durable as work boots — see: Feit's resoleable rubber runners — the sneakers you're probably buying have a short lifespan if you plan to wear them more than every once in a while (i.e. from two or three times a week to everyday).
White sneakers are supposed to get ruined — or, at the very least, show signs of regular wear. I'm not saying you should be wearing a pair of "cooked" Air Force Ones to work, but you shouldn't stress over scuffs, scrapes or discoloration. Stains — like food drippings, coffee droplets or bolded boot marks from when you stepped into someone else's path — should be treated as soon as possible though.
How to Clean Your White Sneakers
How you clean your white sneakers will depend on what they're made from. If they're leather, a magic eraser and leather cleaner will clear even stuck-on mud and other muck. If they're suede, there are tools designed specifically to treat suede — and always without water. If they're made from fabrics like canvas or mesh), they can be spot-treated and tossed in the washing machine (but ideally in a washable bag so they don't bounce around). Woolen sneakers, say ones from Allbirds, can be thrown in the wash too. But wool is a delicate fabric. It's best to check with the manufacturer to be sure they can withstand a wash cycle.
---