Every product is carefully selected by our editors. If you buy from a link, we may earn a commission.
The Best Noise-Canceling Headphones of 2022 — Which Is Right For You?
There are a lot of great wireless headphones with active noise-cancellation to choose from, but we've narrowed them down to include only the absolute best.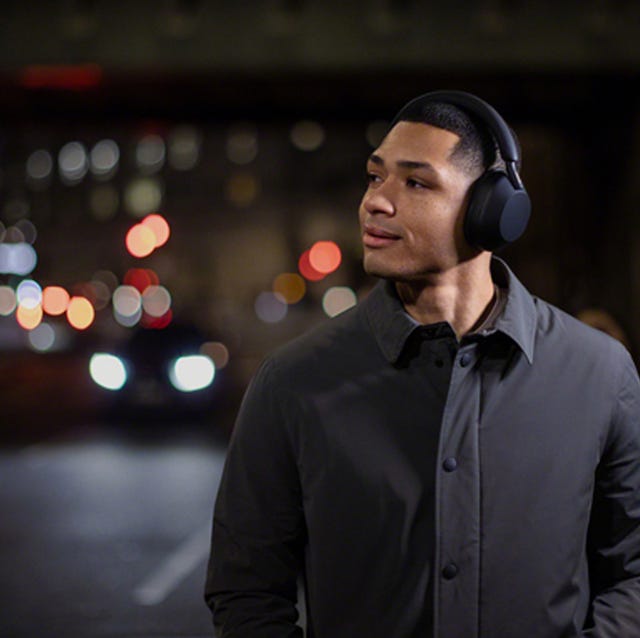 Active noise-canceling headphones are some of the most popular on the market, and for good reason: using special built-in microphones, they can electronically generate opposing sound waves — called antiphases — that cancel out ambient sounds. The result is that you just hear the music, not your apartment's TV, your colleagues' lunch conversation or the dull buzz of an airplane.
You can buy noise-canceling headphones in a wireless earbud design, but over-ear designs do a better job at passively blocking out noise. The combination of great active and passive noise-cancellation, plus the fact that over-ear headphones are able to have bigger and more powerful drivers, make over-ear headphones the best type of active noise-canceling headphones bar none.

And there are a ton to choose from. Bose and Sony have been the industry leaders for numerous years, and each makes a few different models of noise-canceling headphones. Then there's the fact that seemingly every other audio company — including Apple now — has its own take on the perfect noise-canceling headphones with the AirPods Max.

Most of the best noise-canceling headphones hover somewhere near the $300 or above; if you don't want to spend as much you can find older, wired models of the Bose QC25 or Sony 1000XM that are both excellent and significantly more affordable. You can snag an even better deal with manufacturer-refurbished models on eBay, Amazon or the company's own website; you can get a really good deal and all of those reliable websites have fairly lenient return policies in case the headphones don't meet your expectations.
Other Headphone/Earbud Guides
What to Look For
Noise-cancellation: Not every pair of noise-canceling headphones has the same noise-canceling power. The best ones, typically made by Sony or Bose, have superior processors and built-in microphones so that they can identify unwanted ambient sounds and then create opposing sound waves to effectively cancel them out.
Sound quality: The most important thing with any pair of headphones is how they sounds. The best headphones sound alive. They deliver clear vocals, punchy bass and a wide soundstage so you really feel like you're experiencing the music live. The problem is active noise-cancellation isn't good for sound quality — the extra frequencies created to cancel out ambient sounds also work against the frequencies of the music. However, high-quality noise-canceling headphones have the ability to sound great while also creating the perfect calm that you want with noise cancellation.
Call quality: The reality is that people are wearing headphones for more than just music — they're also taking calls. Recently, manufacturers are putting more microphones in their headphones so that your voice sounds crisp (not grainy) on calls. The most recent headphones by Bose and Sony have also been integrated with technologies that cancel out voices around you so there's no unwanted background chatter while you're on a call.
Premium features: There are a bunch of other features you want to look for in a pair of headphones — and it all comes down to personal preference. Do you want a pair that has buttons or swipe gestures for play/pause and volume control? Do you want a pair that supports fast charging? Or a pair that comes with a companion that allows you to tweak EQ settings?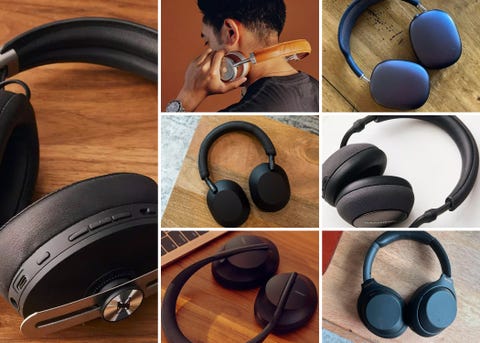 We are always testing a wide variety of wireless headphones with active noise-cancellation — and there are a lot of options in 2022. We test each pair of headphones for sound quality, call clarity, comfort, battery life and features (such as button or swipe controls as well as support for a companion app). And, of course, we test each headphones' noise-canceling abilities in a range of different noisy and quiet environments.
Best All-Around
Sony WH-1000XM5
Excellent noise-cancellation
Superb sound quality
Lightweight and comfortable design
Customizable controls and features
Sony released its newest flagship headphones, the Sony WH-1000XM5, in May 2022 and they're better than their predecessors, the WH-1000XM4, in a few key ways. Sony gave the WH-1000XM5 a new lightweight design and larger earcups, so that they're even more comfortable to wear. They have an extra processor that helps them deliver even stronger active noise-cancellation (especially for mid-to-high-range frequencies). And they have double the built-in microphones so they've significantly better for calls. Additionally, they have many of the same features and sound that made the Sony WH-1000XM4 our previous pick for the best noise-canceling headphones for most people. The only real downside is that the Sony WH-1000XM5 are $50 more expensive.
For a deeper look, check out our review of the Sony WH-1000XM5.
Best Upgrade
Apple AirPods Max
Superb sound quality and support for spatial audio
Excellent noise-cancellation
Very expensive
Works best with Apple devices
Apple's first pair of over-ear headphones are also very luxurious. Their earcups are made entirely of stainless steel – no plastic — so feel and look very nice, although they are heavier than most other alternatives. The sound quality and noise-canceling ability of the AirPods Max are both excellent, easily making the them some of the best noise-canceling headphones you can buy. The kicker is that because they are baked with Apple's H1 chip, so they have all the same features as AirPods Pro, such as a transparency mode, support for spatial audio and Dolby Atmos, and easy iPhone pairing. If you have an iPhone and can stomach the high price tag, you can't go wrong with the AirPods Max.
For a deeper look, check out our review of the AirPods Max.
Best Budget
Sennheiser HD 450BT
Excellent value
Noise-cancellation is surprisingly good
Sound quality isn't on par as pricier alternatives
Don't feel like premium cans
Released in February 2020, the HD 450BT are Sennheiser's first real pair of budget noise-canceling headphones. They're exactly half as expensive as the Sennheiser's flagship Momentum Wireless 3 and deliver many of the same sound qualities and features. There are some definite tradeoffs, most prominently in their feel and build quality. You can buy decent noise-canceling headphones for even cheaper, but none have the sound quality and noise-canceling skills of the Sennheiser's.
For a deeper look, check out our full review of the Sennheiser HD 450BT.
Excellent noise-cancellation
Superb sound quality
Customizable controls and features
Not quite as good as the Sony WH-1000XM5
Even though Sony has introduced new flagship cans, the Sony WH-1000XM5, the 2020-released Sony WH-1000XM4 are still a great pair of noise-canceling headphones you can buy. They are feature-packed headphones that deliver excellent sound quality while also having one of the most effective active noise-canceling abilities of any headphones. If you're not willing to spend the extra $50 on the Sony WH-1000XM5, which have a new lightweight design and improved noise-canceling and call clarity, then the Sony WH-1000XM4 are still exceptional.
Excellent noise-cancellation
Extremely comfortable
Call quality isn't as good as Bose's Headphones 700
Released in the fall of 2021, the Bose QuietComfort 45 are the company's newest noise-canceling headphones — and they're essentially a newer and better version of 2017's QuietComfort 35 II. They retain the lightweight and super comfortable design of their predecessors, but Bose improved their noise-cancellation (and transparency) capabilities and gave them new-age features like USB-C charging (so they can fast charge) and a longer battery life. They still aren't quiet on par with the company's more expensive Headphones 700 in terms of sound quality and noise-cancellation.
Bose Noise Cancelling Headphones 700
Excellent noise-cancellation
Superb call clarity
New-age design and features
Expensive
Not as quite as comfortable as QuietComfort line
Released in June 2019, the Headphones 700 are the company's flagship noise-canceling headphones. They have a number of modern features that the older QuietComfort 35 Series II lack, including a new transparency mode, customizable noise canceling, swipe gestures for playback and USB-C charging. Aside from the completely new design, the biggest upgrade is a six-microphone array that enables the Headphones 700 to be, by far and away, the best noise-canceling headphones for making phone or video calls.
For a closer look, read our review of the Bose Noise Cancelling 700.
Very lightweight and comfortable
Great noise-cancellation
Relatively affordable
Design and features feel dated
Bose no longer makes the QuietComfort 35 II as it released a new and improved version of them in the QuietComfort 35 II. However, you can still buy these headphones — which are still great and super comfortable— and get a pretty good deal on them to boot. The big tradeoff is that aren't quite as modern, and charging via micro-USB feels really out of date right now.
Excellent sound quality
Solid build quality and unique design
Relatively expensive
Noise-cancellation isn't quite on par with other alternatives
Bowers & Wilkins's flagship noise-canceling headphones, the PX7, were released in October 2019. They're an upgraded and redesigned the B&W PX, with a lighter feel thanks to a carbon fiber design. They do deliver some incremental improvements in terms of sound and noise-canceling abilities over the PX, but the advantage of the B&W PX7 headphones remains the same: a neat industrial design and a truly excellent sound.
For a deeper look, check out our review of the Bowers & Wilkins PX7.
Sennheiser Momentum Wireless 3
Excellent noise-cancellation
Unique industrial design
Affordable (now that they're discounted)
Noise-cancellation isn't as powerful as other options
Released in fall 2019, these are Sennheiser's new flagship noise-canceling headphones are the successor to the Momentum Wireless 2. The new "3" headphones have a similar retro-industrial design, but add a bunch of new modern features like USB-C charging, a transparency mode and a neat Tile integration. There's also support a companion app which allows you to adjust EQ settings as well as the strength of the noise-cancellation. For anybody looking for something that looks and sounds great, and is willing to spend a little extra for style and sound quality, these headphones are great.
Unique industrial design
Fantastic sound quality
Expensive compared to other options
Noise-cancellation isn't quite on par with other alternatives
Released in April 2019, the MW65 marry the M&D's signature industrial design (anodized aluminum and genuine leather) with active noise-cancellation. They're beautiful headphones with above average noise-cancellation, and they have a number of modern features: USB-C charging, swipe gestures to control playback and support for a companion app that gives you the ability to adjust EQ settings. At nearly $500, however, the MW65 are considerably more expensive than other flagship noise-canceling headphones. Bottom line: it's all about whether you like the Master & Dynamic's signature sound and look; if so, you won't be disappointed.
The Best Noise-Canceling Wireless Earbuds of 2022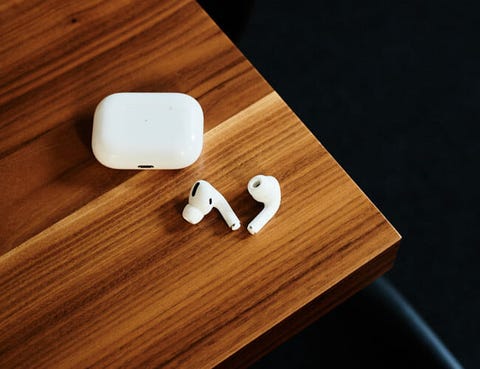 There are more wireless earbuds that have active noise cancellation than ever before — and we put them all to the test. We've rounded up the best options that you can buy right now.
This content is created and maintained by a third party, and imported onto this page to help users provide their email addresses. You may be able to find more information about this and similar content at piano.io