Every product is carefully selected by our editors. If you buy from a link, we may earn a commission.
The Best Monitor Stands to Upgrade Your Home Office
A monitor stand not only helps your productivity and overall health. It can make your workspace look pretty darn cool.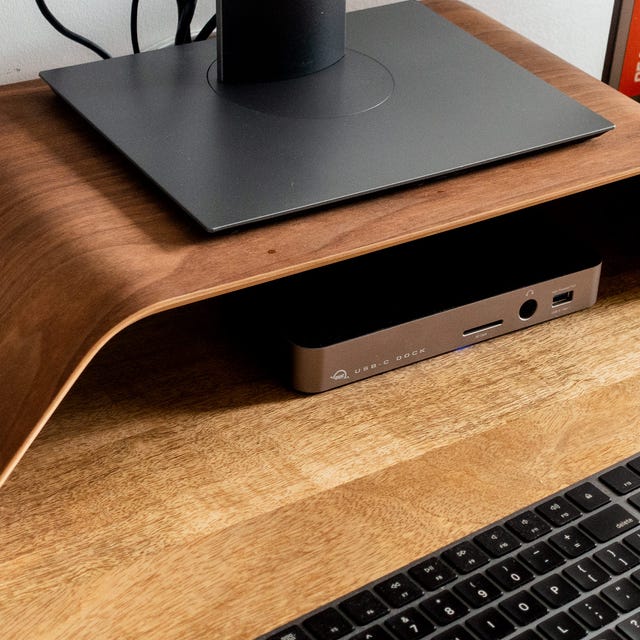 Still think your desktop is better off without a stand? Think again. A good stand elevates your screen, which helps with posture and overall productivity; it improves air circulation so your computer doesn't overheat; and it can add storage to your desk, organizing your pens, notebooks, paperclips and EDC — or just hide them altogether.
Given that most of us have been working from home for a good while (and will likely continue to be doing so for the foreseeable future), it's important to make sure your home office looks nice — and a desktop stand can definitely help with that, too.
What to Look for
Size: The length and depth of the stand is vital because you want to make sure it fits your monitor as well as anything else you want to have level with it, such as another monitor (for a dual-monitor setup) or a pair of computer speakers.
Organization: A monitor stand can be a useful means of storage to help declutter your desk, but not everyone is blessed with drawers, shelves and other compartments.
Height: You want a stand that raises your monitor to as close to eye level as possible. This will help straighten out your spine and ensure that you have good posture throughout the day.
Design and materials: These are the two factors that will have the biggest impact on price. High-quality materials and hand craftsmanship cost more. But heck, a beautiful workspace is worth it, right?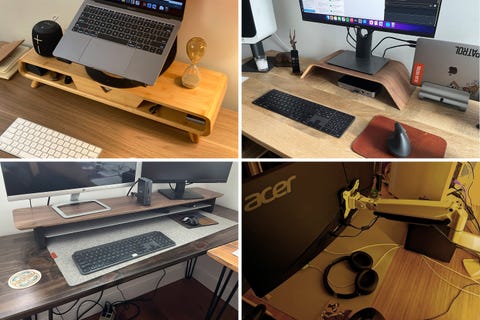 In this new age of remote work, we at Gear Patrol have been looking for ways to improve home offices — and testing a wide variety of monitor stands is a great way to start. We've had hands-on experience will all of the below monitor stands and they're all quite a bit different. Some are more organizational, some are more for aesthetics, and some are designed to fit a more robust work station. Make sure to pick one that fits your style, needs and budget.
Grovemade Wood Monitor Stand
Grovemade's entire Desk Collection is bespoke but stunning. This Monitor Stand stands out for its simplicity and elegant design. It makes the wood the star of the show, making it the perfect partner for anybody with a wood-themed desk. It comes in either walnut or maple.
The Desk Shelf is also part of Grovemade's Desk Collection, but it's unique in a few ways. It's 46-inches across and is designed to hold two monitors (or one monitor and a pair of computer speakers). Underneath, it has a shelf and divider to store and hide your various peripherals (including a laptop) when you're not using them. And it comes in six different hardwood finishes.
Twelve South's Curve Riser is a unique yet minimalist monitor stand. It has an all metal design with a built-in storage shelf. And it lifts your monitor 4.25 inches off the desk, which is higher than most other options.
Satechi Type-C Aluminum Monitor Stand Hub
Satechi's monitor stand addresses a problem that most stands don't: hard to reach ports. The "stand hub" has a number of outward-facing ports — USB-C port (up to 5 Gbps), three USB 3.0 ports (up to 5 Gbps), slots for both micro and SD cards (up to 104 Mbps) and a headphone jack — so you don't have to worry about blindly feel behind your monitor or desktop for the correct port. It's available in silver or space gray.
Homerays Bamboo Monitor Stand Riser
This monitor stand is a charmer. It's made almost entirely out of bamboo — it's beautiful — and has three storage compartments complete with a pull-out drawer. It also elevates your monitor nearly five inches off your desk (so you can slide a mouse or keyboard underneath it for further storage).
Twelve South only makes accessories for Apple products. The South HiRise Pro, for example, is specifically designed to house iMacs and iMac Pros. It sheaths the base, while also providing additional storage. On top of the HiRise Pro is a leather pad, where you can safely and easily rest your EDC, like your AirPods or a keychain. And the front grille, which grips the base via magnets, is reversible, so you can switch between gunmetal and walnut.
Monoprice Workstram Monitor Stand
Monoprice's desktop stand is more of a shelf than a stand. It's 22 inches across, which plenty big enough to hold a desktop or monitor. And it lifts your desk a few inches off the desk so you can store things under it and declutter your space. If you're not looking to spend as much as the other stands on the list, this is the model we recommend. Available in black or translucent.
Huanuo Monitor Stand Riser
Huanuo's monitor stand is all about organization. It has a rather large pull-out drawer as well as two side compartments, which is ideal for holding pens, notepads and various office supplies. It also raises your monitor several inches off the desk to a more ergonomic working height.
If you're looking for a more adjustable solution that frees up even more desk space, get a monitor arm. The Jarvis Monitor Arm, which is one of our favorites, easily grips to your desk and elevates your monitor to your natural line of sight. (It comes with a removable VESA plate that works with a wide variety monitors.)
The Best Computer Speakers to Upgrade Your Laptop or Desktop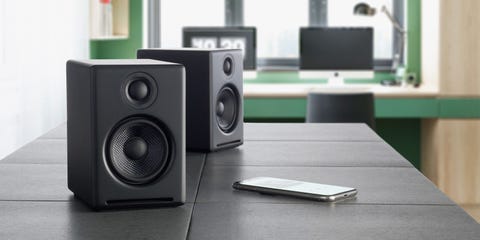 A set of computer speakers is an easy (and relatively affordable) way of upgrading the audio quality of your desktop or laptop. We've rounded up the best options to buy in 2022.
This content is created and maintained by a third party, and imported onto this page to help users provide their email addresses. You may be able to find more information about this and similar content at piano.io