What's a One-Hand Watch Good For? De-Stressing, For Starters
These ultra-minimalist watches just might change the way you think about time itself.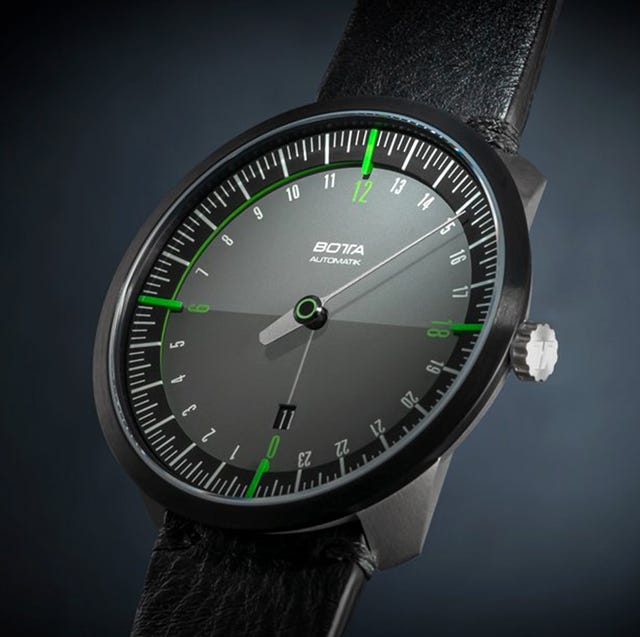 "Our life is frittered away by detail. An honest man has hardly need to count more than his ten fingers, or in extreme cases he may add his ten toes, and lump the rest. Simplicity, simplicity, simplicity! I say, let your affairs be as two or three, and not a hundred or a thousand." -Henry David Thoreau, Walden
But how? You might start with your watch and do away with the seconds hand — as nobody plans things to the second anyway. What about the minute hand, though? Can you live without that? This is precisely what a handful of watchmakers have done, seeming to echo Thoreau's sentiment and telling you, just relaaaax.
Single-hand watches are relatively rare but constitute a clever and notable curiosity within the horological world. They're absolutely still functional for telling the time, if less precise in doing so than traditional watches, but their concept is driven by the high-minded idea of changing how you think about time and its importance. Once you get the hang of reading them, the theory goes, you'll see the futility of counting all those little in-between minutes. Here's how it works:
For one-hand watches, all the work is done by the hash marks around the dial. If you think about it, it's easy to identify the half-hour marker between two hour indices, and half-way between them is the 15-minute mark. Depending on the watch, you'll then have two markers between them representing 5-minute increments. As long as the hour hand is long and pointy enough to indicate them precisely, you can then read the time down to an accuracy of five minutes — or simply know that it's currently between, say, 5:20 and 5:25.
The existence of such watches poses the question: Do you really need to be more precise or punctual than that? Sure, there are times when you will, perhaps, but you'll probably be timing things on your phone for those occasions anyway.
The other part of the concept is that this approach offers a bigger-picture view of the time: they give you a sense of where you are in the day or the hour at a glance. If you want a more precise reading you can look more closely, but these watchmakers are betting you won't often have to or want to.
Counter to popular cultural stereotypes of rigidity and punctuality, the watch brands known best known for telling you not to "sweat the small stuff" in this way tend to be based in Germany. Although the one-hand watch concept is most familiar to watch enthusiasts through the company Meistersinger (founded in 2001), another German brand, Botta, reminds us that it's been doing one-handed wristwatches since the 1980s.
While the transcendent concept these brands espouse is relatively new, there's plenty of historical precedent for this type of time telling going back centuries. Many early clocks weren't even accurate enough to measure minutes until the late 16th century, and a single hour hand on clock towers was easier to read from a distance. Even later clocks and pocket watches continued to sometimes be produced in this way.
Do people love watches because they keep you punctual to the second? No: people are charmed and enchanted by things like a serenely sweeping seconds hand, analog dials, refined details and the idea of Old-World craftsmanship. In a world of dinging notifications and regimented work days, many watches serve a calming purpose anyway — one which Thoreau might very well approve of.

Here are some examples from notable brands that specialize in single-handed watches.
Meistersinger is a brand built around the single-hand watch concept. It's taken myriad forms and designs, with the likes of moonphase and other complications or features, but its debut product. the N°01 watch, still represents the brand's essence. It's often larger at 43mm wide, perhaps offering more space for indices and easier reading, but we like a 40mm watch and feel that a quieter wrist presence is appropriate for the zen-like experience Meistersinger touts.
Diameter: 40mm
Movement: Sellita SW 210 automatic
Botta has a generally Bauhaus approach to design and offers classical as well as more modern-feeling interpretations of the one-hand watch (as well as a few more traditional collections). This variation offers the time in 24-hour format for an even more intuitive reading of the hour — as if you're simply following the sun's path during the day. The dial is lighter-colored at the top to represent daylight hours with noon at the 12 o'clock position and nighttime hours darker with midnight at the bottom. Its 45mm titanium case should remain reasonably wearable thanks to very short lugs.
Diameter: 45mm
Movement: ETA 2893-2 automatic
Appropriately minimalist in design and functionality, this model represents the one-hand watch concept taken to its extreme: You can really only read to the nearest 15-minute increment. (The German brand also offers other models with 5-minute precision as well as traditional two- and three-hand watches.) It's a striking look for design-conscious folk, and those who have (or want) a lifestyle that accommodates looser timekeeping.
Diameter: 42mm
Movement: ETA 2824-2 automatic
This content is created and maintained by a third party, and imported onto this page to help users provide their email addresses. You may be able to find more information about this and similar content at piano.io