Lamborghini Just Created Its Craziest Car Ever: the SC20
And this is Lamborghini we're talking about here.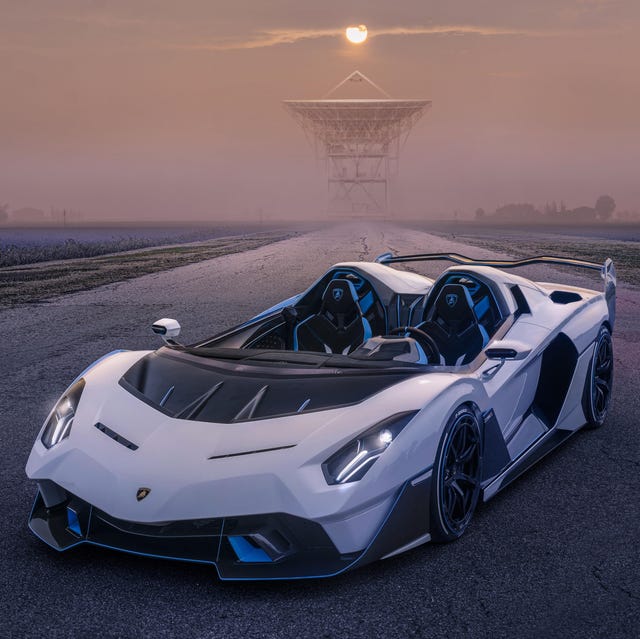 Suffice it to say, Lamborghini is known for making rather, ah, extroverted cars. While they've made incredible strides in terms of adding usability and drivability to their vehicles — have you ever tried to back up in a Countach? — you'd be hard-pressed to argue that an Aventador, a Huracan, even an Urus aren't among the wildest-looking, most exciting, even downright nuttiest cars in their classes. And that's not even taking on the carmaker's limited-run specials, like the Sian and Egoista.
Even by the standards of those wild cars, Lamborghini's latest one-off special, the SC20, is something else. Because unlike those cars, the SC20 doesn't have a windshield.
The Lamborghini SC20 is a one-off, but it's not all-new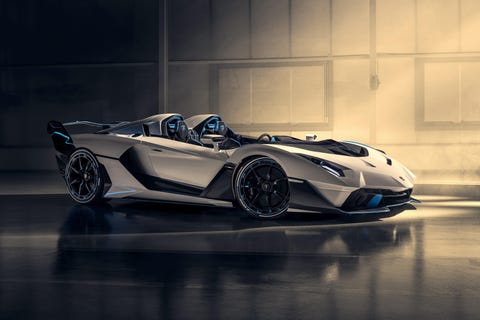 Only one SC20 exists, built at the specific instructions of a (clearly well-off) client. That said, its Aventador-sourced roots are clear even in spite of its wild, windscreen-free carbon fiber body; just take a look at the headlights.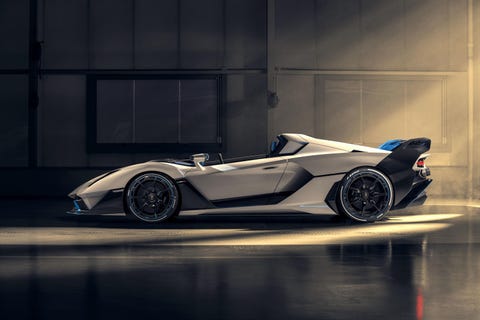 Between the wind-blown cabin and the rear axle lies Lamborghini's 6.5-liter howler of a V12, here spitting out 759 horsepower and 531 lb-ft. You'll need to rev it to max out the motor — full horsepower arrives at 8,500 rpm, and the torque peaks at 6,750 — but you'll have plenty of fun doing that with the old-school single-clutch sequential manual gearbox. All-wheel-drive helps put the power down to the wheels, sized 20 inches in diameter up front and 21 inches astern.
The body is sculpted from nose to wing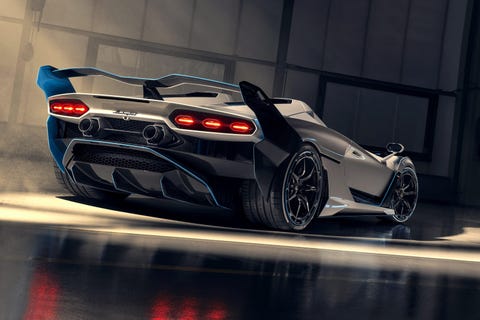 Up front, the SC20 is inspired by the Huracán GT3 EVO race car, which you can see best in the air intakes atop its frunk. The flanks benefit from the aerodynamic experience Lamborghini learned on the Essenza SCV12, while the stern is dominated by, well, that giant tri-mount wing.
As for that colorway: the livery is a blend of custom-made Bianco Fu white with Blu Cepheus and black accents. Inside, there's more Blu Cepheus trim on the carbon fiber seats, along with Nero Cosmus and Bianco Leda accents.
Believe it or not, this Lambo is street-legal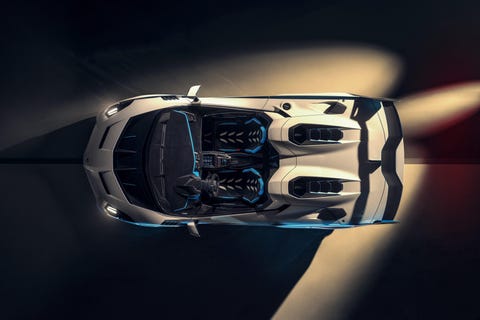 You'll never drive it, but think of it as a jumping-off point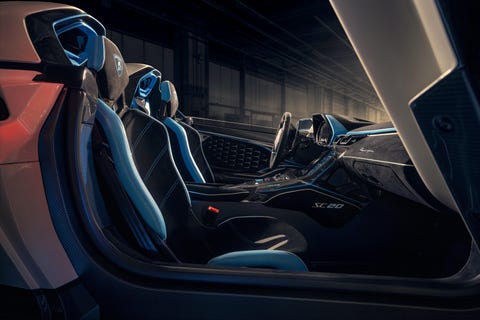 As a custom-made one-off, the odds of ever seeing the SC20 are awfully low, and the odds of you (or us) ever driving it are basically zilch. That said, think of it more as inspiration for the one-off Lamborghini you'll order one day, once you're rich enough to have bought a few new ones from the factory.
The 11 Pieces of Gear You Absolutely Need for Car Camping
Car camping makes getting away easy as pie. These items will make the experience even tastier.