The Audi RS 7 Is Great, If for Some Reason You Don't Want an RS 6 Avant
Back for a second generation, the RS 7 sticks around for those not ready to go wagon.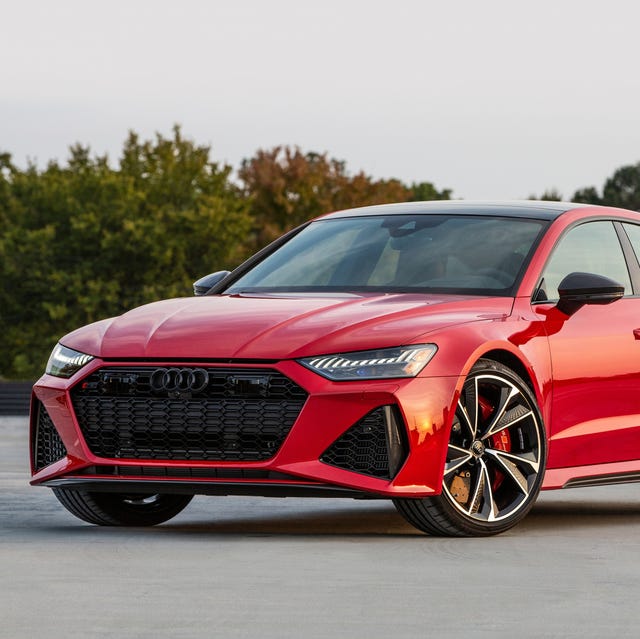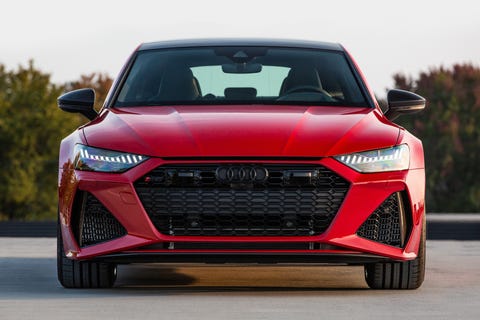 Pretty new. The second-generation RS 7 debuted in the fall of 2019 and went on sale in mid-2020 here in the United States. On paper, at least, it didn't come across as much of a jump over the previous version; the RS 7 Performance that came before made 605 horsepower, 14 ponies more than the new model.
Then again, adding or subtracting a few extra horses doesn't really change around the driving experience of a car with this sort of power. Instead, the new one works to win over buyers with a sharper design that looks every bit worthy of the third decade of the 21st century, along with an arsenal of technology designed to improve day-to-day performance and interaction with the car. (Whether or not trading buttons for touchscreens is really improvement is up to the buyer, but you can't say that it doesn't look better.)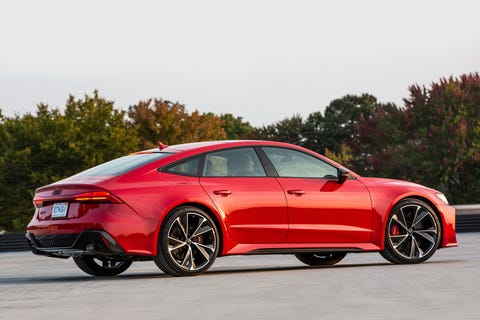 They may be surprisingly common these days, but let's face it, you'd have to be pretty cynical to not be at least somewhat impressed by a car that can carry four adults and their luggage but also deliver near-supercar performance.
Of course, that's also true of the new RS 6 Avant.
In fact, between the RS 7, RS 6 Avant and RS Q8, Audi Sport (the RS division) now offers three versions on this theme. (You could even consider the S8 a fourth variation, as unlike other S models, Audi Sport helps tune that model to make it sportier.) Each packs the same powertrain, goes, stops and turns with shocking aplomb, carries people and gear in comfort and looks every bit the uber-cool Audi you'd want when dropping six figures on such a car.
The question then becomes, what leads buyers to the RS 7 over its close siblings? Simply put, that sleek roofline. The RS 6 Avant may be the coolest of the trio by far to true-blue enthusiasts, but for many a buyer, station wagons remain uncool. And while the RS Q8 may be the best-looking ride in the high-performance four-door sport-utility coupe segment (yes, it's insane that such a segment exists, let's move past it), not everyone wants a crossover, thank God. Also, impressive as it is, the RS Q8's added mass and height means it'll always be fighting physics in a way the RS 7 and RS 6 don't.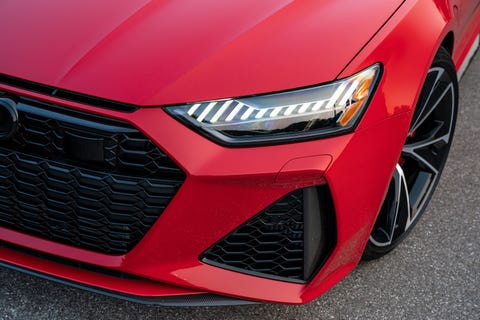 Basically, just like the RS 6 Avant: quiet and refined when you want to take it easy, fast as hell when you push it.
While my driving time with the RS 6 was sadly limited to a couple blasts around the greater New York area, I was able to take the RS 7 on a longer weekend road trip up to Vermont, giving me a chance to see what 600 miles of highway driving was like. Perhaps unsurprisingly, it proved an exceptional gran turismo; 80 miles per hour felt like 60. At one point, I fell in behind a Tesla Model 3 whose owner, to his credit, was giving the EV all it had on an empty stretch of highway; I stuck the RS 7 to his tail and hung with him for a while. My attorney, Dr. Gonzo, has instructed me not to offer additional details, but suffice it to say, even autobahn drivers need not worry about running out of steam when it comes time to pass.
Unexpected, however, was the fuel economy. While the EPA rates the RS 7 at an unimpressive 22 mpg highway, the trip computer registered close to 25 mpg over the course of my long trip, even with the high sustained speeds. Combine that with the 19.3-gallon fuel tank (or rather, the 18 gallons you'd use before a pit stop) and you've got a 591-hp super-sedan with a 450-plus-mile cruising range.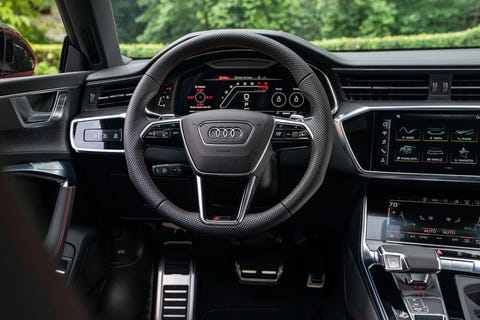 Audi's uniformity of design extends to its interiors even more than it does its exteriors; the RS 7 interior is effectively identical to the RS 6 Avant's guts, at least from the driver's perspective.
You do lose a little interior volume due primarily to that swooping roofline, however. The RS 7 is down 1.3 inches of scalp space up front, and short by 2.4 inches in the second row. There's five fewer cubic feet in the trunk of the RS 7, as well — 24.9 versus 30.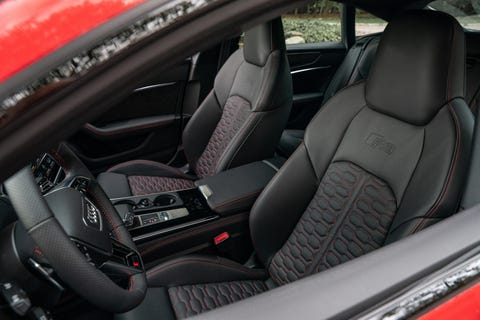 The RS 7 starts at $115,045 with destination. The options list isn't exactly Porsche-like, but it's still possible to add to that; my tester came to $136,945, thanks to add-ons like $9,000 ceramic brakes, the $6,650 Carbon optic package that includes tons of carbon fiber trim and the $2,500 Executive package that upgrades the interior with more leather and adds tech like power-closing doors and a head-up display. You can probably live without all that...but do budget $1,000 for the sport exhaust.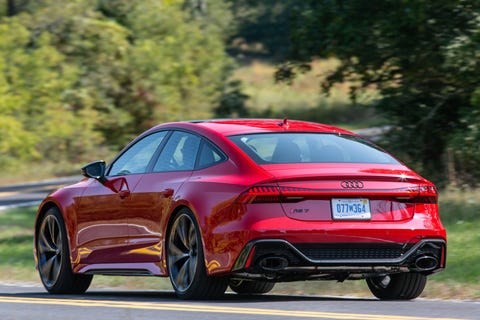 Powertrain: 4.0-liter twin-turbo V8; eight-speed automatic; all-wheel-drive
Horsepower: 591
Torque: 590 lb-ft
EPA Fuel Economy: 17 mpg city, 22 mpg highway
Seats: Four in comfort, five in a pinch