The Audi RS 6 Avant Is Finally Here, and It's Fully Worthy of My Obsession
A German luxury wagon with supercar moves and a body to match? Shut up and take my money.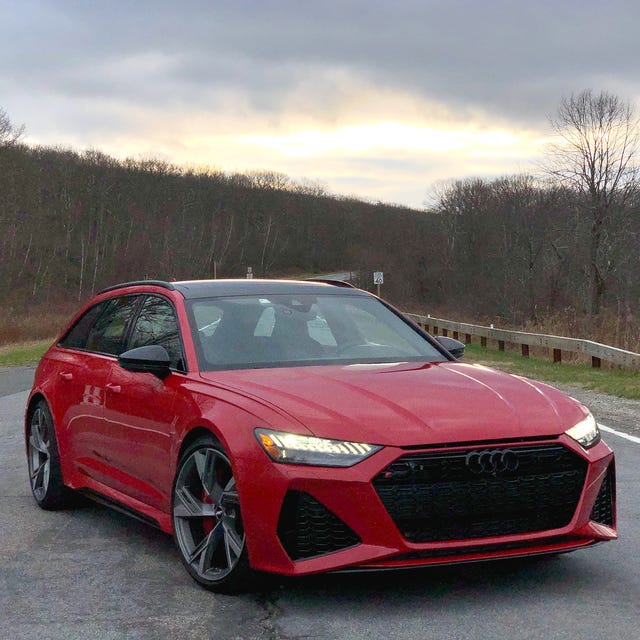 High-performance station wagons occupy an odd niche in the automotive ecosystem. They're appreciated by a small group (namely, car enthusiasts) and bought by an even smaller group (wealthy car enthusiasts). They take the idea of the sport sedan — package sports car performance in a more usable form for daily use — and add the extra versatility of a much larger, more open cargo bay.
Over in Europe, where low-riding two-box cars are much more common, there's long been a bounty of speedy station wagons up for grabs in showrooms. Here in the United States, though, there's only been one dependable member of that fraternity of fast family cars: the AMG version of the Mercedes-Benz E-Class, first in E55 and then in E63 form. For the last couple years, it's been joined by the Porsche Panamera Sport Turismo, but as you might expect of Porsche, it occupies a higher rung on the price ladder than the Merc; buying one that's equivalent in power and performance to the E63 involves spending tens of thousands of dollars more.
But in the darkness of 2020, one of the few beacons of light to arrive was the Audi RS 6 Avant coming to American shores for the first time. The U.S. received the RS6 sedan during a brief span in the early Aughts, but otherwise, it's been verboten; the best we've been able to get is the RS 7 four-door coupe.
I'm not here to question why Audi finally decided importing the RS 6 Avant was worth the hassle. I am here, however, to tell you that after spending a week trying to find fault with it and largely failing...I'm damn glad they went to the trouble.
The RS 6 Avant wins on style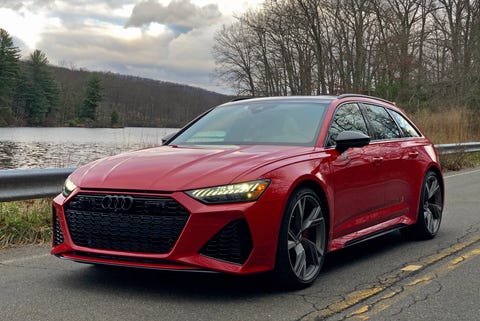 The words "cool" and "station wagon" might seem contradictory to many an American of a certain age, but even the most Post Griswold Stress Disorder-afflicted amongst us would have to admit that the RS 6 Avant is one bad-looking mofo of a wagon.
The front end is an aggressive burst of bulging sheetmetal and trapezoidal shapes, one that looks right at home next to the R8 in Audi showrooms. The sides, though, are where the Avant's performance cred really makes itself known: the wheel arches bulge out almost pornographically, and the 22-inch wheels seem concept-car huge on this midsize car.
Wagons are all about the rear, and this one's no different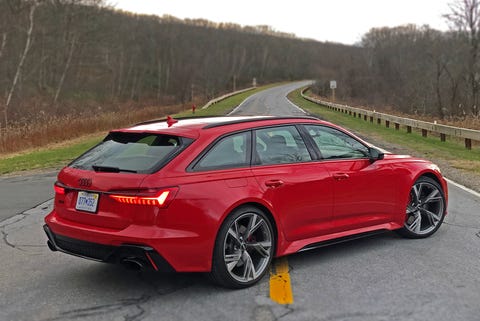 The rear is plenty aggressive, too, with its RS-exclusive twin cannon tailpipes protruding from a lower fascia that extends out even further than in the A6 Allroad. (No surprise there, as the RS 6's rear would present a serious problem for off-roading.)
As with the Allroad, the D-pillar is rakish to an almost unbelievable degree, but it seems even sharper here with the addition of the pronounced booty and small lip spoiler. That steep angle does mean this wagon isn't quite as capacious as it could be, but it'll still hold 30 cubic feet of whatever.
Bottom line: The E63 wagon and Panamera Sport Turismo certainly both have plenty of style, but neither comes close to looking as cool as the RS 6 Avant.
The RS 6 Avant is a hoot to drive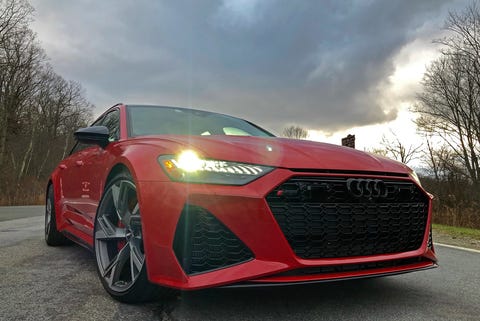 You know you're living in absurd times when Dodge sells five cars making more than 700 horsepower. By those standards, the 591 horses and 590 lb-ft of torque seems almost inadequate — at least, on paper.
Thanks to the RS 6's all-wheel-drive, however, it can make the most of its power the way only an AWD sports car can. Car and Driver clocked it as knocking out a 3.1-second 0-60-mph run; while I can't claim to be able to fact-check their scientifically-measured data, I can say that a launch control blast (brake pedal to the floor with left foot, gas pedal to the floor with right, lift left foot, hold onto your butts) on a less-than-idea surface delivered a 0-60 in the mid-threes, which should be enough to humiliate almost anything else in the real world.
Of course, cars like this are as much born for the autobahn as they are for the track, so the RS 6 just keeps on picking up speed well past the point where you're doing the highway speed limit. You'll never need to question "can I make that pass?" from behind the wheel. (The eight-speed automatic is a clever one, but I generally found it worth clicking the shifter from D to S when I wanted to haul ass to keep the meat of the powerband at closer notice; not only does it hold the shorter gears longer in S, it snaps down cogs much more readily.)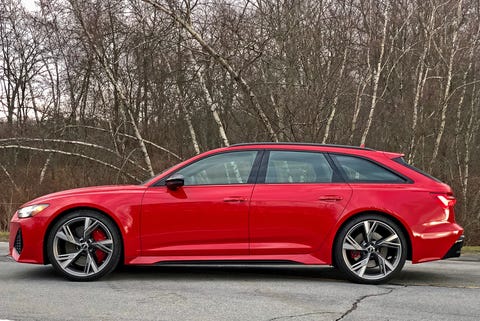 Many Audis of yore haven't had the most communicative steering; turn the tiller and the car followed suit, but it sometimes felt like you were fiddling with a racing sim wheel as much as the helm of a physical car, and switching drive modes either made it feel too artificially heavy or too artificially light.
With the latest generation of RS models, however, Audi has cracked the code and made electrically-boosted power steering that feels nice and natural. That helps make the RS 6 Avant feel more involving to drive, both at legal speed and the license-shredding ones this draggin' wagon can attain in a matter of seconds.
Straight-line velocity is easy to make —see: those 700-plus-hp Dodges — but this Audi furthers the case for itself in the turns. Between the sticky Pirellis, the all-wheel-drive, the limited-slip diff in back and the specially-tuned sport suspension, it grips, rips and sticks almost like a supercar, tearing through turns at speeds that'll leave you shocked.
Of course, there's trade-offs in everything in life — and in the case of the RS 6 Avant, that's ride quality. The air suspension can do its damndest to iron out bumps and cracks, but it's fighting at a disadvantage due to those giant 22-inch wheels. They may look cool, but going with rims so large means the tires are thin as rubber bands. Less sidewall, less impact absorption — and with the car riding so low, even the air suspension's best doesn't translate to much travel. The result: a ride that almost leave it feeling like a four-door Porsche 911 GT3.
That said...if you happen to be like me, that's a sacrifice you're more than happy to live with in order to drive around in a station wagon that drives an awful lot like a 911 GT3.
The 11 Pieces of Gear You Absolutely Need for Car Camping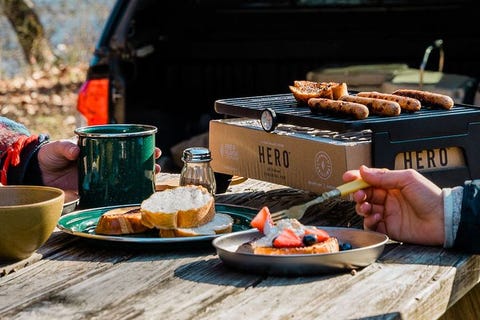 Car camping makes getting away easy as pie. These items will make the experience even tastier.
The interior is familiar if you've been in any other new Audis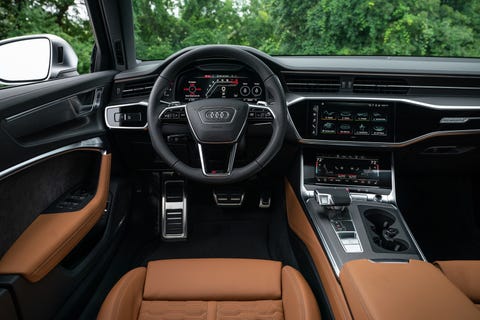 If you've hopped into an A6, A7, A8, S6, S7, S8, Rs 7, Q7, Q8, SQ7, SQ8 or RS Q8 anytime in the last couple of years, odds are good the RS 6 Avant's cockpit will look pretty familiar. There's an expansive, crystal clear screen for an instrument panel — Audi's Virtual Cockpit, here equipped with RS-specific layouts — and a pair of touchscreens waterfalling down the dash, with the bottom handling most vehicle dynamics and climate and the upper one taking on pretty much everything else.
The lack of hard buttons for many oft-used controls is, admittedly, as annoying as it is in just about every other car with a touchscreen-tastic layout. Still, at least Audi's screens offer the satisfying haptic feedback of a pulse against your finger and a nice click when it recognizes your input. (Also handy: the ability to populate shortcuts to destinations and audio sources in the lower window.)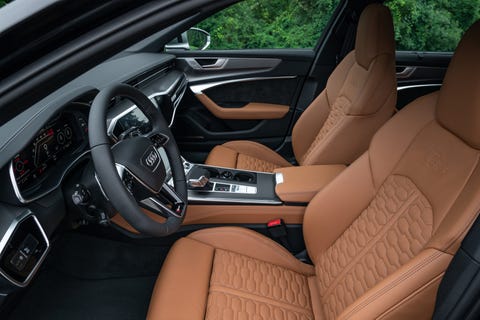 Gorgeous, comfortable seats have long been an Audi hallmark, and the RS 6 doesn't disappoint. You can drop an extra $1,500 for the Individual Contour Seating package if you really want, but the standard seats and interior are already nice enough that it's better to save that money for the black-tipped sport exhaust and the side assistance package that warns you of objects in your blind spots — which Audi blessedly sells separately from the full-blown driver assistance package.
The backseat certainly plays second fiddle by comparison — if you prefer to enjoy your fast machine from the second row, I direct your attention to the Audi S8 — but it's still reasonably roomy.
It's not perfect, but it is perfectly worth obsessing over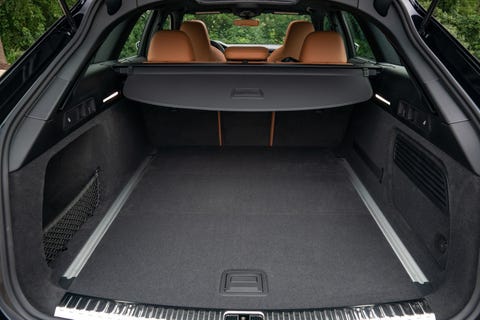 Lucky as we are to live in this era packed with cars that push the boundaries of belief, not all of them are worth obsessing over. The RS 6 Avant, however, absolutely is.
It's not just that the car's breadth of capability is so expansive, but it's that it's not afraid to stand out. Audi has unabashedly leaned into making the RS 6 Avant look as cool on the outside as it is beneath the skin without losing the sleeper-car aspect that draws people to fast wagons.
Bottom line: these days, many people buying station wagons are people who are proud they're buying station wagons. Kudos to Audi for letting the RS6 Avant fly its freak flag.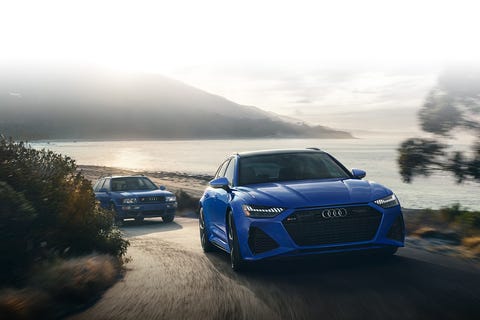 Base Price: $110,045
Horsepower: 591
Torque: 590 lb-ft
EPA Fuel Economy: 15 mpg city, 22 mpg highway
Seats: 5
The 12 Best Travel Mugs Money Can Buy
When you're on the go or off on a big adventure, a top-notch coffee keeper is critical — and these picks are just perfect.