Nissan Used Camper Van Thinking to Create a Tiny Mobile Office
Sick of WFH? Try Work From Van.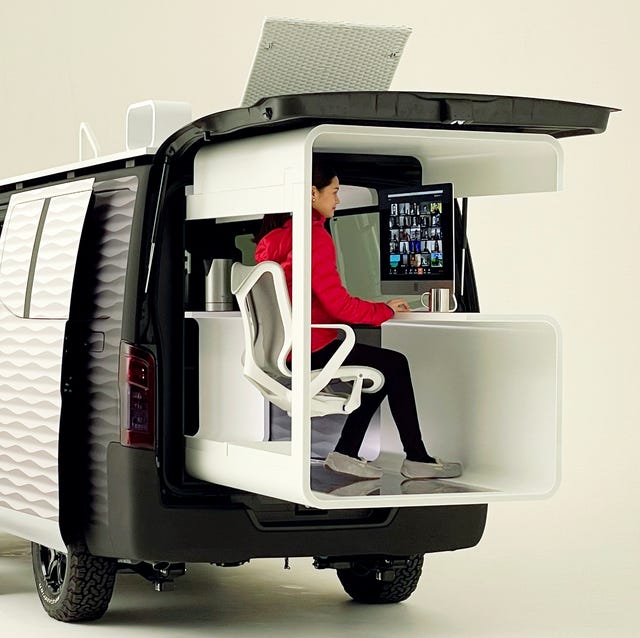 As you might well know by now, one of the few bright spots of the year 2020 was the rise of camper vans. With most forms of vacation off-limits and the need to keep your distance paramount, many folks sought refuge in mobile campsites for the first time. But 2020 was also a huge year for working outside of the office, as COVID-19 sent millions of employees home to work from their kitchen tables and bedrooms for the first time.
So perhaps we shouldn't be surprised that, one year later, Nissan has merged those two trends into one concept car: the NV350 Caravan Office Pod Concept.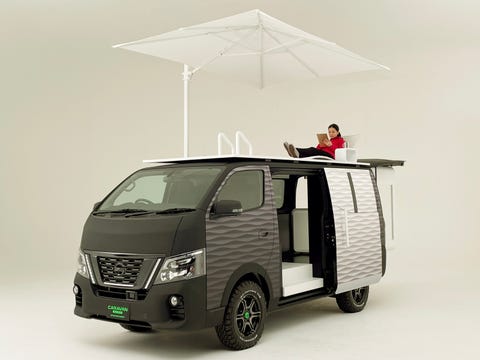 Camper van, but Make It Office
Nissan's new concept is based on the NV350, a.k.a. the Nissan Caravan — a cab-over van sold outside the U.S. Like a camper van, it's designed to operate seamlessly as a vehicle in motion, then transition to a more usable space when parked. Only instead of a sleeping-and-eating area, the Office Pod serves up a place to work.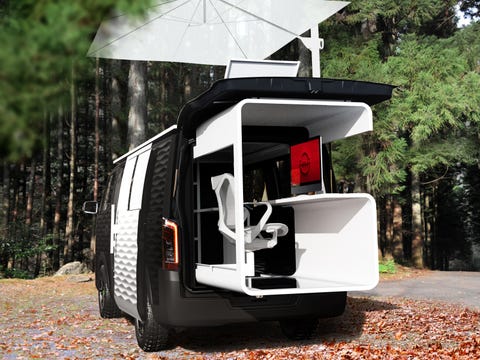 Do the electric slide (for an open-air workspace)
Once parked —ideally somewhere far from people, but still with decent cell service — the workspace in back slides out, offering a chance to work away in the light and breeze.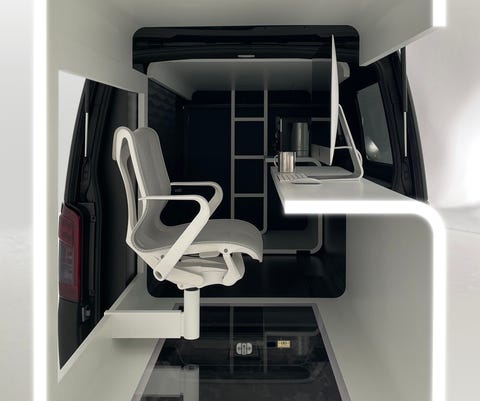 "...and working in a van down by the river!"
Maybe Matt Foley would have done better for himself if he'd been able to also get some work done while in his rolling abode. The office space seems to remains usable even when stowed, though it'll likely be a bit of a tight fit — especially for anyone of Chris Farley proportions.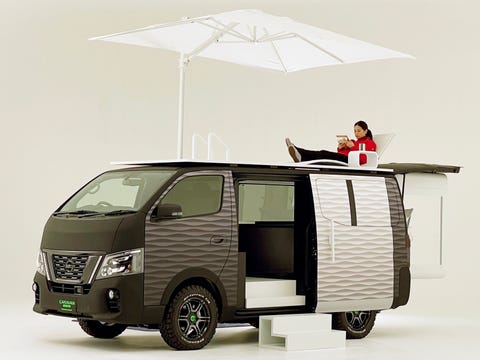 Big deck energy
Maybe you noticed the ladder hidden in back of that last slide? It provides access to the roof deck, where you can kick back and relax under an expansive pop-up awning.
Sadly, the the NV350 Caravan Office Pod Concept is, well, just a concept — and even if it did go into production, it likely wouldn't come Stateside. Still, it certainly makes for good inspiration for any future van builders. After all, did you ever think about office vans before today?
These Are the 16 Best Cars to Buy in 2021
Kelley Blue Book has released their best cars to buy awards for 2021. The results may surprise you.