Airstream's New Camping Trailer Has the Perfect Invention for Modern Travel
The work-from-home era arrives at Airstream, and it's glorious.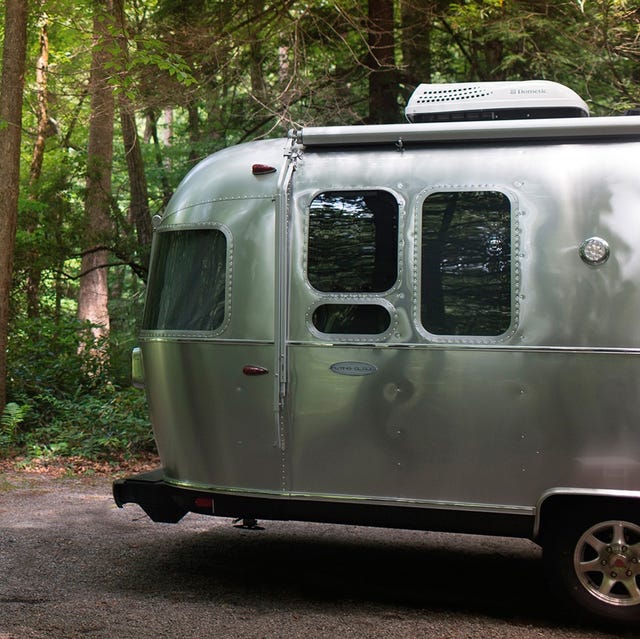 Airstreams are pretty much the most iconic travel trailers on Earth. Whether it's the pocket-size Bambi, the mighty Classic or any of the versions in-between, the aluminum-skinned rigs set the standard for what camping trailers should be. Considering Airstreams have been gracing roads for almost a century, that shouldn't be all that surprising.
Still, the company isn't letting its history get in the way of innovation. For 2021, Airstream is rolling out a new variant of its super-popular Flying Cloud that's particularly well-suited to the office-less, social distance-philic reality in which we find ourselves. You see, the Airstream Flying Cloud 30FB Office, as it's called, boasts...a dedicated home office.
The new Airstream Flying Cloud looks, well, like what you'd expect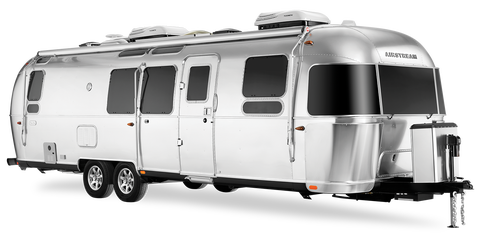 Pretty much everyone is at least passingly familiar with an Airstream's shape and polished aluminum skin. The newest Flying Cloud doesn't stray from the prototype; it's a smooth, shiny lozenge that's designed to slip through the air at 60 miles per hour and look good doing it.
Welcome to your new home office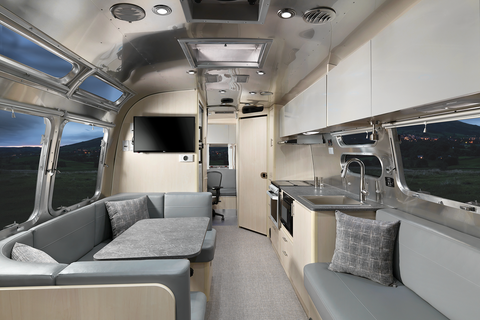 Step inside, and you'll find a surprisingly airy cabin, with plenty of windows and ample headroom. Look down past the dining table and galley and next to the bathroom, however, and you'll find this Flying Cloud's killer app: a private, personal office.
Workplace, sweet workplace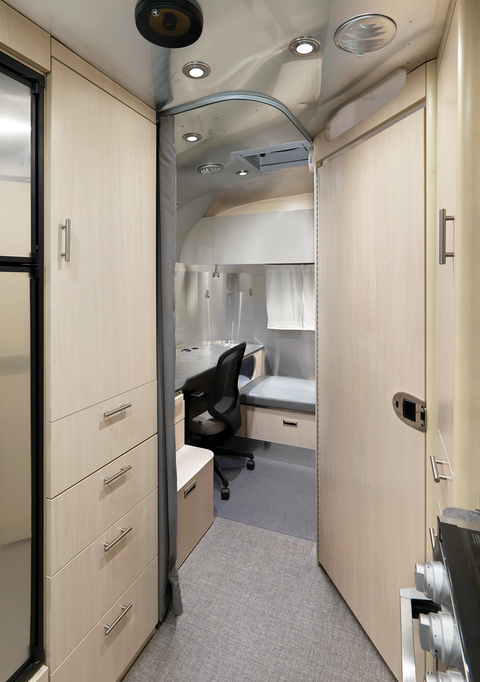 If you've ever wanted to boast that you have a corner office, well, that's just what this Airstream gives you. Sidle between the head and the galley, and you'll find a desk with views out both starboard and stern. A retractable curtain provides privacy when you need to buckle down and get stuff done.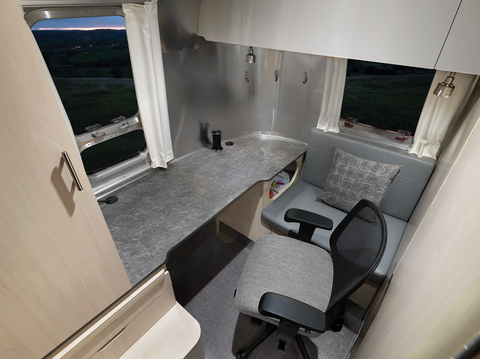 The "home" office offers both USB ports and AC power, as well as access to the output from the trailer's built-in entertainment system. There's more than enough room for even a large flatscreen monitor (though you might want to tuck it away when you're on the road); if that's not enough space, there's also a pull-out table.
Clever little touches abound, too. The surfaces on the overhead storage spaces doubles as place to write with dry erase markers; the office chair has a strap to hold it in place in motion; and the curtains are actually blackout ones, so you don't have to battle the sun while looking at your monitor.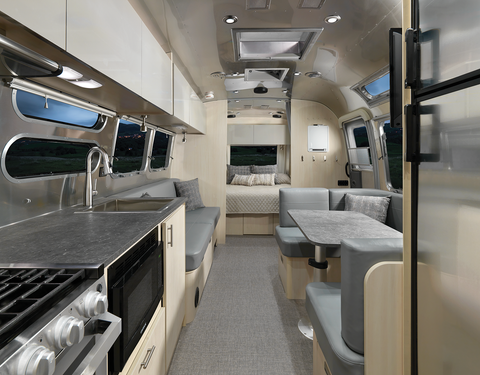 Other than the workspace, this Flying Cloud is more or less identical to other 30FB versions. There's a propane stove and oven, a microwave and an 8.0-cubic-foot fridge/freezer, as well as a Moen faucet fed by a 52-gallon fresh water tank. (There's also a 41-gallon gray water tank and a 35-gallon black water tank...not that you want to think about that while making food.)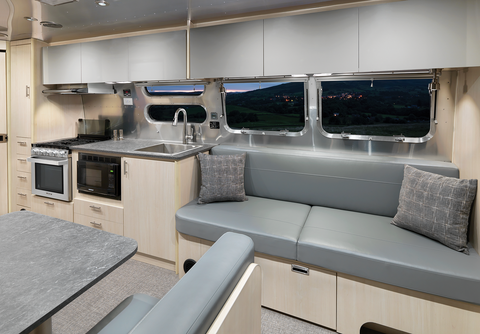 If your camping duties don't involve cooking, there's plenty of room to chill on the adjacent couch, which boasts an excellent view of the LG LED TV that's hooked up to a Blu-Ray player and a JL surround sound stereo.
The Best Office Chairs of 2021
Everything you need to know to find an office chair best suited to your needs.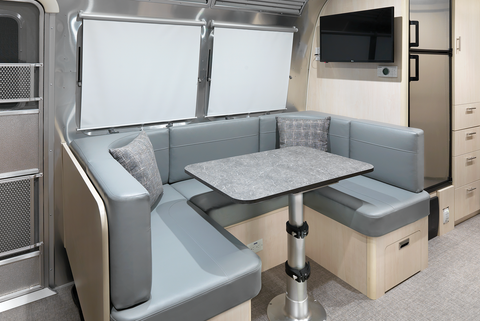 Come mealtime, if the weather isn't cooperative for outdoor eating, there's room around the dinette beneath the moving television set to get cozy and tuck into some chow.
No shortage of places to snooze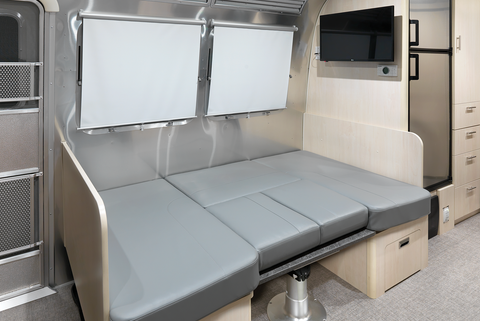 As in many an Airstream, the dining area converts to a sleeping space if needed (thought admittedly, based on our experience with the Nest, it's worth bringing a mattress topper if you're gonna use it for that). The side bench in the office also converts into a small bed in a pinch.
Let's face it, this is where you'd rather sleep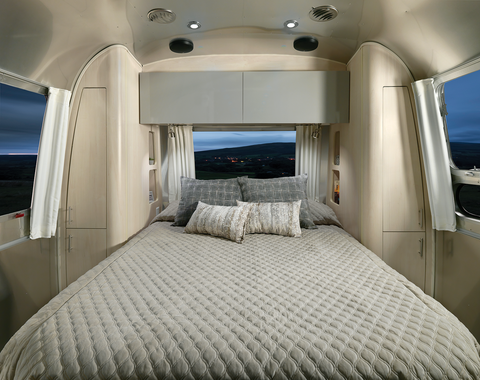 The "FB" in Flying Cloud 30FB Office stands for "front bedroom," so that's where you'll find the queen-sized bed that offers the best sleeping arrangements in the trailer. There's a pillowtop memory foam mattress and blackout curtains for a solid night sleep, but insomniacs can also find refuge with the help of the bedroom TV set and integrated reading lights. There's also a pair of closets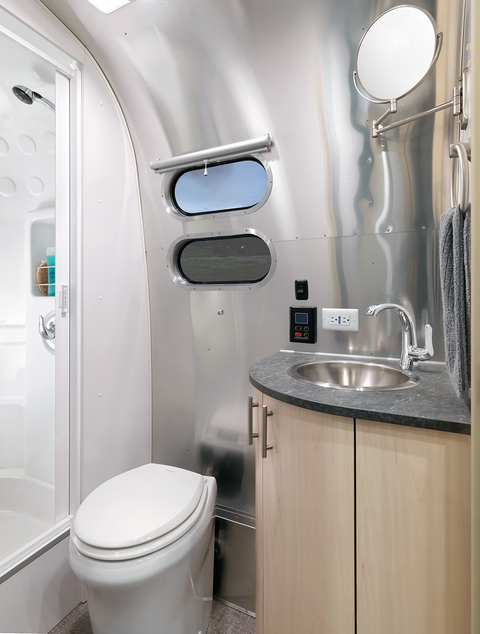 Anyone who's had to use the wet baths found in smaller trailers and RVs will be overjoyed to find this Flying Cloud packs a full bathroom, complete with a standalone shower, a flushing porcelain toilet and a classy, compact sink.
Got a pickup? You can probably tow this Airstream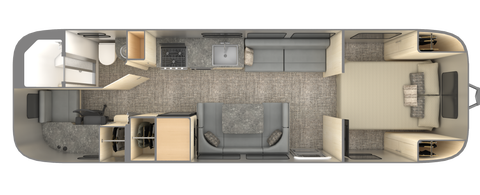 The Flying Cloud 30FB Office weighs in at 6,757 empty, so even loaded up with office supplies (and, y'know, water), it's light enough to be towed by most full-size pickup trucks and many a large SUV.
If you see one of these in your future, be prepared to fork out $107,500 to take the Flying Cloud Office home. Not cheap, sure — but hey, maybe you can write it off as a business expense.
The Gear You Absolutely Need for Car Camping
Car camping makes getting away easy as pie. These items will make it even tastier.