Every product is carefully selected by our editors. If you buy from a link, we may earn a commission.
The Essential Gear You Should Keep in Your Car All Winter Long
Want to stay safe and warm while navigating the cold, hard world? Here's what you need.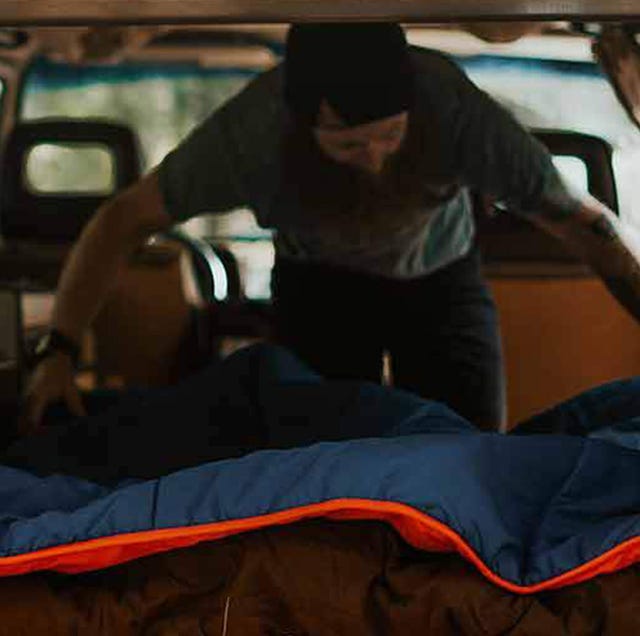 On many a day this winter, I woke up, made a mug of coffee — and drove into a snowstorm.
Heading up Teton Pass that connects Wyoming and Idaho, I watched rear tires spin fecklessly, ABS systems bring cars to a lurching halt, and drivers erratically turn off Highway 22 at full speed, unaware that friction and inertia were not on their side.
And as always, I thought to myself, "We have some learning to do here."
No one is born knowing how to drive in the snow. Even I — a student of physics, with a childhood split between Alaska and Minnesota — didn't have innate skills for driving in the snow when I acquired my license. I had to pay my dues, including getting stuck in a ditch more times than I've ever admitted to my mother. Eventually, I came to realize that winter driving is comparable to the race between turtle and hare; you win by going slower.
But let's face it, you're not going to listen to the advice from some random guy on the internet. So, instead of offering tips for safer and more respectful driving, I'll write about the opposite side of the coin: the stuff you'll want when you're stuck in the snow, embarrassed as hell and waiting for AAA to save your cold butt.
These probably aren't gifts you're likely to get at Christmas, or currently fawning over in a curated online shopping cart. No, these are tools — tools to help you become a better driver, help you wait for help more comfortably should the need arise, and — for the real go-getters — help you get unstuck without the aid of a tow truck.
It'd be kind of silly for us to award bonus points for hand warmers and not include them in this list.
Backcountry Access B-1 EXT Bomber Avalanche Shovel
A portable shovel has helped me out of a few miscalculations, and I bet it'll help you do the same. Durable and easy to stow, one of these punches above its weight class.
Muck Boot Arctic Ice Extreme Conditions
Warm, waterproof, and easy to slip on and off, these are the perfect winter boots to throw in the car. I use them for shoveling the driveway, walking the dog — and pretty much always when driving in winter.
For most oh-shit-I'm-sliding-into-a-ditch mistakes, the solution is simple: waive down a friendly stranger and have them pull you out. To do that, it helps to have a tow rope. This is a great one.
The Best Winter and Snow Tires You Can Buy
We picked the best tires to help you stay mobile through the winter months.
Maxtrax MKII Blaze Yellow Vehicle Recovery Board
If you happen to be on a less-traffic road, another solution: get yourself unstuck. To do so, first dig out the wheels and make an exit, then use these for added traction.
Darn Tough Men's Heavyweight Hiking Sock
This merino wool sock is made for all kinds of outdoor adventures, and will keep you warm and comfortable even in wet conditions. It's worth packing an extra pair in your glove box, just in case.
Subzero Hopkins 52" Super Extender Snowbroom
Wait, you don't have a snow broom in your car already? Stop messing around and buy one.
Security Chain Super Z6 Tire Chain
Even snow tires sometimes can't handle the worst that winter throws at you. For those circumstances, you'll want a good set of tire chains. These are our go-to choice; just throw them in back and forget them until you need them.
NOCO Boost Plus GB40 1000 Amp 12-Volt UltraSafe Lithium Jump Starter Box, Car Battery Booster Pack, Portable Power Bank Charger, and Jumper Cables For Up To 6-Liter Gasoline and 3-Liter Diesel Engines
There are enough problems to worry about in winter without adding in the usual all-season issues — like a dead battery. Make sure you're never stranded for lack of a charge with a good portable jump starter.
The 12 Best Down Jackets of 2021
These top picks for lightweight, innovative down jackets will keep you warm from when the leaves fly until the snow melts in the spring.
This content is created and maintained by a third party, and imported onto this page to help users provide their email addresses. You may be able to find more information about this and similar content at piano.io