We Rode in Mercedes-Benz's New EQS Electric Flagship from 4,000 Miles Away
Thanks to COVID, we couldn't go to Germany; thanks to technology, we didn't have to.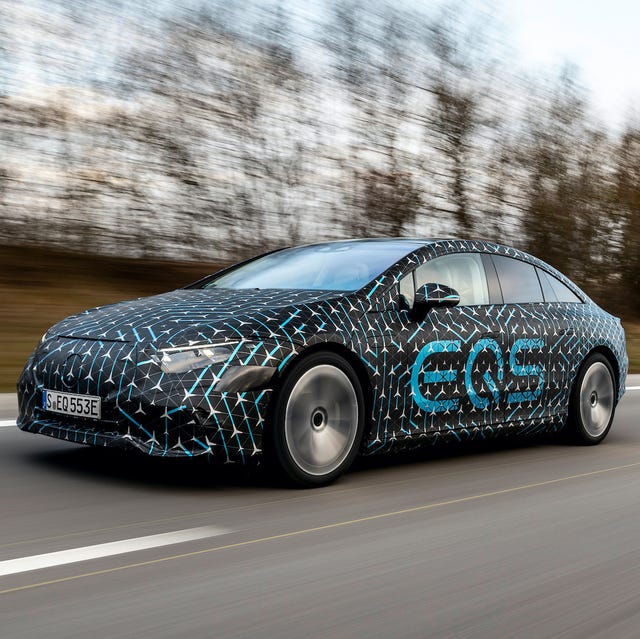 Every new car is, in some way, a testament to faith in the future. After all, a company wouldn't go to the trouble of spending millions of person-hours and hundred of millions of dollars on a new product if it didn't think there was a damn good chance customers for the next half-decade or more would snap them up in number large enough to turn a profit. That said, few cars are quite as much of an investment in tomorrow as the Mercedes-EQS sedan.
This new luxury car isn't the first electric vehicle to ever wear a three-pointed star, but it may well be the most important yet. After all, it's the first new car to use Mercedes-Benz's bespoke EV platform, which will serve as the foundation for most the automaker's onslaught of new electric vehicles for the next few years. And given that Germany wants to move away from gasoline at Mach Schnell, odds are good people in the brand's home market (and elsewhere) will want to throw money at the for it...if it's good enough.
Of course, while Mercedes-Benz would have loved to shuttle the world's media over to Stuttgart for a quick ride in the EQS before its formal debut, the practicalities of not spreading COVID-19 across continents meant a ride-along wasn't possible. So instead, Mercedes pulled a 2020 and gave me the Zoom equivalent: a virtual ridealong where an esteemed, very knowledgeable executive — in this case, Christoph Starzynski, vice-president of electric vehicle architecture and head of EQ for Mercedes-Benz — would drive around Germany in the car and answer my questions...and my butt would continue occupying the same home office chair it has grown to know intimately over the last 12 months.

Range won't be a source of anxiety with the Mercedes-EQS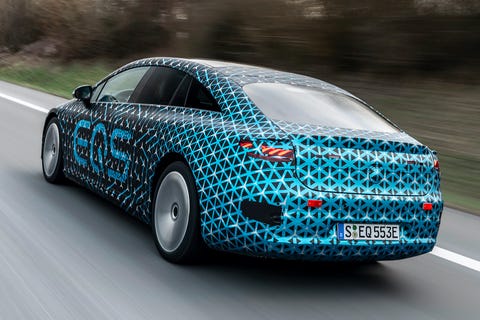 While the EPA hasn't had a chance to sink its testing hooks into the EQS yet, Mercedes-Benz claims the car will offer a WLTP range of 770 kilometers — or in 'Muricah lengths, 477 miles. There's no perfect way to predict American range estimates from that, but as a very loose rule, dividing the WLTP range by 1.12 gives you the EPA range with a roughly 8 percent margin of error. In other words, expect the EQS to deliver a U.S. government-certified range of between 386 and 466 miles.
Even the lesser would be enough to put it only behind Tesla's rangiest Model S — and the EPA ranges for Teslas have generally been less than accurate in the real world, whereas most other automakers' newer EVs have matched or beaten their EPA estimates. Still, should the EQS not have enough in its battery to take you wherever you want on a single charge, Mercedes says it can add up to 186 miles of range in 15 minutes on a fast charger.
You'll feel like you're riding on air...because you are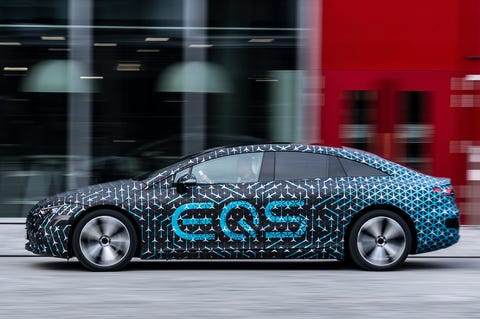 Every EQS will come with an air suspension, the better to keep the ride of this massive machine smooth and level even at the autobahn speeds any Benz needs to be able to tackle. And big it is: stretching 205 inches from smooth tip to smoother tail, it's longer than an E-Class station wagon.
Power? How does 516 horsepower strike you?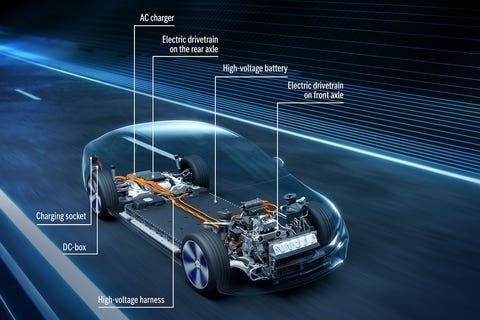 Initial versions of the EQS will launch with a 107.8-kWh battery pack between the axles; a smaller one of roughly 90 kWh will arrive later. Dual-motor all-wheel-drive and single-motor rear-wheel-drive will both be available, though the AWD version and its 516 combined horsepower will likely be the choice of most. (Still, if you can live with less, the single-motor one makes 328 hp.)
That swoopy shape exists for a very good reason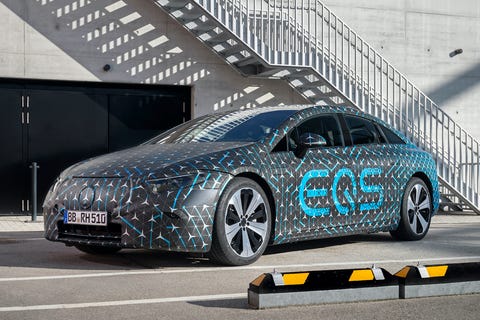 Speaking of the tip and the tail, you might have noticed how, well, streamlined they are...as well as the rest of the car. Indeed, to try and force it into the traditional two-box / three-box vernacular used to identify most cars seems like a bit of a fool's errand; it looks like a car made of frosting left next to the Maxell guy in front of those speakers, all stretched out by force of the breeze.
That is, in fact, to help it slip through the breeze as easily as possible. Wind resistance is an even more burdensome force for EVs than it is for gas-powered cars, so to combat it and deliver as much range as possible, Mercedes designers shaved the body all the way down to a 0.2 coefficient of drag — almost as low as the strictly-conceptual VW XL1.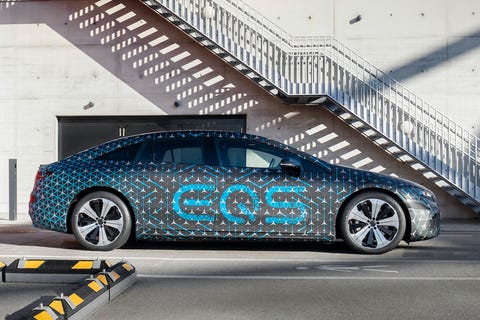 Thanks to the flexible packaging, the interior should offer S-Class-worthy accommodations, but with a twist: Mercedes wanted to embrace the added flexibility that comes with not having to design around a giant fuel-burning engine, a bulky transmission and a driveshaft.
We've already covered the opulent interior (which you can read more about here) and the megalithic dash-spanning Hyperscreen infotainment display (which you can read about here). Starzynski said the latter was a particularly intriguing part of the design's mission to make the cabin feel particularly cocoon-like: ""How cool would that, be to have a complete screen around you?"
Think of the EQS as the alternative to the S-Class, not its replacement (yet)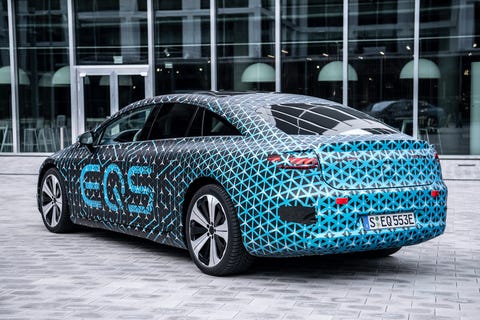 "We want to create a new segment, like we did with the S-Class a few decades ago," Starzynski told me from the driver's seat while piloting the car down the road in Germany at impressive speed. Don't think of it as a replacement, though; he said the EQS is meant to be positioned as an alternative to that iconic gas-powered sedan, much as the new EQE sedan will be to the E-Class, the EQS SUV will be to the GLS, the EQE SUV will be to the GLE, and so forth. "The classic Mercedes customer can now pick and choose," as he put it.
TK also claims you won't find another electric car with a similar combination of elegance, luxury and roominess. Speaking of the latter: while there may not be a frunk to be found (more on that in a moment), there is 21.5 cubic feet of storage space found in the trunk. Fold down the rear seats, and you can squeeze 62.5 cubic feet of flat-packed Ikea furniture behind the front row.
Fear no scent nor allergen in the EQS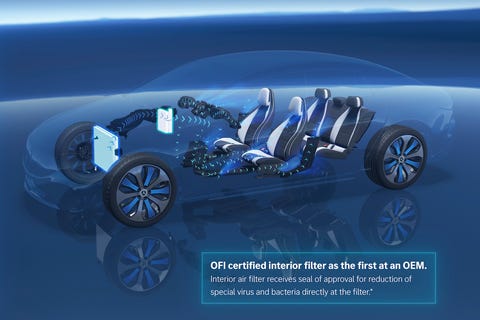 Why no front storage compartment? Because Mercedes decided to use that space to cram more air filtration equipment in there than you can shake a stick at. The HEPA filter up front measures 592 x 412 x 40 millimeters, and the car also uses around 1.3 pounds of activated charcoal; count up all the nooks and crannies, and all told, the adsorption area is equivalent to 150 football fields. (Whether they meant American football or soccer was unclear, but really, at that point it doesn't matter.)
Expect to see the EQS revealed in all its glory very, very soon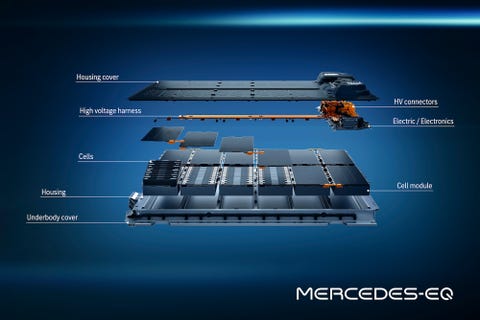 The Mercedes-EQS is set to make its triumphant reveal on April 15th before going on sale in the United States this fall. As you'd expect, we're excited to see it.
The Complete BMW Buying Guide