The Mercedes-Maybach GLS 600 Is a Winter-Stomping, Road-Going Private Jet
If you need to cover a few thousand miles regardless of weather, it's hard to beat Maybach's new SUV.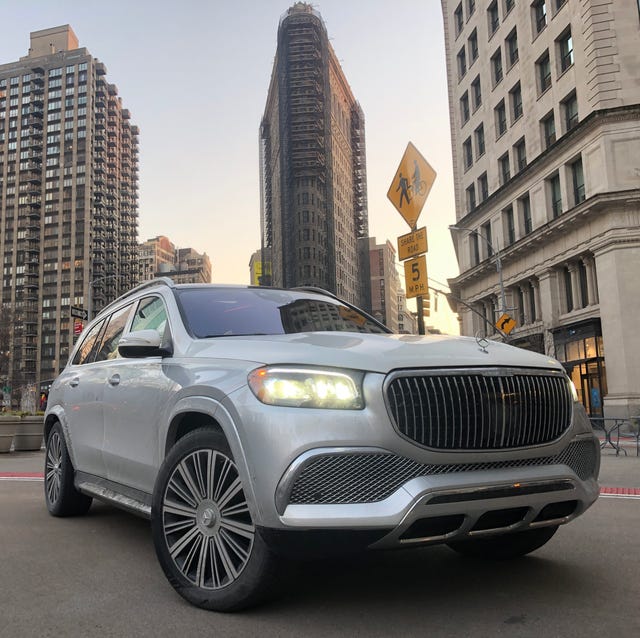 Winter is hardly the best time to drive. Sure, internal combustion engines might love the way the air molecules come more densely packed at low temperatures, but the precipitates found in the coldest season have a way of rendering even the grippiest tires useless and the view ahead opaque — two conditions that don't play well with operating a motor vehicle at speeds of a mile a minute or more.
Yet for many of us, the December of 2020 forced us to reckon with winter driving in ways we might not normally have to. With the coronavirus pandemic raging, planes and trains filled with strangers became terrifying propositions, leaving America's John Candys and Steve Martins left with the automobile as their sole means of safely getting home for the holidays.
For me this year, that meant more than 1,800 miles of zipping across the eastern third of the United States: with my girlfriend to her parents' home outside Detroit, then solo from Michigan to my family home in New England, then back to New York City. (To those who might be concerned: myself, my girlfriend and both our families were diligent about social distancing and mask usage, and no COVID was spread, across state lines or otherwise.)
Such a task would require spending quite a bit of time — all of it behind the wheel — while traversing areas known for their cold and snow in a time of year known for, well, cold and snow. Fortunately, the folks at Mercedes-Benz had recently unveiled a vehicle that, on paper at least, would seem ideal to the myriad tasks of driving the same distance as going from Paris to Moscow in weather that, potentially, could stymie even Napoleon: the Mercedes-Maybach GLS 600.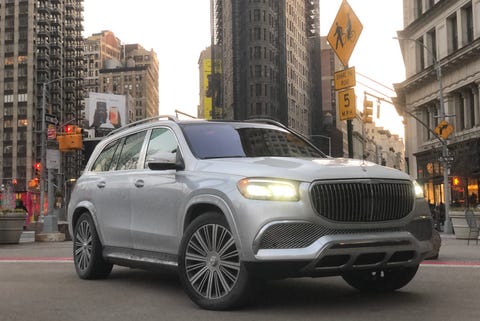 During the 10 days I had the Maybach GLS, I spent roughly 30 hours of aggregate time behind the wheel — which, for the record, is about 28 hours more than the average auto journalist gets when experiencing a new car for the first time.
That said, I probably could have logged 10 times that many hours behind the wheel and still walked away relaxed. Sitting for nine hours at a time like I did during my 13-hour drive in the midst of the travels will leave anyone's muscles in need of a good stretch, but the Maybach's driver's seat was as cosseting a perch as I've found in any car; my limbs might have needed a good flex, but my back and butt had exactly zero complaints even over that length of time.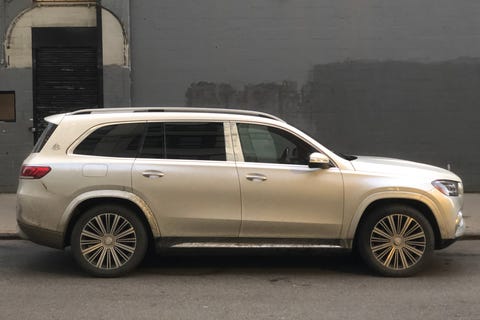 Maybachs, of course, aren't about speed or brutal acceleration; like a Rolls-Royce, their might is in service to making sure they can always accelerate effortlessly. Even when pushing around roughly three tons of SUV, occupant and cargo, the AMG-derived twin-turbo 4.0-liter V8 beneath the GLS 600's hood spits out enough power to shove the car from a stop up to highway speed before you finish saying your fifth Mississippi.
Still, while it's happy to do rip to redline, it never feels like it's truly comfortable doing it; it's like asking a tackle who takes ballet to improve his game to perform in The Nutcracker. It's much happier purring along in the meat of the rev range, using its 48-volt electric motor to fill in the few gaps in its mighty torque curve.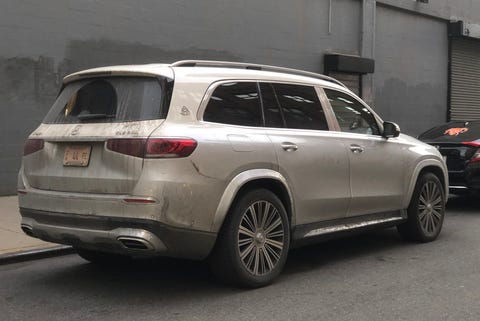 Of course, smooth power has long been a staple of Maybachs. The GLS's big advantage for daily driving over its double-M siblings comes in the form of its height. Not only does that make for a commanding driving position, it gives the GLS added ground clearance to help it deal with everything from snowdrifts to potholes to the errant chunks of retread that dot America's highways.
If that's not enough for you, the adaptive air suspension offers a horde of different modes, including ones that firm up the dampers or raise the body as needed. It always favors a comfortable ride above everything else, though. Part of my drive involved a harrowing 100 miles of driving through the cell reception-free heart of the Adirondacks in the dark, with freezing rain and sporadic fog thrown in for good measure. Two hours of those winding two-lane bends left me wishing I'd taken the extra hour to stay on the highway. (I did make a note to go back to that stretch in something sportier, however.)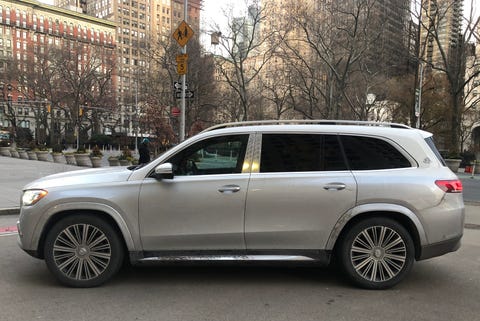 That also means that this Maybach packs the best automotive party trick invented in at least the last 20 years. Mercedes-Benz calls it "Free Driving Assist," but everyone else knows it as "bounce mode." Toggle the drive mode selector to Offroad and open up the Offroad Assistance menu in the MBUX infotainment system's Assistance Menu, hit the button, and the GLS will being hopping up and down as though its shocks were replaced by pogo sticks for the better part of a minute, squeaking like a chew toy all the while.
As you can imagine, this is extraordinarily entertaining.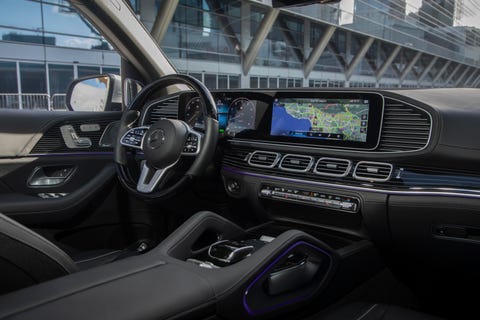 For the front seat occupants, the Maybach GLS will seem awfully similar to anyone who's spent time in any other new-build GLS. The three-pointed stars have been swapped out for Maybach logos and the color and trim options vary in material and color,
That's no slight against it, mind you. The GLS boasts one of the nicest interiors of any big SUV — hell, it's in the top 10 percent of all new cars, period — so the Maybachification process doesn't need to do much. The MBUX infotainment system and the digital instrument panel offer so many ways to customize and fine-tune the systems, you could spend an hour fiddling around and not explore them all; should that grow tiresome, start poking around with your fingers for any soft material that isn't leather, which ought to keep you busy for just as long.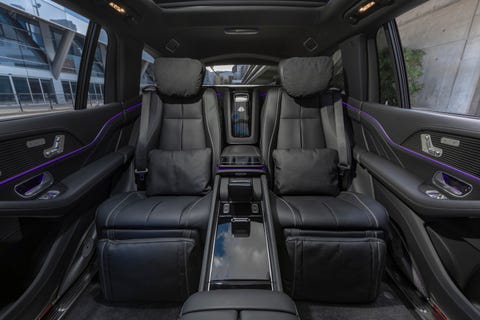 The back seat is where the GLS 600 makes its biggest departure from "lesser" GLS-Class models. The rear bench is kaput, replaced with two seats that look ripped straight out of the first-class cabin of an Emirates 777. Like the front seats, the back row offers not just heating and ventilation, but a full array of massage options. (There's also an available five-seat configuration, but...seriously, why would you?)
While they don't lie completely flat the way the captain's chairs of a 2021 F-150 can, they do recline — far enough for a good nap. And even the F-150 can't match the recliner-spec leg rests that unfold to provide a pillowy place for your calves to rest.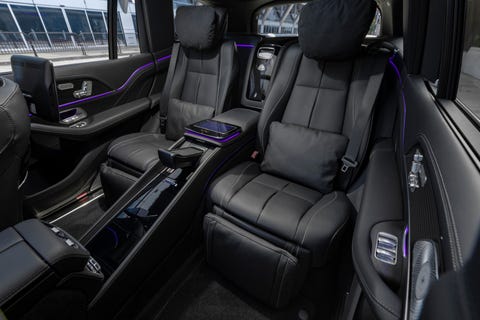 Maybachs are the sorts of cars chosen by captains of industry, so of course, the GLS 600's back row is meant to be a good place to Get Things Done. There's a tablet computer that not only controls the climate and stereo, but if you opt for the on-board wifi, you can use it to surf the web. The wireless cell phone charger above the cupholders is ideally placed to view the screen during a video chat. And not only is there an optional fridge located between the seats capable of storing a couple bottles of wine, there's even a spot to hide a pair of special champagne flutes — complete with magnets to keep them locked in place.
The only group of high net worth individuals who might be a tad disappointed with the GLS 600's back seat: NBA stars. While the second row is expansive by any mortal standards, it still can't match the legroom of a true limo or car with a stretched wheelbase (like, for example, the Maybach sedan).
Anyone six feet tall or more will find the soles of their feet touching the front seatbacks when they try and stretch all the way out. Make peace with that, however, and you'll run out of complaints about the second row real quick.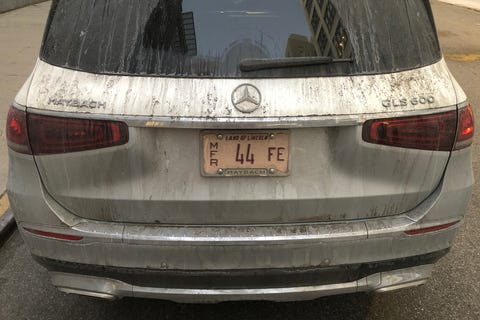 That added space comes at a cost, though. To make room for those reclining thrones and their legrests, Mercedes had to sit the second row further back than in the regular GLS, cutting into the expansive cargo bay. The elegant trim between and behind the seats flows up into a divider that sits just below the rear window, further reducing the usable
That still leaves a decent box of cargo space in the far back — unless your Maybach happens to come equipped with the champagne cooler between the back seats, as my tester did While pulling cold drinks out of a hidden fridge is inarguably one of the most baller moves imaginable in a car, the bulky unit protrudes almost all the way to the rear hatch, almost completely dividing the cargo area. You could squeeze a couple hard-sided carry-ons on either side of it, but not much else. Anyone who's planning on using their GLS as a traditional SUV to cart around large objects would be better off spending their money on a loaded GLS 63.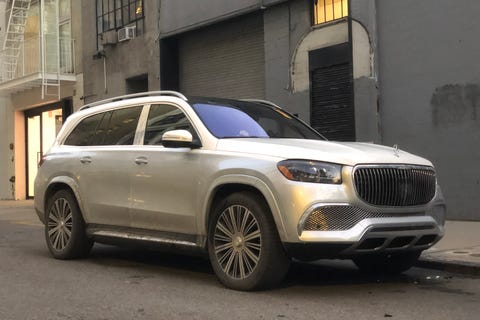 Still, if your needs for space can't be met by the cargo bay, keep in mind that unlike your S-Class-based Maybachs, the GLS 600 can tow up to 7,700 pounds, which ought to be more than enough to tote along whatever baggage you might require.
And sure, maybe it's not perfect, but what vehicle is? More than once during my many, many hours of driving, I contemplated how much nicer it was to be rolling along in the quiet seclusion of its cabin than it was being crammed into a pleather seat on a Delta flight even before COVID-19 reared its spiky crown. There are other cars that can match its comfort and other SUVs that can beat it on capability, but none that can do both of things as well.
Bottom line: if you and three or fewer people need to cover a lot of ground in whatever conditions life throws at you, damn the weather, you can't really beat the Mercedes-Maybach GLS 600. Just be sure to pack light.
The 2021 Mercedes-Maybach GLS 600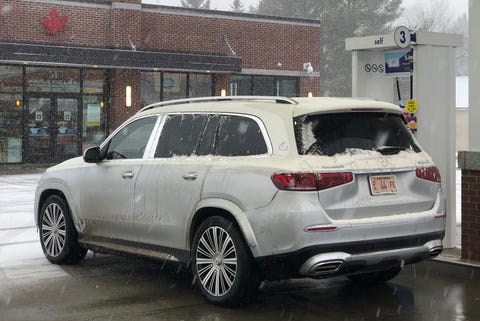 Base Price: $160,500
Powertrain: 4.0-liter twin-turbo V8, nine-speed automatic, all-wheel-drive
Horsepower: 550 hp
Torque: 538 lb-ft
EPA Fuel Economy: 15 mpg city, 19 mpg highway
Seats: Four
These Are the Best Cars to Buy in 2021
Kelley Blue Book has released their best cars to buy awards for 2021. The results may surprise you.