Every product is carefully selected by our editors. If you buy from a link, we may earn a commission.
This Go-Anywhere Camping Rig Could Be the Ultimate Overlander
EarthCruiser's Terranova packs the brand's trademark capability into a more manageable package.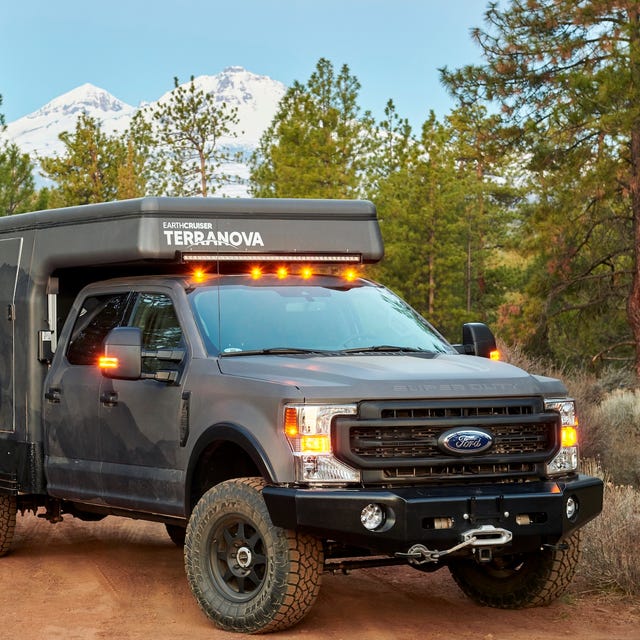 Here in 2021, it's safe to say that the idea of overlanding sounds as good as it ever has. After all, 2020 and its life-and-death need to avoid other people is still all too fresh in the mind. Plus, now that America is reopening as the raging fire of the COVID-19 pandemic begins to burn down and smolder out, it seems safe to assume that traditional forms of vacation will be as busy as we've ever seen, as people seek to turn pent-up desire to travel and money saved up over the last year into new experiences.
But while car camping may be easy to do with just about any vehicle (although let's face it, we'd rather do it with something like a Subaru Outback), true overlanding requires a special sort of vehicle. A burly, go-anywhere off-roader that marries the capabilities of a pack mule with the living arrangements of a five-figure (or even six-figure) expedition to Everest.
Which is, of course, exactly the sort of vehicle the folks at EarthCruiser have been building for a decade now.
Still, their stock in trade for the last 10 years — chassis-cab-based off-road campers — is a little much for a lot of people. After all, driving the equivalent of a box truck from town to town isn't necessarily everyone's cup of tea. So for 2021, EarthCruiser has whipped up a new pickup truck-based model: the Terranova.
The EarthCruiser Terranova is based on a heavy-duty pickup truck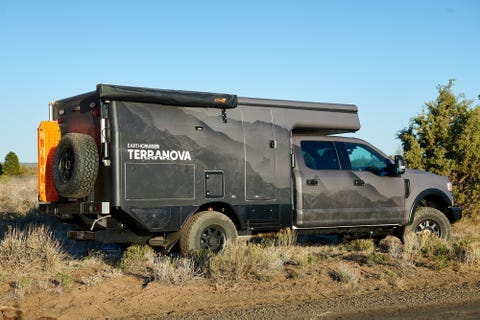 Unlike the commercial truck-style EXP, FX and Dual-Cab models that the company made its name on, the Terranova uses a buyer's choice of Ford, Ram or General Motors one-ton heavy-duty pickup truck chassis.
The reasons, EarthCruiser told us, are many. First off, they're easier to drive; there's more of a learning curve with their traditional models than these pickup-based vehicles. The HD pickup campers can tow more than the other EarthCruisers, in case buyers want to lug along boats, cars or even a travel trailer. Modern HD trucks offer luxury trim levels that far exceed what you find in commercial-based rigs, as well.
On top of all that, going with Big Three-sourced rigs means buyers can make a statement about their own brand loyalty. Few people likely care about what manufacturer builds the basis of an EXP (it's a Mitsubishi Fuso, for what it's worth), but plenty of Americans have strong feelings about Ford, Chevy or Dodge Ram. Plus, it's easier to find service centers for these trucks than it is the commercial-based Fuso. And on top of all that, the Terranova comes in a bit more affordable than the traditional EarthCruisers.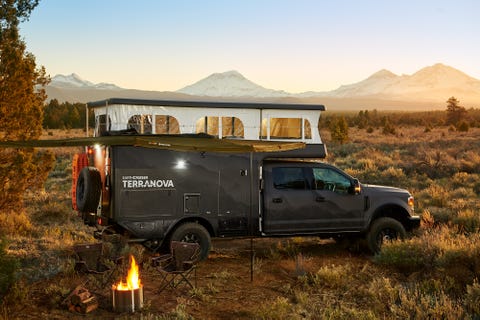 To maximize interior volume, the Terranova combines a pop-top camper design — which raises the roof to create headroom for even 99th-percentile adults when parked, but lowers it for improved fuel economy when moving — with a cab-over design that places the primary sleeping space above the quad-cab. (All Terranovas, for what it's worth, are based on quad-cab long-bed heavy-duty pickups.)
The "house" sits on the truck's frame using the company's kinetic mount system first developed for its other models, which uses a standalone subframe between the cabin and chassis; this enables the living space to stay firmly mounted, but also go with the flow when off-roading. The truck's suspension is upgraded for overlanding use, and the front bumper is swapped out for an aftermarket model with a built-in Warn winch.
Storage spaces and slots abound on the exterior, as well, with ample places to stash wet or dry gear in cubby holes and recovery gear (like a spare tire and MaxTrax) on the back.
A bed fit for a king...or at least a queen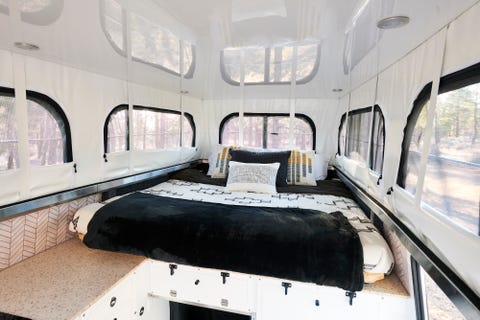 In the main sleeping area, you'll find a queen-sized mattress with enough room for people to stretch out and sleep longitudinally, rather than transversely (thus preventing you from having to climb over your partner in the middle of the night). The bottom part of the mattress folds up when not in use to increase room in the rest of the interior, as well.
Five of the eight windows found in the triple-layer curtain of the pop-top are found around the bed, enabling solid airflow and excellent views when the weather is on-board. Don't sweat if you need to entertain yourself with your iPad or a book instead, though; there's also power ports and reading lights around the bed.
Room to relax (or work, if you have to)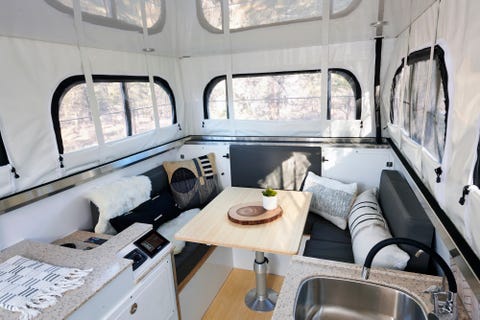 Working from home has become the new norm for millions of Americans over the last year, and the Terranova is designed to lean into that; not only can it be optioned with satellite Internet capability, but the table in the dinette area can extend upwards to become a standing desk. Or, if need be, you can transform the sitting area into a second bed.
Step right up (but mind the pass-through)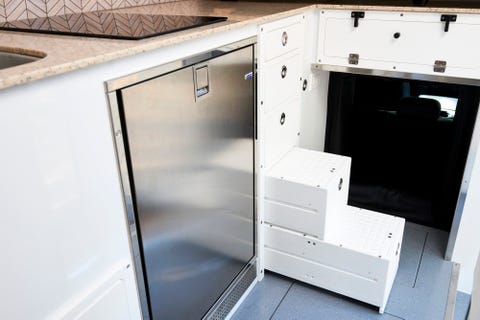 Nobody wants to run the risk of wanting to hit the road in the morning only to find you can't leave the living space because a family of grizzlies has taken up residence outside. So, the Terranova boasts a pass-through between the quad cab and the living quarters, enabling you to scramble between the two while staying warm, dry and safe.
In a testament to the design's clever thinking, the drawers that pack storage beside the fridge also double as steps to the "upstairs" sleeping area.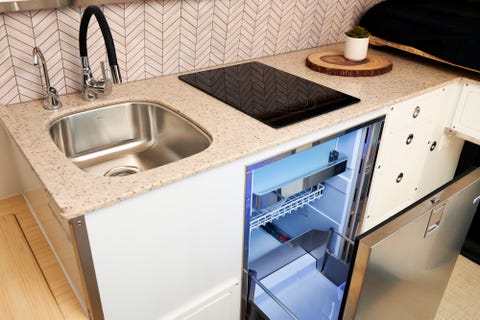 Part of the fun of camping is barbecuing and grilling outside, but that can grow old after a while, so the Terranova also packs a small-but-impressive kitchen. Between the fridge, the induction cooktop and the sink, whipping up meals shouldn't be difficult.
You may need to ask your companion to step outside occasionally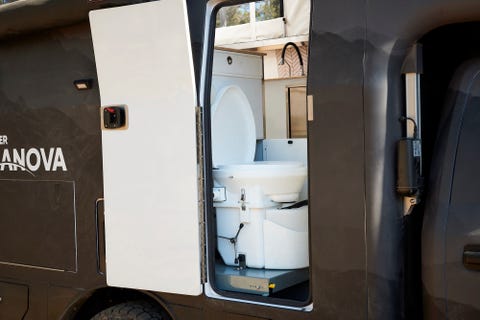 Granted, there are still some sacrifices that come with such a small living space, and the most noticeable one involves the bathroom. It's integrated into the entryway, to make it easier to rinse off after a long day of outdoor activities. There's also a toilet that pops out of the wall...but you'll probably want to ask anyone you're with to pop out for a sec while you use it.
The starting price for all this? $289,000. EarthCruiser is taking reservations for the Terranova now; business is booming, though, so the 40-person company says it only has a few build spots still available for this year. If you'd like to know more, EarthCruiser is hosting a live stream on its YouTube channel on Friday, April 30th at 11:30am PDT where you can see the rig in more detail.
The Most Important Pieces of Gear You Need for Car Camping
Car camping makes getting away easy as pie. These items make it even tastier.