Every product is carefully selected by our editors. If you buy from a link, we may earn a commission.
The Most Important Pieces of Gear You Need for Car Camping
Car camping makes getting away easy as pie. These items make it even tastier.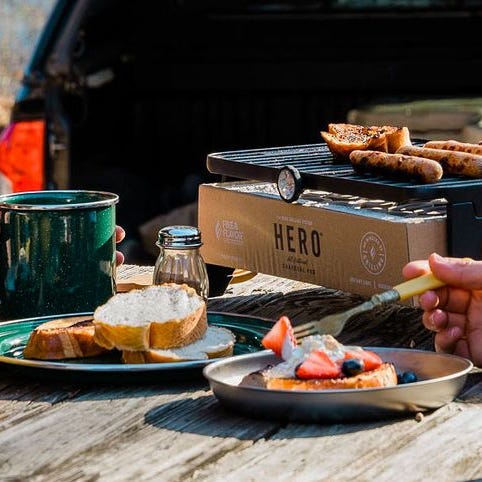 Exploring nature is a popular pastime — and, for obvious reasons, that's been even more true in 2020 and 2021. Thanks to COVID-19, many people remain afraid of flying or other forms of mass transit, and even the most confirmed central-air-conditioning aficionados might still balk at staying in hotels packed with strangers. And even if you are fully vaccinated and ready to party, the last year may have given you a newfound appreciation for the great outdoors.
Enter: car camping. Camping out of your vehicle can be a great way to get off the grid in an easy, accessible way, without leaving all those sweet, sweet modern amenities behind. And hey, who wants to lug around a huge pack when your Toyota Tacoma can carry far more with ease?
Below, we've pulled together some essential pieces of great gear that'll help make camping out of your car easier and more enjoyable.
Yakima
backcountry.com
$299.00
Climate control doesn't need to be a high tech affair. This awning will keep you cool and dry, and only takes up six inches of space on your roof rack.
The Muncher Multi-Tool Utensil
Full Windsor
huckberry.com
$50.00
Sure, you could pack an entire cutlery set. Or you could get one tool to rule them all, one that can serve as a knife, fork, spoon, bottle opener — even a firestarter.
YETI
huckberry.com
$250.00
Keep your essentials in one easy-to-pack box with this waterproof, shatter-proof and stackable storage container.
Hero Portable Eco-Friendly Outdoor Grill
Fire & Flavor
huckberry.com
$60.00
Carrying around propane is a pain. So is cooking over an open fire. Fire & Flavor's portable Hero Grill is easy to use, easy to clean — and stows away nicely, thanks to a minimal footprint.
Chair One
backcountry.com
$99.95
This is the camp chair that sets the standard for all four-legged adventure seats, with its lightweight fabric and aluminum construction. It weighs in at just over two pounds and offers a seating height of 11 inches, which is plenty of space between your rear and the cold, hard ground. It's so good, we named it our Just Get This pick among the best camping chairs.
Kindle Paperwhite — Waterproof
Amazon
amazon.com
$129.99
Reading and camping go together like peanut butter and chocolate, but lugging a bunch of books around is rarely ideal. Instead, load up a Kindle before you leave Wi-Fi.
Big House 6 Deluxe Tent: 6-Person 3-Season
Big Agnes
backcountry.com
$399.95
Part of the appeal of car camping is having ample space. This six-person, three-season tent offers an excellent place to stretch out and relax after a long day's drive.
NanoLoft Synthetic Down Blanket
Rumpl
huckberry.com
$111.98
This blanket uses lightweight, eco-friendly NanoLoft insulation that mimics down. It's machine-washable, easy to store and can easily make the transition from the campsite to everyday life.
Dura-Beam Pillow Rest Air Mattress
One nice thing about car camping: you have the space to bring along an air mattress instead of a sleeping pad. This one comes in twin and queen sizes, handles up to 600 pounds, and even offers a built-in pillow-like structure to hold your head up. It even packs a built-in pump.
AeroPress Coffee / Espresso Maker
AeroPress
amazon.com
$31.95
No matter how far off the grid you get, coffee is non-negotiable. The AeroPress can make coffee or espresso quickly, with minimal cleanup required.
Eagles Nest Outfitters
backcountry.com
$49.95
The point of getting away from it all is to relax — and it's hard to get more relaxing than laying in a hammock. This one sets up in seconds, packs down to the size of a honeydew when not needed and can hold up to 400 pounds.
This shower bag holds up to five gallons of water. It comes with a temperature indicator and an adjustable shower head, and it can heat water to 113°F in three hours.
900 Peak Amps Jump Starter with 250-PSI Air Compressor
Bilt Hard
amazon.com
$89.99
Two of the biggest worries when car camping are running down the battery (leaving you stranded in the middle of nowhere) and getting a flat tire (same result). Pack insurance against both with this air compressor / jump starter.
Front Runner Outfitters
frontrunneroutfitters.com
$77.95
Hydration is critical, and you'll probably want a fresh water supply, even if you stashed a lifetime supply of LaCroix in the trunk. This bag lays flat when not in use and stores more than 7 gallons.
The Best Rooftop Tents You Can Buy
If you've always enjoyed the top bunk, you should invest in a rooftop car tent.
This content is created and maintained by a third party, and imported onto this page to help users provide their email addresses. You may be able to find more information about this and similar content at piano.io