Every product is carefully selected by our editors. If you buy from a link, we may earn a commission.
2021 Genesis GV80: A Luxury SUV That Should Scare BMW and Audi
Yes, it's the SUV Tiger Woods was driving when he crashed. But it's so much more than that.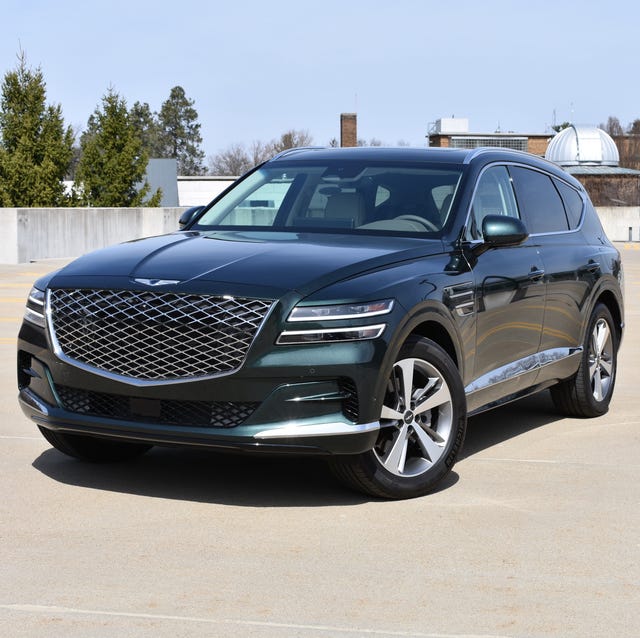 Some cars get you noticed. When you drive a Lamborghini through Manhattan, folks gawk and take pictures. When you drive a vintage VW Bus anywhere, nearly everyone perks up, smiles and waves. What you don't expect to draw abnormal attention in is a midsize crossover — but that's what happened to me driving the Genesis GV80 around for a week.
Part of the interest is that people don't know what the GV80 is. Genesis — Hyundai's luxury arm — is a relatively new standalone brand that formed in 2017. The GV80 is their first SUV and has only been out a few months....and perhaps the only time most people have seen one so far is when Tiger Woods crashed a GV80 at the Genesis Open (which, of course, drew attention to the SUV's IIHS Top Safety Pick+ rating).
The other part? The Genesis GV80 looks distinctive, exotic and expensive, with its bold grille, signature double-lighting and premium materials. If you don't know quite what you're looking at it reads sort of like a Bentley, which not coincidentally is where Genesis poached the GV80's lead designer from. And the GV80 only costs about a third as much as a Bentayga.
What makes the Genesis GV80 special?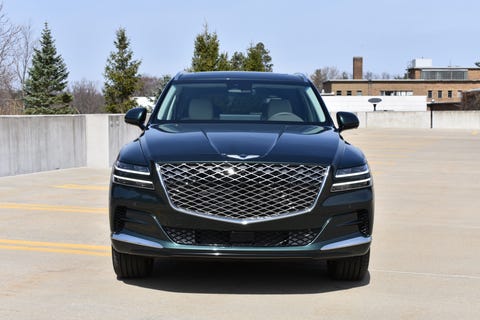 Luxury car manufacturers are primarily SUV manufacturers now. Hyundai, a bit curiously, chose to launch Genesis with three sedans; and despite those cars becoming critical successes, the Genesis brand has struggled to break through with buyers. The GV80 is an opportunity for the brand to cement its presence in the American market.
Midsize SUVs are the cars buyers want, and it seems luxury SUV buyers aren't as brand snobbish as sedan buyers. Through Q1 of 2021, Genesis is on pace to double its sales from 2020, and the GV80 has outsold its three sedans combined.
How does the Genesis GV80 drive?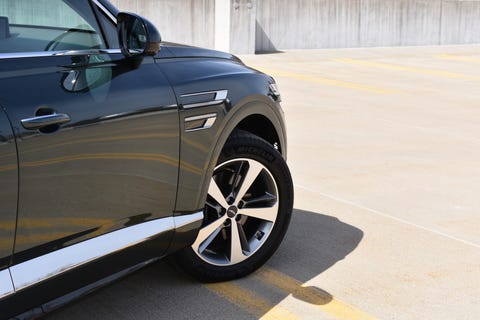 Quite well. I drove the smaller 2.5-liter-engined AWD version of the GV80, which — like in the G80 sedan the SUV shares a platform with — offers a potent-feeling 300 horsepower. The more powerful 3.5T version is great by all accounts, but taking the cheaper engine won't leave you feeling short-changed. And while there are sportier options out there, no one does track work in their family SUV.
The overall impression with the GV80, like other Hyundai group standouts, is that of unrelenting pleasantness. The GV80 is smooth unless you really try to hustle it. It shuts out the noise and the bumps superbly. It's best suited to drive in comfort mode — where you still get decent tautness and throttle response — and cruise around town.
What's the Genesis GV80 interior like?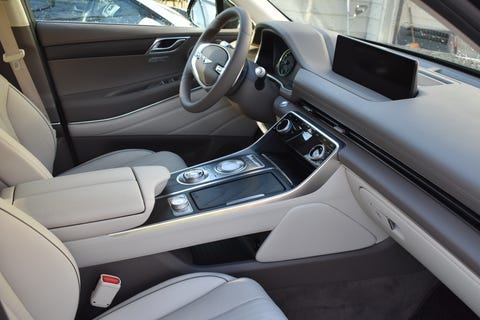 Gorgeous and comfortable. I drive my fair share of fancy cars, but it's not often I stand around with my father-in-law admiring the craftsmanship that went into a car's door trim. Everything you touch in the GV80 is either cushiony, beveled or wood that warrants respect. Mercedes, BMW and Audi don't have to blow buyers away with luxury to make their point — but Genesis does. And they manage it without exceeding the boundaries of good taste.
Admittedly, I had the top-level Prestige trim, but even in stripped-down spec, you still get standard features like the serene 14.5-inch infotainment display, heated seats, and Genesis's Smart Posture Care seat alignment system. (Apparently, full laid-back dad lean is the way to go for optimal lower back alignment.)
How much does the GV80 cost?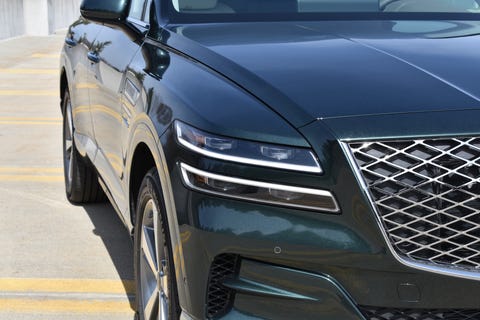 The base model RWD GV80 starts at $48,900 — nearly $6,000 cheaper than the equivalent Mercedes-Benz GLE-Class with an added 45 hp. Getting AWD is a big jump to $54,500, but that's still about $3,000 cheaper than the equivalent GLE. Going Prestige Package with the 2.5T GV80 brings you to a little under $64,000.
One sticking point will be third-row seating. The GV80 does offer it, but you have to go for the bigger engine 3.5T Prestige Plus Package, which starts at $65,500.
What are some Genesis GV80 alternatives?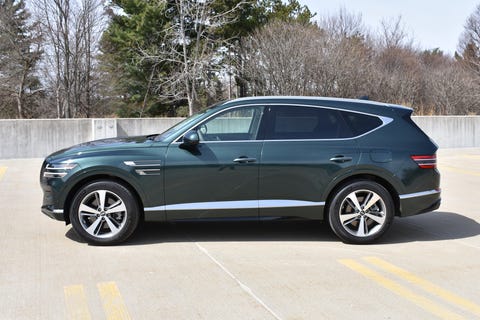 2021 Genesis GV80 2.5T AWD Prestige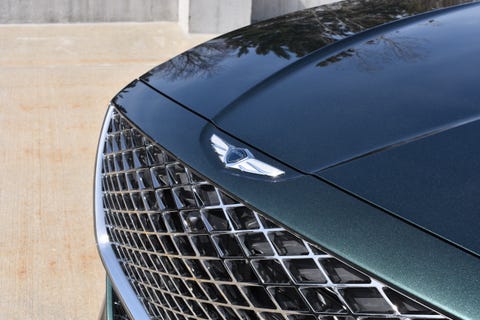 Powertrain: Turbocharged 2.5-liter inline-four; eight-speed automatic, all-wheel-drive
Horsepower: 300
Torque: 311 lb-ft
EPA Fuel Economy: 21 mpg city, 25 mpg highway
Seats: 5 (7 available)


These Are the 16 Best Cars to Buy in 2021
Kelley Blue Book has released their best cars to buy awards for 2021. The results may surprise you.
This content is created and maintained by a third party, and imported onto this page to help users provide their email addresses. You may be able to find more information about this and similar content at piano.io