The Bugatti Chiron Pur Sport Defies Logic, Expectations and Belief
It's hard to judge a $4 million car with nearly 1,500 horsepower. But we tried.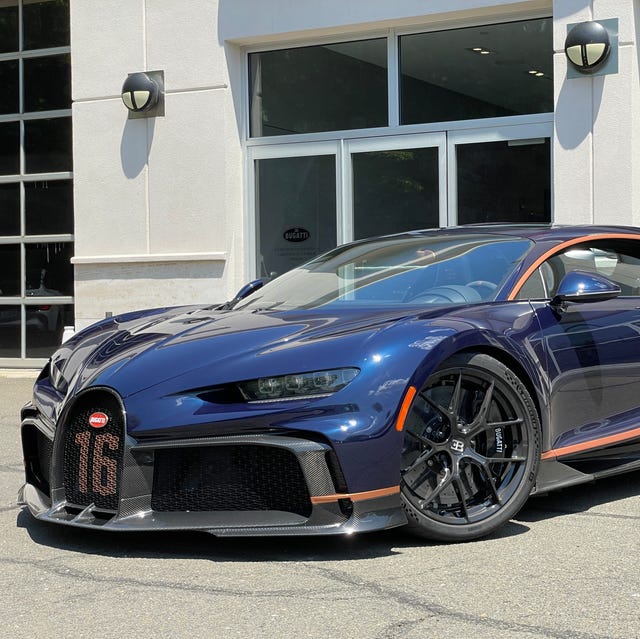 To paraphrase Ernie Hudson in Ghostbusters: when someone asks you if you want to drive a $4 million Bugatti, you say yes.
Even if, as it turns out, that drive consists not of ripping around a racetrack, blitzing the autobahn or even tearing up an empty winding back road, but tooling about along the heavily trafficked highways and byways of Greenwich, Connecticut — a town of roughly 62,000 people with 150 police officers and no speed limit higher than 55 miles per hour. You still say yes. Yes, yes, a thousand times yes.
And that's even more true when the Bugatti you're talking about is the Chiron Pur Sport.
The Bugatti Chiron Pur Sport is the 911 GT3 of Bugattis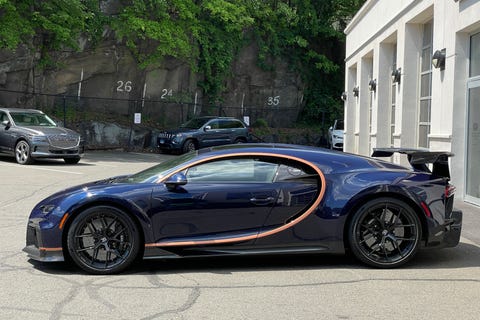 It's not an exact analogy, but it gives you a sense of the Pur Sport's role in the Chiron family (which, as of this writing, spans four models wide, plus three special editions and three more Chiron-based limited-run versions like the Divo and La Voiture Noir). The Pur Sport is designed more for track and winding road usage than out-and-out top speed, which is usually what people think of when they think of modern Bugattis. Top speed is restricted to a mere 217 miles per hour, which means you may wound up being outrun by those pesky Ferrari 812 Superfasts and Lamborghini Aventadors on the autobahn. (If that feels like a dealbreaker to you, I happily point you towards the "regular" Chiron, which'll hit 261 mph without breaking a sweat.)
This Bugatti is made to attack the track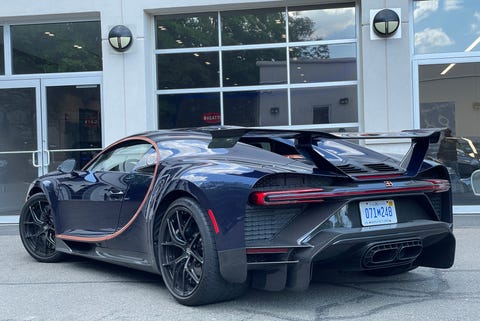 But accepting a lower top speed means Bugatti could make tradeoffs to better tune the Chiron to focus more on handling. The Boeing-spec retractable wing in back has been deleted and replaced with a fixed, significantly lighter spoiler that could have been ripped off a Le Mans prototype; not only does it shave weight (the Pur Sport weighs in around 110 pounds less than its sibling), but it amps up the downforce to help it stick to the ground.
To further improve the Pur Sport's track credentials, Bugatti fits the car with a stiffer suspension and dials in extra camber into the front wheels, then wraps all four magnesium spinners in Michelin Pilot Sport Cup 2 R tires that, at least in the rear, look wide enough to qualify as steamrollers. The resulting car packs a firm ride that shares plenty of knowledge about what's happening on the road surface with your butt, but also feels remarkably buttoned-down and level as an ice rink even while ripping through turns — at least, at the speeds I had a chance to drive it on public roads, which, while, uh, brisk, certainly nowhere near the Chiron's limits.
Eight liters, 16 cylinders, four turbos and 1,479 horsepower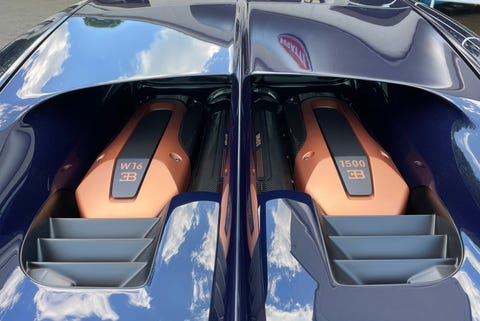 Yup, none of those are typos. The Chiron would be one of the most powerful cars sold in America if it had half the engine it does.
Think is, even though it seemingly has enough power to break the warp barrier, the Chiron doesn't feel twice as potent as, say, a McLaren 720S when you start rolling around town. Even with the efforts to shed pounds, this is still a weighty car; I didn't have the chance to drive it onto an interstate weigh station, but the car weighs in around 4,400 lbs. Combine all that weight and the limits of mechanical grip, and the Pur Sport's brutal quickness seems almost disappointing; its claimed 2.3-second 0-62-mph time puts it neck and neck with its similarly turbocharged, similarly-AWD, similarly dual-clutch-gearbox-equipped relative from across the Volkswagen Group, the Porsche 911 Turbo S.
Then again, 2.3 seconds from 0-60 miles per hour remains an utterly insane figure; the fact that a Porsche can match it at one-eighteenth the Chiron's price doesn't diminish that. What impresses to no end, though, is the sheer overwhelming force of the power that's summoned every time you mash the gas, be it at 6 mph or 60. It's the acceleration past that point that truly boggles the mind. (In fact, there's an argument to be made that it's acceleration at or past highway speeds that separates true hypercars like this from mere supercars.) Floor it when you're already rolling with fast-moving freeway traffic, and it explodes forwards with a violent glee that seems almost demonic in unnatural force. I've long considered passing ability one of the best ways to judge a car's real-world power; the Pur Sport feels like it could blow away a six-pack of semis in a quarter-mile passing zone. The Bugatti Chiron Pur Sport's power is, in a word, intoxicating.

An impeccable (if unexpectedly loud) interior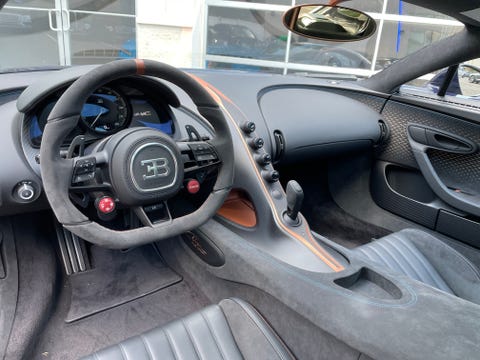 One of the other ways Bugatti cut poundage was by reducing the sound insulation, and it's here that the Pur Sport's character conveys more of the difference between it and its siblings. Fire up those 16 cylinders, and a mechanical symphony blares to life in your ears, an industrial soundscape of pulsing pistons, whirling belts and flowing fluids coming from 24 inches behind your ears. And that's just at idle; push into the gas, and the noise climbs until conversation requires raised voices, as the turbos spool up under power then blast away pressure from their wastegates when you let off the gas. It's unexpectedly raw, even borderline brutal for a car like this.
Once you're used to the noise, however, you'll find little to draw anything but awe in the Chiron's interior. Everything feels made from the best materials, with design given the chance to shine as much as practicality in a way that manages not to marginalize either trait. (The oval rearview mirror is a work of art in and of itself.) Some pieces feel decidedly low-tech at first; there's no center infotainment screen, for example. Then you notice that not only is the screen in the instrument panel, much like many a Ferrari, but the four circular knobs in the center of the dash each have their own tiny screens. The longer you explore the interior, the more evidence of its quality reveals itself.
It's not your first car, or your second. It's your 42nd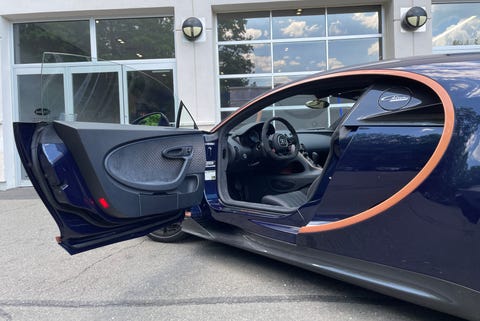 But here's the thing about most Pur Sport owners: they won't care about whether the car is louder than expected, or any other potential flaw. They won't be cross-shopping the Pur Sport against anything else — because they probably also bought whatever else they were thinking of. The average Bugatti owner has 42 cars in their garage as of 2019, according to the carmaker. (Which is actually down from the 84 cars Bugatti said was true of their clientele back in 2014.)
Indeed, many Bugatti owners own more than one of the marquee's rides, so it seems good and likely that a significant number of the 60 Chiron Pur Sports planned for production will wind up stabled next to regular ol' Chirons. Those folks are more fortunate than I, in both senses of the term — not only can they afford these cars, but they can have the opportunity to compare and contrast them whenever they like.
And perhaps only folks of those sorts of means and opportunity can truly understand the Chiron Pur Sport. To us lower- and middle-class (and, let's face it, upper-class-short-of-the-top-0.01%) people, it seems incomprehensible, as we inevitably resort to trying to compare it to other things: Four million bucks? Why, for that much, I could have the seven-car garage of my wildest dreams! Or 800 hours of flight time on NetJets! Or a 128-foot yacht!
But to view it properly, you have to put yourselves in the shoes of the people who actually do buy this car. If you can afford a Chiron, you can afford the Ferrari and the McLaren and the Porsche and the vintage Mercedes and any other car you want. You don't need to worry about NetJets, because you own your own jet. You don't need to nickel-and-dime your way into a used yacht; you already have one built just for you, and probably a newer one on order. The Chiron Pur Sport, like all new Bugattis, is the sort of car made for the person who has everything...and that's just the way they want it.
2021 Bugatti Chiron Pur Sport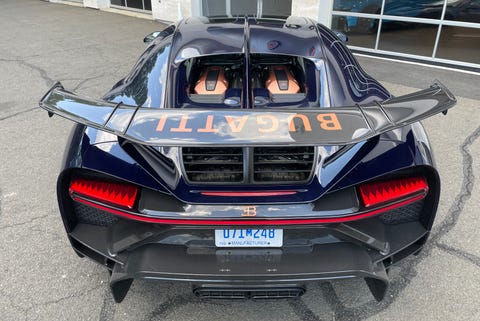 Base Price: $3,599,000
Powertrain: 8.0-liter quad-turbo W-16; seven-speed dual-clutch automatic; all-wheel-drive
Horsepower: 1,479
Torque: 1,180 lb-ft
EPA Fuel Economy: Like you care
Seats: 2
The Most Important Pieces of Gear You Need for Car Camping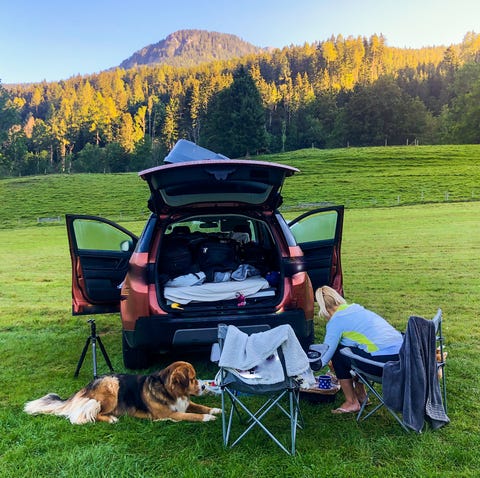 Car camping makes getting away easy as pie. These items make it even tastier.
This content is created and maintained by a third party, and imported onto this page to help users provide their email addresses. You may be able to find more information about this and similar content at piano.io