I Don't Need a 2021 Toyota Tacoma...But I Definitely Want One
This wasn't my first time driving the Tacoma, but it's the first time I understood it.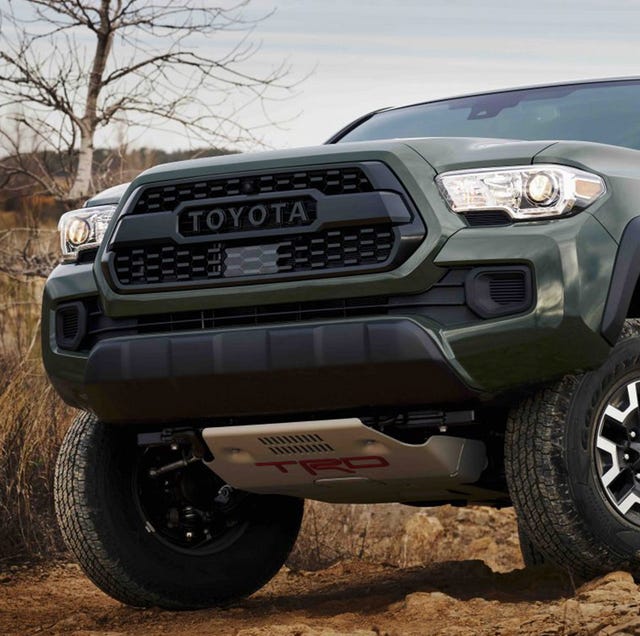 As an automotive journalist, I drive a new car almost every week: long enough to admire them, but not long enough to form emotional attachments. I'm sad to see a particular vehicle go sometimes, but rarely do I get covetous for one, keep tabs on local dealers and drop endless rationalizations to my wife — who invariably and correctly reminds me I rarely drive the car I do own.
I say "rarely" because it just happened to me for the first time with the Toyota Tacoma TRD Off-Road. This wasn't the first time I've driven a Tacoma, but it was the first time I truly understood it — and longed to live that Taco life for the next decade or so, until it was time to buy a new one.
Toyota loaned me one for a week; I considered e-mailing PR to ask what Toyota does with the press cars after the model year turnover. I drove one again on a Toyota media trip in Texas and — very briefly — pondered cruising off into the hills until someone called me to bring it back.
I lie awake at night, fretting about the effect of carbon emissions on the planet. I have no real need for a pickup truck. And I almost literally could not fit my family into this one. Nonetheless, I want a Toyota Tacoma badly. No one ever said love was reasonable.
What is the Toyota Tacoma TRD Off-Road?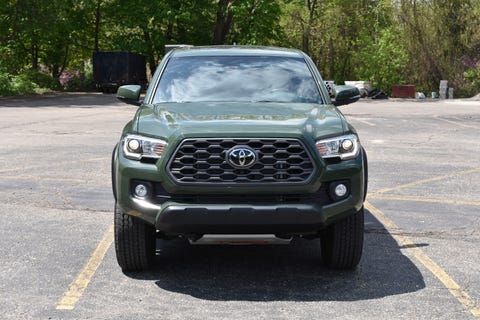 The Tacoma is Toyota's midsize truck. It slots below the full-size Tundra and uses either a four or six-cylinder engine, compared to the current Tundra's V8.
The TRD Off-Road variant is the middle of three TRD trims on the Tacoma; it adds handy off-roading features like Bilstein shocks, a locking rear differential and crawl control.
Is the Toyota Tacoma new?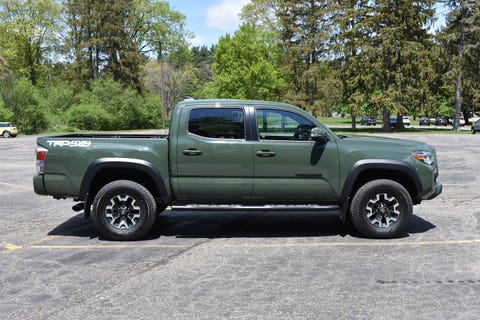 Hardly. Toyota debuted the third-gen Tacoma in 2015, making it the young pup in the Toyota off-roader kennel. But that update came before Chevy, Ford and Jeep reentered the midsize segment with more capable and modern trucks that make the Tacoma feel dated. Changes for 2021 and beyond are likely to be tweaking trims until the next generation arrives.
Why is the Toyota Tacoma special?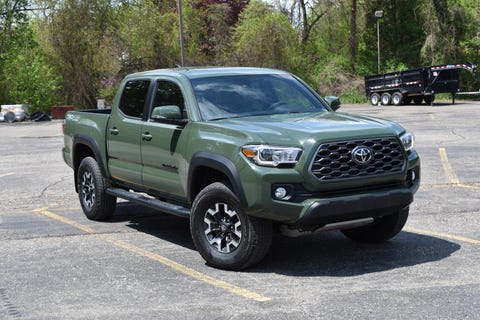 It's easy to knock the Tacoma's age, but that comes with a caveat: the Tacoma dominates its market segment, perhaps more than any other vehicle sold in America. Despite the increased competition, the Tacoma is fending off all comers and more popular than ever. Toyota sold more than 238,000 of them last year, more than the Ford Ranger, Chevy Colorado and GMC Canyon combined. And it's not only because Toyota ownership is a cult.
The Tacoma looks better than the competition; it's muscular and athletic looking but without the forced effort other manufacturers put into that. It's simple, capable and durable. That combo is what many truck and off-roader buyers want. With multiple cab, bed, engine, transmission, appearance and off-road capability options, there's a Tacoma for every taste and price point.
How does the Toyota Tacoma drive?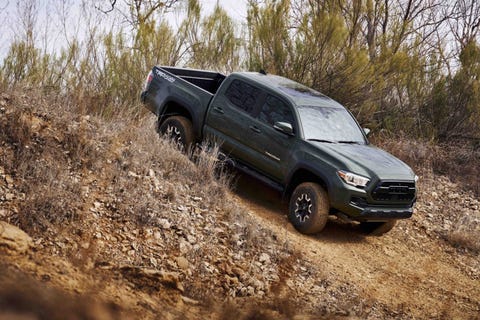 Imagine you have a wild-haired mountain man uncle; now imagine him crammed him into a tuxedo for a family wedding. That's my best analogy for how the Tacoma handles itself on the road. It has an old-school truck feel, which is not entirely unpleasant, but power from the V6 is adequate at best. Movement is deliberate, with a fair bit of engine groaning involved.
The Tacoma holds it together in low-speed, limited duress driving. But try to do something zealous like overtakes on a crowded highway, and the dated six-speed automatic transmission becomes imprecise and hard to predict. I haven't driven the manual, but would probably try my luck with it. Still, at a rapid and steady clip on a Texas FM road with the windows down and the guitar solo from "25 or 6 to 4" blasting, the Tacoma is just fine.
How does the Toyota Tacoma drive off-road?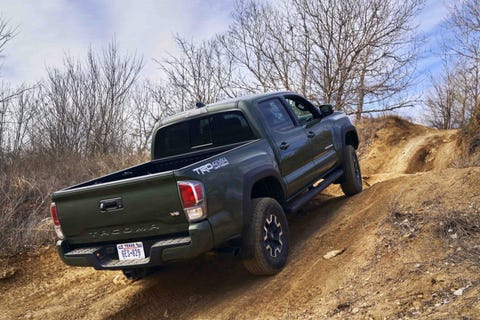 Once it ditches the tux, lets its hair down and leaves the pavement, the Tacoma is in its element. The truck is purpose-built for bombing down a bumpy and rutted path — the off-roading most people actually do. And bouncing around on those is so fun that you're more than willing to put up with inconveniences elsewhere. If you have the money, by all means, TRD it up...but the Tacoma is still rather proficient off-road in 4x4 SR5 form.
What's the Toyota Tacoma interior like?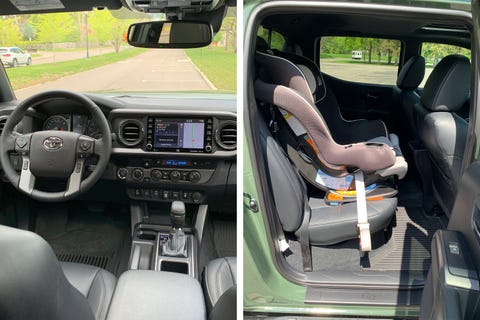 Cramped by truck — or really any — standards. The Tacoma cabin feels tiny. We have two kids in car seats; that necessitated both my wife and me sitting closer to the dashboard than optimal. As a result, I banged my knee repeatedly, entering and exiting the driver's seat.
The headroom won't accommodate much beyond my 5'11" height. There's not much storage. And the material quality won't drop your jaw. Let's be kind and call it utilitarian.
What are some Toyota Tacoma alternatives?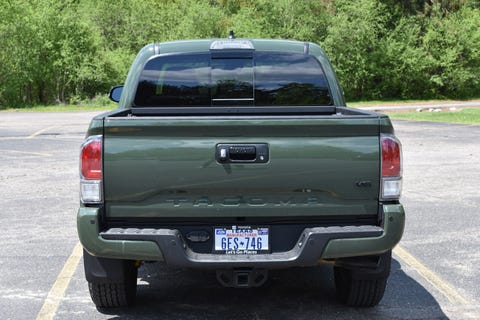 There are more midsize truck alternatives now than there once were. GM offers the Chevy Colorado and GMC Canyon twins. Jeep now has the Gladiator. Ford brought the Ranger back to the U.S. market. And Nissan finally overhauled the defiantly ancient Frontier for the 2022 model year, although I still haven't driven it yet.
How much does a Toyota Tacoma cost?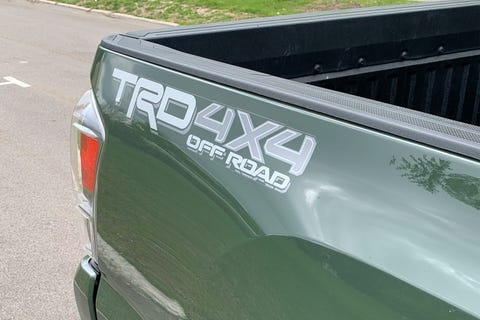 The Tacoma can serve up sticker shock. The base price is $26,400. But reasonable builds will be much more than that. Just leveling up to the second-tier SR5 trim with a V6 and 4x4 brings the total to $35,555. The TRD Off-Road with 4x4 and a Double Cab starts a little under $38,000. With some skippable appearance options, my tester priced out to $46,644, with the delivery and handling included.
But the sticker price is only part of the Tacoma story. The truck's resale values are formidable; the Tacoma maintains about as high of a residual value as any car. You can drive them a fair bit and still get strong value on the back end, or you can use that residual value to your advantage up front and score a super cheap lease deal. You can score that $40,000-plus TRD Off-Road trim for less than a $300 per month lease. Believe me. I have done the research.

2021 Toyota Tacoma TRD Off-Road V6

Powertrain: 3.5-liter V6, six-speed automatic, four-wheel-drive

Horsepower: 278

Torque: 265 lb-ft

EPA Fuel Economy: 18 mpg city, 22 mpg highway

Seats: 5

LEARN MORE
The 2024 Toyota Tacoma: Here's Everything You Need to Know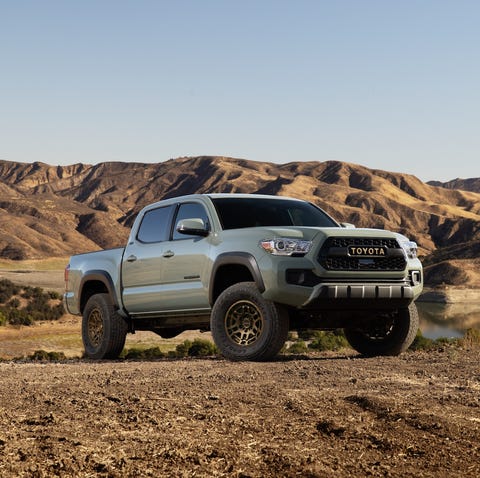 What we know so far about the most-eagerly-awaited midsize truck.