Every product is carefully selected by our editors. If you buy from a link, we may earn a commission.
The Ford Mustang Mach-E Is Still Great in Rear-Wheel-Drive Form
It may be down on power and grip versus the AWD version, but it's still an excellent EV.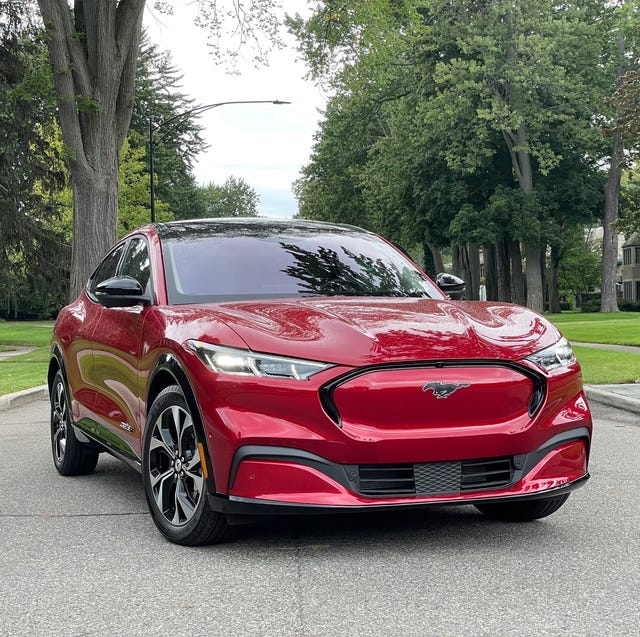 I'd hardly be one to blame you if you didn't give the rear-wheel-drive version of the Ford Mustang Mach-E a second thought. After all, unlike most SUVs, where the only difference between choosing two and four driven wheels is tire wear, opting for all-wheel-drive in the Mach-E brings extra power. Like many EVs, Ford's pony car-branded crossover doubles its traction by doubling its motors, sticking one up front to power the steering wheels and one in the rear for the ones Mustangs have used for power since the Johnson administration.
Still, in a way, rear-wheel-drive seems to suit this EV SUV. After all, as I said, the rear wheels are where Mustangs have always sent their power; doing so here helps diminish, if not demolish, any claims of heresy traditionalists might shout. And while it's technically a crossover, in many ways, the Mach-E looks and feels as much like a station wagon as a sport-utility vehicle — making the RWD version a de facto heir to beloved Motown family cars from the Chevy Nomad to the Dodge Magnum to Ford's own Country Squire.
This content is created and maintained by a third party, and imported onto this page to help users provide their email addresses. You may be able to find more information about this and similar content at piano.io