Damn the Heresy, the Ford Mustang Mach-E Is the SUV the Future Needs
Some folks may raise hell over the Mustang name being used on an electric crossover. Pay them no mind.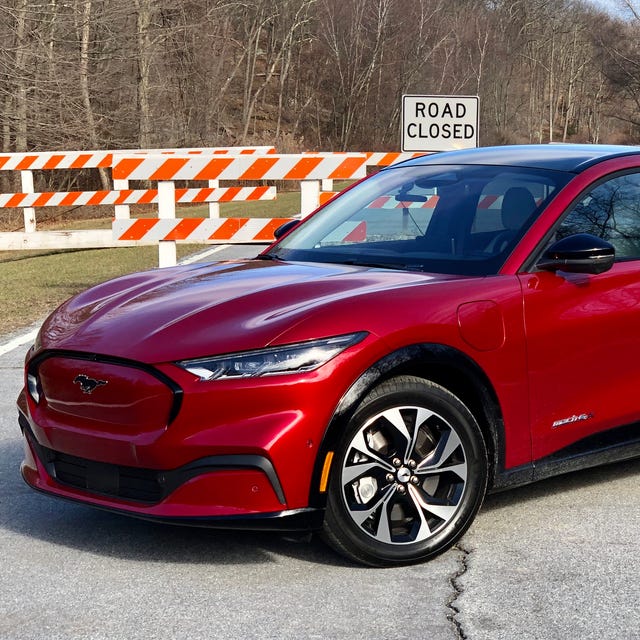 Car enthusiasts can be a bit sensitive when it comes to taking iconic names and transferring them to less-worthy sport-utes. Porsche, perhaps, set the bar for this in the early days of the 21st century when it announced its iconic name would be gracing an SUV in the form of the Cayenne. More recently, Chevy received a fair bit of heat for choosing to append the name Blazer — long known as a burly body-on-frame sport-ute — to a unibody crossover on a front-wheel-drive-based platform.
But none of those were quite as drastic as Ford's decision to make its first battery-powered SUV a Mustang.
The Mustang, after all, has always been not just an unabashed consumer of gasoline with a long history of roaring V8s beneath its hood — it's also always had two doors, no more. Plans for a Mustang sedan have long been rumored, but they've never come to fruition; in part, presumably, because the idea of a four-door Mustang seemed as outlandish as a mid-engined Corvette.
Still, brush aside those zealots screaming heresy, and the idea of making an EV Mustang SUV works, from a business perspective. After all, electric cars will only succeed if the masses can be persuaded to trade their gas-powered rides away, and the best way to do that is to make EVs cool. The Mustang has cool to spare. So will trying to scrape a little of that image onto an electric crossover help make it more notable? Or does it simply leave orphaned somewhere between muscle cars and electric vehicles — between past and future?

To find out, we took a Mustang Mach-E Premium — with all-wheel-drive and the extended-range battery, just the way we'd order it — out for a few days. Here's what we learned.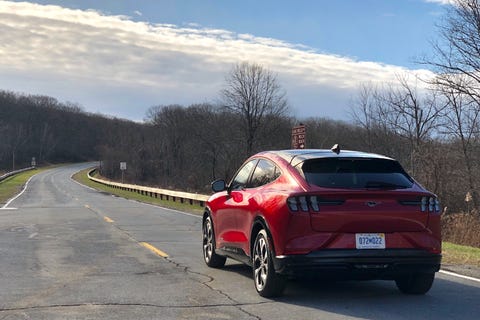 The Mustang Mach-E may not look much like the stereotype of a 'Stang, but it does look pretty sharp for a midsize SUV. The flat black spoiler and surrounding trim makes the already-fast roofline look even sleeker, while the flowing curves and bulging sheetmetal give it a streamlined, sharklike cool. (The forthcoming Mach-E GT gets a gray "grille" in lieu of the solid-colored face of other models, which strikes me as a mistake; the solid body-colored front end looks much more appropriate for this futuristic pony.)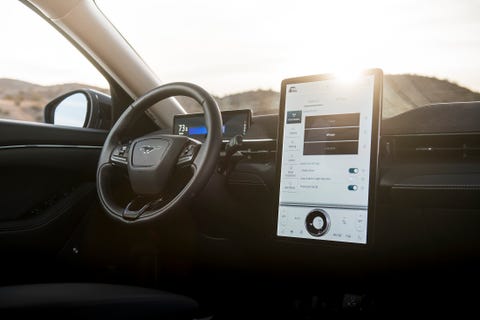 Clamber inside, and you're greeted by an interior design that looks unlike any other new Ford. "Tesla, but make it Mustang" seems to have been the cockpit brief; like a Model 3, it's a minimalist environment shorn of many buttons and controls. The dashboard is dominated by a 15.5-inch vertical touchscreen infotainment display with just one physical control: a volume knob. (And even that, as it turns out, is just there to adjust the touchscreen.)
Still, it's a very handy touchscreen. The Sync 4 system's display is large enough to successfully offer multiple windows, as it were, offering up different zones that can display different content depending on what you're looking for and how you want to show it. It's the same basic mix as you'd find on any new car in one shape or another — navigation, radio, phone, climate control, etc. —but presenting it all on one giant touchscreen does a lot to make the Mach E feel more futuristic and tech-centric. And, blessedly, it reacts quickly and accurately to the touch.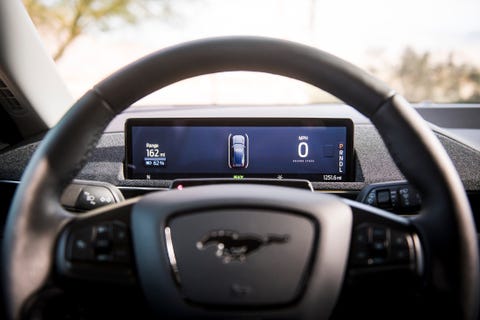 Luckily, the Dearborn designers didn't go as far as the Tesla team with their interior revolution. There's still an instrument panel, it's just a thin strip of a screen that displays the bare basics: speed, battery charge, the info from the driving assistance systems. There are still physical, dedicated buttons on the steering wheel for many common tasks, as well, reducing a need to deal with the monolith of a central tablet (and, y'know, helping you keep your hands on the wheel).

Twist the round gear shifter — the same one found in the Shelby GT500 and, less excitingly, the outgoing Ford Fusion — into drive, and the car pulls away with a mild futuristic hum, as many a new EV does now that the government demands they make noise below 20 mph to keep from sneaking up on AirPod-wearing pedestrians. Depending on what drive mode you choose ("Whisper", "Engage" and "Unbridled" — or in normal lingo, Comfort, Normal and Sport), the instrument display's background subtly shifts and dances, for no apparent reason other than it could be done.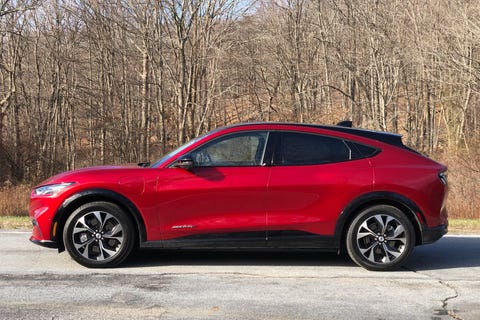 But don't get lost staring at that, easy as it may be, because this EV can pick up speed with the sort of alacrity expected of a Mustang. Two motors making a combined 346 horses and 428 lb-ft and propelling all four wheels means it can hop from 0 to 60 miles per hour in less than five seconds, but like most EVs, it feels quicker than equivalently-potent gas-powered cars in real life due to the immediacy of the electric motors' power delivery. There's no shifting or revving — just give the right pedal a nudge, and the Mach-E squirts forwards with thrilling immediacy.
Once the long road turns winding, it becomes harder to hide the Mach E's bulk; this SUV may be the size of a BMW X3, but all those batteries mean it weighs roughly as much as an X5. Mounting them low improves the center of mass versus a crossover with a giant hunk of explosion-containing metal in the nose, but it's still a bulky car. Back roads and on-ramps still proved more fun than in most family crossovers, though; the trick is to keep the lateral g-forces comfortably within the car's limits and use the motors to squirt out of the turns.
(And that's actually more in line with how Mustangs have traditionally represented their performance cred: as mavens of straight-line acceleration. It's only in the last few years that muscle cars have been able to turn as well as they can go or stop.)
Keep in mind, as well, we're not even talking about the sporty version here; in Mustang terms, the Mach-E Premium is the equivalent of an EcoBoost Premium, more cruiser than dragster or track terror. The Mach E GT coming this summer dials things up to 480 horses and 600 lb-ft, enough for a claimed 3.8-second 0-60 dash (or 3.5 seconds, if you opt for the GT Performance Edition with an extra 34 torques).
These Are the 16 Best Cars to Buy in 2021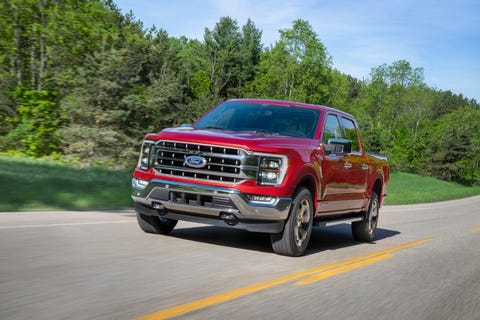 Kelley Blue Book has released their best cars to buy awards for 2021. The results may surprise you.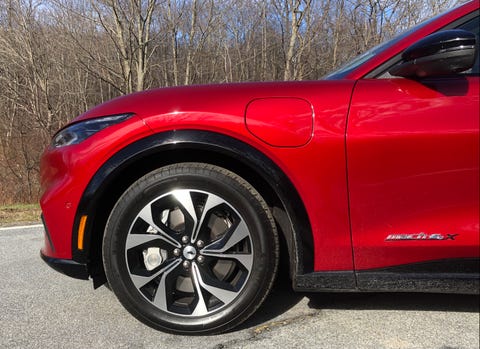 The EPA will tell you that an AWD Mach-E with the larger 88-kWh battery like my test car can knock out 270 miles on a full charge, so it was a bit of a shock (no pun intended) to hop aboard my test car for the first time and see the battery at 88 percent but the range indicator showing just 163 miles. Perhaps the previous drivers had been caning it like they were trying to outrun Robert DeNiro and Jean Reno; perhaps the car had been left out unplugged in the December chill overnight, and the short drive from Ford's local base to my apartment didn't put enough heat in the battery. Still, it was a slightly unnerving start to my time with the car.
More frustrating, however, was the charging experience. Ford has partnered with Volkswagen's Electrify America network to provide electrons, and the VW chargers happen to be the quickest around, offering up to 350 kW of power. (No car can accept that kind of power yet, mind you — the Porsche Taycan comes closest, charging at up to 270 kW .)
With the battery dropping below 50 percent while driving around north of New York City, I tracked down an Electrify America charger in the parking lot of a Walmart, where many of them are located. One of the four chargers was occupied by a Taycan 4S, so in a nod to social distancing conventions, I drove up to the one that was farthest away...only to find the charger unable to even recognize the Ford was there, much less charge it. I moved to the second one, only to find it put me so close to the Taycan that I couldn't open my door. I drove to the last one, plugged in, and — success!
With time to kill and a Christmas wreath to buy, I wandered into Wally World — for five minutes, until my Apple Watch to buzz with a message from the FordPass app that was connected to the Mach-E. Error with charge station, it said. I checked my phone; it had only slurped up 5 kWh of electrons. Irritated, I walked back out into the winter chill all the way across the parking lot, unplugged the car then plugged it back in and stared at the screen for a couple minutes until it showed it was successfully charging again.
I crossed the street and made the 10-minute walk to Home Depot — a difficult task in the exurban car-centric area where I was, which had few sidewalks and fewer street crossings – to find that wreath, only for my watch to buzz again: error with charge station. Now thoroughly peeved, I marched back across the road to the Mach-E, unplugged it and took off. It had been an hour since I pulled up to the station, and in that time, the battery had only gone from 45 to 62 percent.
While I had enough juice to make it back to Manhattan, in the name of journalism, it seemed wise to try a second go-round of fast charging elsewhere. But expansive as the Electrify America network looks on the map, it favors cross-country interstates and treats urban areas unequally; while the Virginia-area suburbs around D.C. boast eleven sites and the Chicagoland expanse has 14, there are only two in New York inbetween the Bronx and Albany. (There are half a dozen just a few miles west of the city in New Jersey, but they're all well out of the way for many travelers, and could force them to grapple with added pricey cross-Hudson tolls.)
Instead of venturing out of my way to one of those Jersey charge points, I instead found a ChargePoint CCS station along the way home. As luck would have it, the station happened to be at BMW North America's headquarters. While it was listed as a public charger, however, I arrived to find barriers blocking the entrance to the garage; it was only through a couple minutes of persistent driving around that I found a back entrance and made my way to the plug.
Plugging in revealed yet another unexpected issue: not all fast chargers are created equal. While most Electrify America's CCS Level 3 chargers (and many others) pump out a maximum of 150 kW, the ChargePoint units at BMW N.A. max out at a mere 24 kW. The Mach-E couldn't even hit that, averaging about 20 kWh over the course of a 20-minute session.
This is no direct fault of Ford, of course; neither ChargePoint nor Electrify America answer to FoMoCo's board or shareholders. But it is indicative of the biggest issue holding back mass adoption of electric cars: charging is never as easy as it could be.
Not only are public chargers slower to "refuel" than gas pumps, they're far more rare than gas stations. Not only are they more rare, they're often out of the way, leaving you with few options for ways to kill time while charging. Not only are they out of the way, they're inconsistent, leaving the driver unsure how quickly the car will take on range — and perhaps wondering how long it'll take them to get home.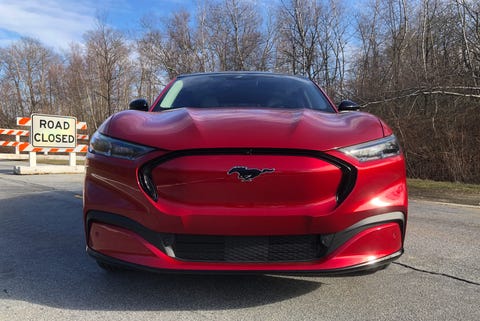 The Tesla Model Y is the clearest competitor to Ford's new EV, aligning fairly closely in terms of size, power and price — at least, until the Ford's tax credits are factored in. Otherwise, the market for pure electric crossovers is a bit small at the moment; the VW ID.4 is a bit smaller (and more affordable), while the Audi E-Tron is a bit more expensive, as you'd expect of such a luxury brand. For now, if you want a midsize battery-powered SUV at a reasonable price, you're stuck choosing between FoMoCo and The House of Musk.
Still, the number of EVs on sale is blooming fast. Sign on the line for a three-year lease of a Mach-E or Model Y now, and you'll likely have half a dozen new alternatives to choose from.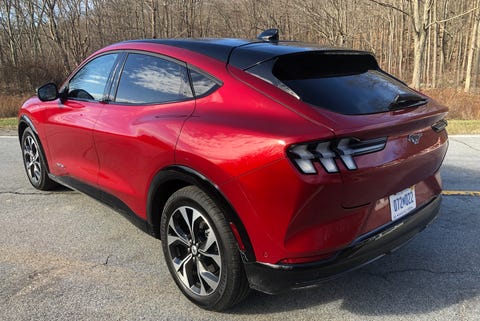 The Mach-E will likely never be as much fun to drive in the traditional gas-turn-brake-turn-gas sense as a "real" Mustang, sure, but that's not what it's supposed to do. It's tackling basically the same mission as GM is trying to accomplish with the Hummer EV, Rivian is trying to do with the R1T and R1S, Porsche is working towards with the Taycan, and even Tesla pioneered with the Model S and Model X: show that electric cars can give buyers both what they need and what they want.
In the case of the Mach-E, the crossover body, multiple battery sizes and available all-wheel-drive handle the need, serving up ample space, plenty of range and four-season capability. The Mustang badge and sporty styling, in turn, provides the want — a ride that looks cool.
The overall package isn't revolutionary by modern standards, but it doesn't need to be in order to succeed; indeed, to make electric cars more palatable to Joe and Jane Six-Pack, it likely helps. It's a very good electric crossover, the sort that's exactly what carmakers need to be offering if their grand hopes of mass-EV adoption.
If you're looking for a midsize electric crossover with all-wheel-drive, the Mach-E is an excellent choice to park in your driveway — regardless of whether you have any strong feelings towards the Mustang name.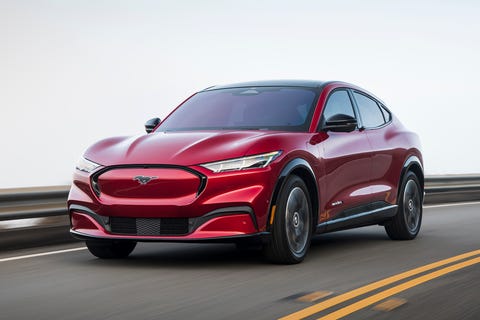 Base Price (Price as Tested): $43,995 ($56,200)
Powertrain (as tested): Front and rear electric motors, direct-drive transmission, 88-kWh battery (usable capacity)
Horsepower (as tested): 346
Torque (as tested): 428 lb-ft
EPA Fuel Economy (as tested): 96 mpg-e city, 84 mpg-e highway
Seats: Five
The Best Travel Mugs Money Can Buy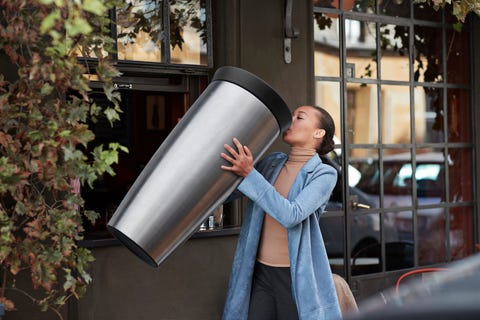 Klaus Vedfelt
Getty Images
They're a bit more convenient than this one.