The Mercedes-AMG GT 43 Is a Lukewarm AMG, and That's Totally Fine
It's blatant AMG badge creep, but it's still a great all-around car.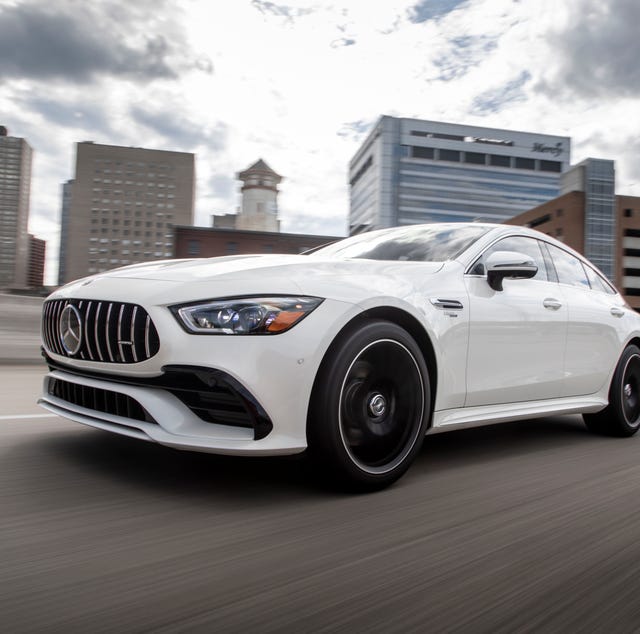 Clearly, the Mercedes-AMG GT 43 should affront my car enthusiast sensibilities. The AMG GT is the Mercedes lineup's high-performance two-seat sports car...and the AMG GT 43 makes every compromise to that purist vision. First of all, it's the more practical four-door version (though not practicality-minded enough to do without one of those weird swoopy roofs so in vogue these days); even if you're okay with that, however, the GT 43 is the embodiment of AMG badge creep, sharing its detuned 362-horsepower 3.0-liter inline-six with non-AMG cars.
Alas, after spending a week driving the AMG GT 43 — a week that entailed putting a lot of miles on it — it's hard for me to fulminate against it in theory. Because in practice, the AMG GT 43 is a compelling all-arounder that does just about everything well. And even that goofy roof adds usable space.
Is the Mercedes-AMG GT 43 new?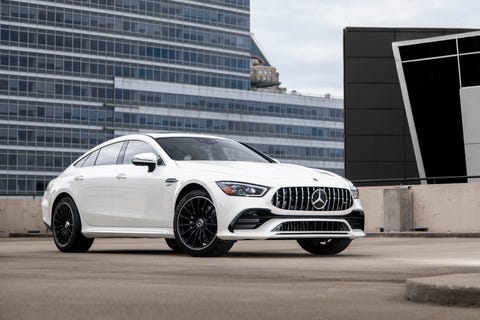 Yes. Mercedes debuted the four-door AMG GT version in 2018, but the entry-level GT43 variant is new for 2021.
Why is the Mercedes-AMG GT 43 special?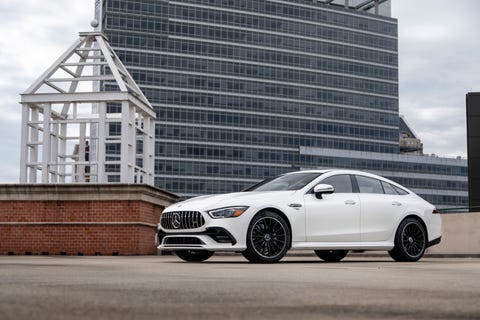 There's no particular quality that makes the AMG GT 43 special. It just does almost everything with proficiency. It's quick in a straight line; Mercedes says the AMG GT 43 can accelerate from 0-60 mph in 4.8 seconds, but Motor Trend timed it at 4.3 sec. It performs well in the corners. It's comfortable. It's practical. And for a performance car, it's relatively efficient, earning 20 mpg city and 25 mpg highway.

I will grudgingly admit, it's striking to look at and gives off a very premium vibe. I got comments wherever I went (and regretted not moving it out of the driveway before the furnace guy showed up).
The only disappointment over a week of driving was the windshield wipers. I got caught in a downpour on the way back from the airport; the wipers were overwhelmed, doing a noticeably slack job clearing water.
How does the GT 43 drive?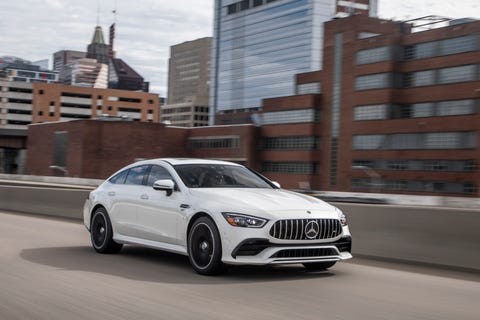 Like anyone with an automotive soul, I have a soft spot for Mercedes-AMG's 4.0-liter Biturbo V8. But you could argue the buttery smooth 3.0-liter inline-six is Mercedes's best powertrain. Even in the toned-down 43 version, the power is potent; the mild hybrid EQ Boost annihilates turbo lag and provides a bunch of low-end torque. Shifts from the nine-speed automatic transmission are crisp.

You don't get the hard edge and supreme engagement that hearing "AMG GT" primes you for — level up to the GT 53 for that. But the growling soundtrack still makes it feel like you're in an AMG car. And the varied drive modes can give you whatever Mercedes experience you want, whether that's controlled zestiness on a curvy backroad or soaking up the bumps on a comfortable highway cruise.

The AMG GT 43 is also a car you can reasonably daily drive. You get more ground clearance than you would anticipate — so there's no sweating over potholes or aggressive speed bumps. And Mercedes's excellent 4Matic+ all-wheel drive system is there to provide grip when it starts to weather outside.
What's the Mercedes-AMG GT 43 like inside?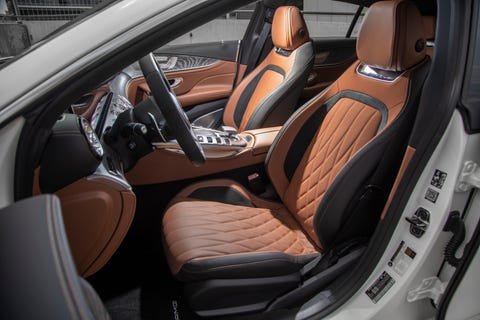 The primary attribute is space. The AMG GT 43 is a full-size car, which gives you far more rear-seat room — with four seats instead of five — and trunk space than you would anticipate. I crammed the AMG GT 43 with kid gear; I packed up for a brief weekend getaway with my wife; I went grocery shopping. Each time, I had room to spare.
The interior is tech-forward, packing Mercedes's dual 12.3-inch instrument and infotainment screens. Mercedes provides both touchscreen and touchpad options, with the chunky shift knob serving dual roles as a palm rest while using the latter.

If you want luxury, it's available — but you will have to pay for it. This is a nearly $100,000 car that doesn't come standard with leather seats (or ventilated seats), a head-up display or tri-zone climate control. Ditto for some of the MBUX infotainment tech. Mercedes will even ding you $500 for the flashy red seat belts.
How much does the GT 43 cost?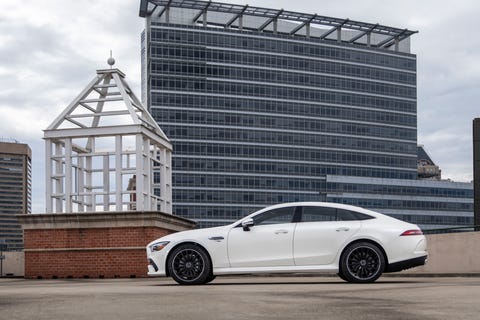 The Mercedes-AMG GT 43 starts at $89,900. That's $10,000 less than the AMG GT 53 and around $70,000 less than the AMG GT 63 — for a car that will look quite similar to a layperson. Judiciously optioned, my test vehicle priced out to $97,595. Its Jupiter Red exterior was one of the two paint colors that didn't cost extra, and it had MB-Tex (a.k.a. not leather) seats.
The AMG CLS 53 was a pain point for the AMG GT 43. It started about $8,000 cheaper, gave you the same four-door coupé look and had the upgraded power from the 53 engine. But we can now talk about it in the past tense, because Mercedes dropped it for the 2022 model year in America.
What are some competitors to this Mercedes?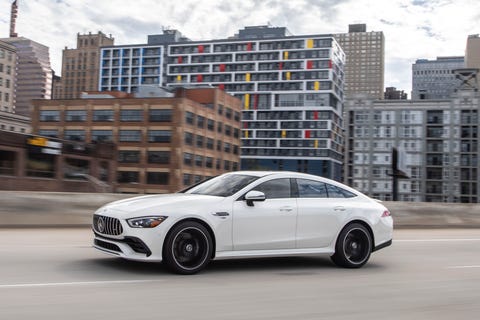 The most direct alternatives come from German rivals. Porsche has the Panamera 4 ($93,000), which is more expensive and a bit down on power and performance. BMW has the 840i xDrive Gran Coupe ($87,000), with similar torque and about the same price point. The Audi A7 ($69,200) is a bit down on power, but markedly cheaper. Note, however, that none of those cars carries their brand's premium performance badge.

I also parked the Mercedes-AMG GT 43 next to my brother's red Kia Stinger GT ($43,690). That, I'll admit, ruined the Merc a bit for me. The Stinger doesn't have a three-pointed star on the grille and won't match a Merc for refinement. But it gives the same sort of look, it's quicker with slightly more power and torque, and it costs around half as much.
The 2021 Mercedes-AMG GT 43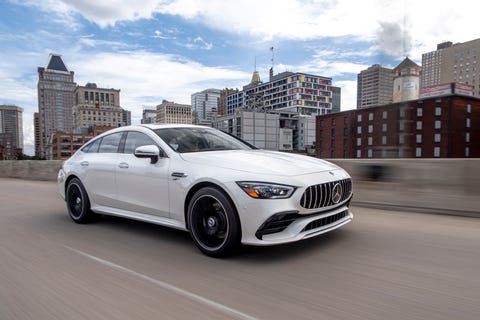 Powertrain: Turbocharged 3.0-liter inline-six, 9-speed automatic, AWD
Horsepower: 362
Torque: 369 lb-ft
EPA Fuel Economy: 20 mpg city, 25 mpg highway
Seats: 4
Porsche's Refreshed Panamera GTS Remains a Delightful Proposition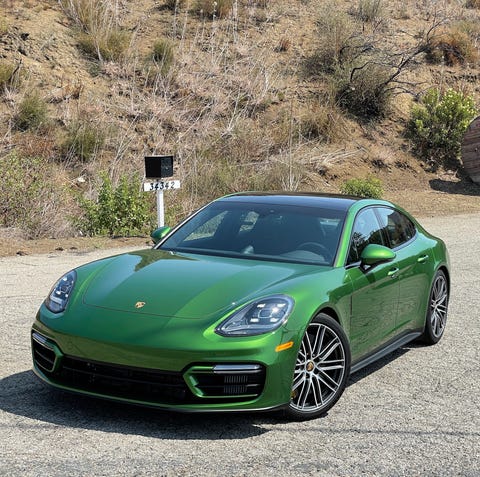 A little more power and a little more style make this sedan an even more compelling buy.
This content is created and maintained by a third party, and imported onto this page to help users provide their email addresses. You may be able to find more information about this and similar content at piano.io