Every product is carefully selected by our editors. If you buy from a link, we may earn a commission.
The Best Electric Snow Blowers You Can Buy in 2023
Because shoveling is a real pain in the neck (and your back).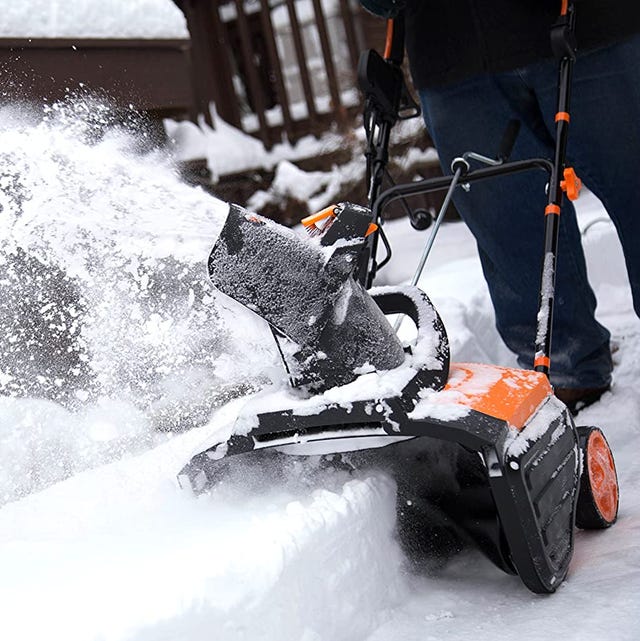 Nothing is more beautiful than untouched, freshly fallen snow, as long as you don't have to be anywhere. But living in an idyllic winter wonderland can quickly become a pain in the neck — or back — if you're clearing your driveway with a shovel. Gas-powered snow blowers alleviate much of the manual labor. But they can be expensive, noisy and bad for the environment. Electric snow blowers — either corded or battery-powered — can be a great shovel-free solution.
Who Are Electric Snow Blowers for?
Light Snow: Electric snow blowers aren't as powerful as gas blowers. They are typically best used in light snowfalls of less than a foot.
Smaller Spaces: Electric snow blowers are limited by a physical cord or battery life. So they are typically best for people clearing walkways, sidewalks and small driveways.
Gas-Powered Equipment Bans: California has enacted a ban on gas-powered equipment that goes into effect in 2024. Other states are considering similar measures. An electric snow blower will meet those demands.
Budget buyers: Electric snow blowers tend to be more affordable than gas models
What to Look for in an Electric Snow Blower
Corded vs. Battery-Powered: Corded snow blowers attach to a power cord. They are typically more powerful than battery-powered models and can clear more snow. But they are limited by the cord length. Battery-powered blowers can move further from the house without a cord. But they are typically less powerful and need time to charge in between uses.
Single-stage vs. Dual-stage: Single-stage snow blowers are simpler, cheaper and great for even surfaces and light snowfall. Tw0-stage snow blowers tend to be more powerful, durable and better for uneven surfaces like gravel. But they can also be more expensive.
Auger Width and Intake Height: The more snow you can clear at once, the less time clearing the driveway will take. Better electric snow blowers typically have a wider width and a higher intake height.
Battery Tech: More expensive cordless mowers will have better battery technology. Range is one factor — the longer you can go the better. Though some electric snow blowers will have quick-charge battery tech and others may offer swappable batteries.
Extra Safety Features: Electric snow blowers may come with additional safety features including LED lights for added visibility and an auto stop feature. They also may have a scraper bar to protect driveways and other surfaces from scuff marks.
Storage: Some electric snow blowers will come with a folding handle or other features to make them more compact for stowing in your garage while not in use.
Electric Snow Blowers vs. Gas Snow Blowers
Why Buy Electric: Electric snow blowers are better for the environment. They are quieter. They tend to be cheaper. They are also smaller and lighter making them easier to store and, with fewer moving parts, they are easier to maintain.
Why Buy Gas: Gas snow blowers are more powerful, which helps clear larger snowfall amounts and snow that is wet and heavy. They are more portable than corded electric blowers and less range-limited than battery-powered models
The Best Electric Snow Blowers You Can Buy