Every product is carefully selected by our editors. If you buy from a link, we may earn a commission.
2022 VW Atlas Review: The Simple Joys of a Sport-Utility Vehicle
Not everything with cars has to be about power or speed. Sometimes, just an escape is enough.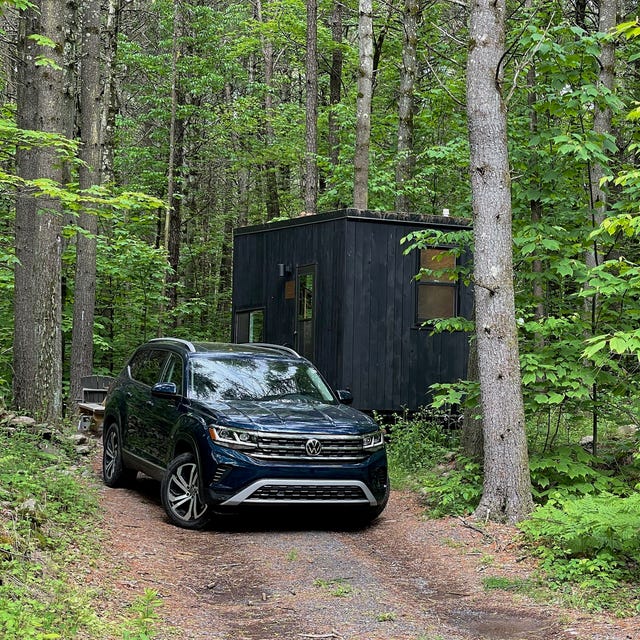 Often times, car enthusiasts render a verdict on the nature of an automobile based on how well it can fulfill their more visceral motoring desires. Does it accelerate quickly? Brake hard and stop forcefully, but progressively? Take turns at high speed? Reward the driver with feedback from the steering, the suspension, the exhaust note?
But for most vehicles, that's not what matters all that much. Sure, it's nice to go fast, and it's good to be involved in the drive — but having more than enough space and capability to haul people and cargo wherever, whenever will beat that nine times out of ten for the average driver. (If that weren't the case, full-size pickups wouldn't outsell everything else in America by a comfortable margin.)
By those less-exacting-but-no-less-important standards, the rise and, now, ubiquity of crossover make a ton of sense. Roomy interiors mean ample space for ever-expanding lives, four-wheel grip means weather is no longer something to be feared (as much, at least), and car-like unibody platforms enable (slightly) lighter construction, which in turn means less money spent building an SUV and less money spent filling it up at the pump.
And as it turns out, even a few years after it debuted, the Volkswagen Atlas is still a good example of the importance of those traits.