2022 Ford Bronco Everglades Review: a Relentlessly Tough Mud-Crushing Machine
The Florida Man of the Bronco lineup doesn't mess around.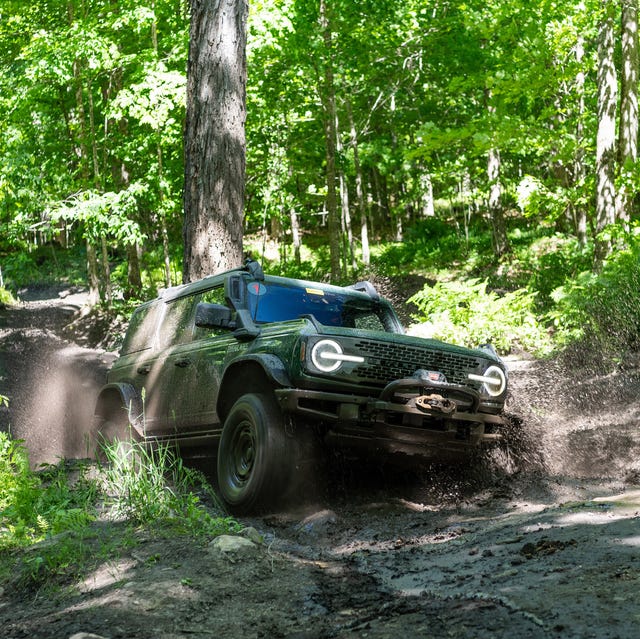 The Bronco Raptor was not the only off-roading edition to the Built Wild lineup for 2022. Ford also added the Bronco Everglades. Mercifully, Ford did not bring us to the actual Everglades in June to test its new mud-blasting Florida Man SUV. Instead, we traveled to a more temperate equivalent: Michigan's water-logged Drummond Island east of the Upper Peninsula.
As a Michigander, I anticipated this trip would be an ordeal. Ford doesn't (and doesn't need to) treat the Bronco preciously at press events: we had a 12-hour itinerary beginning at 5:30 am; Ford inquired about my shoe size to fit me for a set of waders beforehand; and even less encouragingly, a table at our staging area offered industrial-strength DEET and full-on mosquito net hats.
The off-road drive — a more-than-five-hour trek through deep mud, standing water, floating logs and rock obstacles seen and unseen — lived up to my expectations. But the Bronco Everglades made it all feel effortless. I kept the waders in the box, as my Bronco didn't get stuck — even when three-point-turning in deep mud to do a winch demonstration. And — but for a couple of impressively large insects that invaded the cabin — it was a surprisingly peaceful, muddy afternoon.
What is the Ford Bronco Everglades?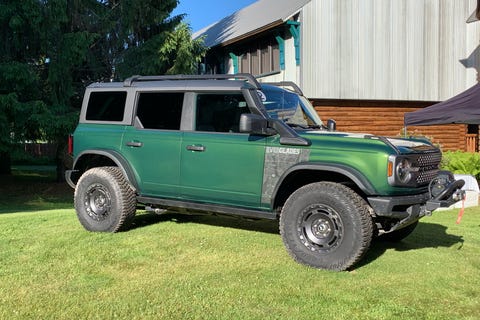 Everglades is a new Bronco trim for 2022. It starts with the Sasquatch package: massive 35-inch "Goodyear Goodyear" mud-terrain tires, Bilstein position-sensitive dampers and front and rear lockers, and so forth. Ford adds a factory-installed (and Bronco-specific) Warn Winch and a factory-installed snorkel, throws in some Everglades graphics and adds Carbonized Gray painted alloy wheels that sort of look like steelies.
The Everglades trim is only available on the four-door, 2.3-liter Bronco with the 10-speed automatic transmission. Sorry, stick shift fans.
What's so special about the Bronco Everglades?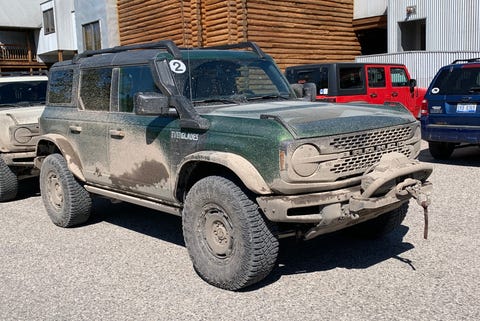 Ford already had the rock-crawling Badlands Bronco and the desert-running Wildtrak Bronco. The Everglades is the Bronco optimized for stomping around in the mud and water.
The Everglades trim delivers 36.4 inches of water fording capability, about three inches more than the other Broncos, as well as 11.5 inches of ground clearance. You have a 10,000-pound winch to extricate yourself (or someone else). And it comes in a turnkey package, optimally integrated from the factory.
How does the Bronco Everglades drive off-road?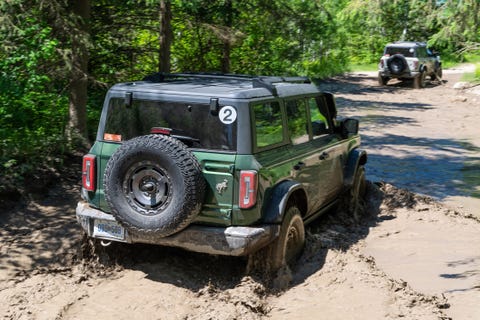 The Bronco Everglades won't feel that different from a standard Sasquatch Bronco — which is good. The Bronco is a beast that can clamber over, through or around almost any terrain (or rather, any type of terrain, if Ford's lawyers are listening in). It's surprisingly agile in tight spaces. And it's intuitive and easy to use. Want to drive in the mud? Switch over to Mud/Ruts mode, and the Bronco automatically engages 4-High and locks the rear diff.
Does the Everglades trim make a difference? I wasn't reaching out the window and fathoming to determine precise depths while driving. But we were in a lot of muddy water, often approaching the tops of the tires. And there were points where our chase Bronco — a First Edition — took bypasses to avoid particularly deep stretches we trudged through. (Having a winch to extricate yourself and less fear of flooding your engine does help you plunge in with confidence.)
The Everglades can still rock climb; it has skid plates and rock sliders. And we traveled up one particularly gnarly shelf that required us to slide on the rocks to get over. But because of the winch, the Everglades doesn't come with a terrain camera. You also lack the sway bar disconnect feature (I had some noggin bumps that could have been avoided as a result) and Hill Descent Control you get on the Badlands.
The Everglades Bronco proved remarkably durable. No media member got stuck in our group; we had to fabricate a winch demo. The only issue that arose in our group during five hours of wading and pounding was the lead Bronco driven by Ford personnel getting a log wedged in its suspension.
You may notice I didn't mention on-road driving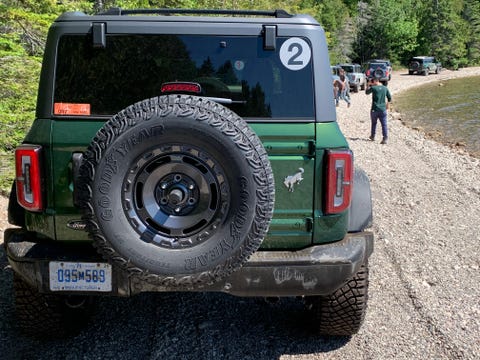 We stayed in Mackinac City, just below the Mackinac Bridge...and used a fleet of different Broncos to travel the hour and a half to Drummond Island, where the Everglades Broncos were staged. Our only on-road time in the Bronco Everglades was a few minutes heading to and from the resort to the trailhead. So I can't really say what it's like to drive on the street.
I wouldn't expect the Everglades to drive dramatically differently than other Sasquatch-equipped Broncos. That said, because of the winch, you don't have adaptive cruise control available.
What's the Bronco Everglades like inside?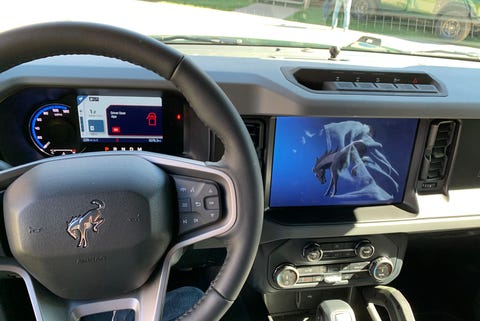 The Bronco Everglades interior is practical. Like the Black Diamond and Badlands trim, the Everglades gets marine vinyl seating and drain plugs for a washout interior. One significant consideration is you can't add the High and Lux packages to the Bronco Everglades.
You do receive the larger 12.0-inch touchscreen here. But you're missing some features you would typically expect on an expensive SUV, like wireless phone charging. And you're stuck with the base six-speaker sound system.
How much does the Bronco Everglades cost?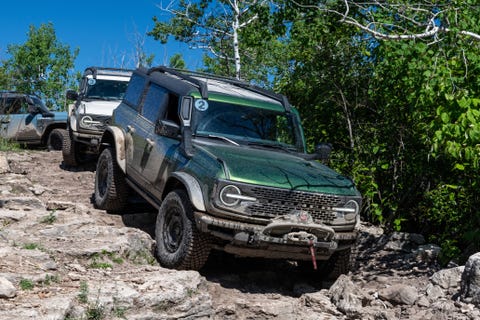 The starting MSRP for the 2022 Bronco Everglades is $53,000. That price works out to $54,595, with the destination charge included; call it about $55,000 with floor liners. But because there isn't much wiggle room with options, it's hard to take the Bronco Everglades much higher than that. So even though the Everglades starts as the priciest non-Raptor Bronco trim ahead of the Badlands or the Wildtrak, it may not end up that way.
Should you buy the Bronco Everglades? It depends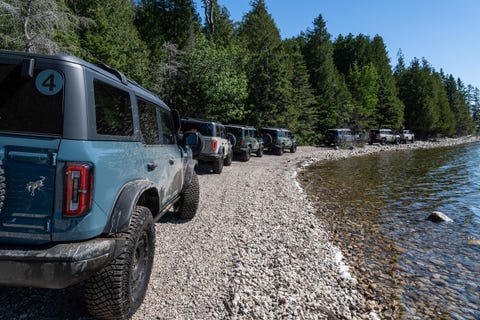 How are you going to use your Bronco? If you're heading to the swamp every weekend, the Bronco Everglades gives you a specialist tool for that job under warranty without having to go to the aftermarket. If you aren't doing that, the Everglades trim limits your options for engines, body styles, amenities, body colors and just about everything. A Badlands or Wildtrak trim, if you're looking for a fancy off-roading Bronco, would make better sense for most people.
For 2022, it's not a decision any new Bronco buyers will have to make. Like the Bronco Raptor, Ford is reserving the first allotment of Bronco Everglades vehicles for existing reservation holders.
2023 Ford Bronco Everglades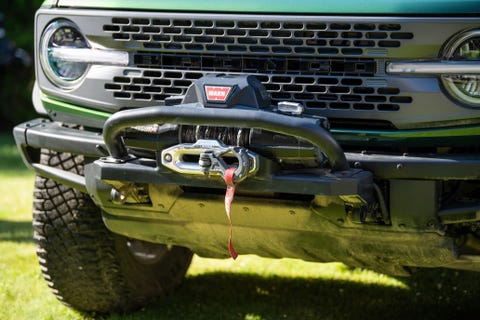 Powertrain: Turbocharged 2.3-liter inline-four; 10-speed automatic; four-wheel-drive
Horsepower: 275
Torque: 315 lb-ft
Water Fording: 36.4 in
Ground Clearance: 11.5 in
The 2023 Toyota 4Runner: What You Need to Know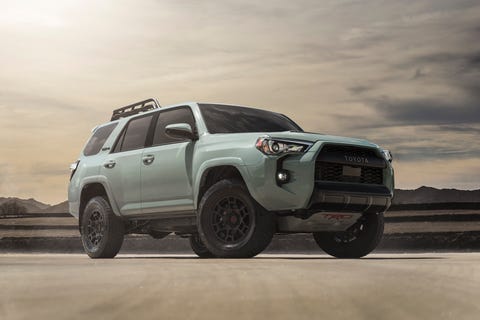 The 4Runner is due for an overhaul. Here's what to expect.