The 2022 Ford Bronco Raptor Review: Ford's SUV Icon Goes Next-Level
Don't think the Bronco could be any better? Ford, ah, found a way.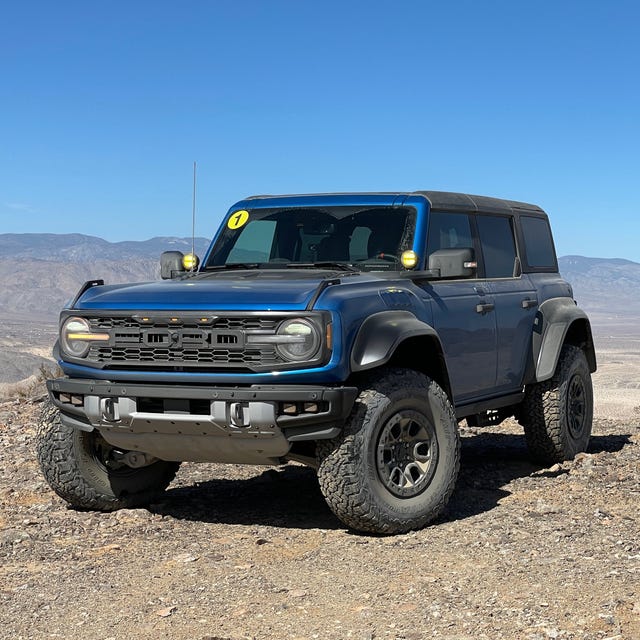 Strange as it may seem in this day and age when automotive sub-brands are proliferating like Catholic rabbits, Ford has only sold a single vehicle in the United States outfitted with its now-renowned high-performance Raptor badge: the F-150. Other markets have seen the Raptor treatment applied to the Ranger, but here in the States, it's only ever been found on the brand's best-selling truck. Hell, there were more raptors in the first Jurassic Park than there have been models dubbed Raptor in the U.S.
That's because Ford's executives have courageously avoided watering down the Raptor name by slapping it on every Escape, Super Duty and Explorer in need of a sales boost. It's been saved like a fine bottle of Pappy 23 in the back of the liquor cabinet, pulled out only on rare occasions for the worthiest of causes and the most exciting of vehicles.
Vehicles like the all-new Ford Bronco.
What is the Ford Bronco Raptor?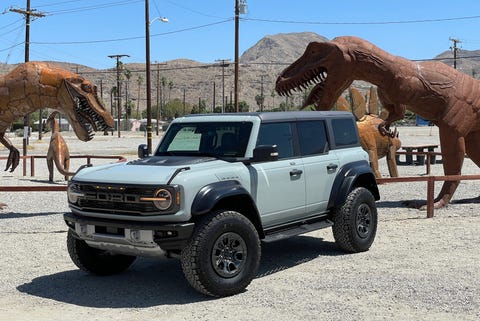 As described above, Raptor signifies the pinnacle of high-speed off-road performance in the Ford lineup — an off-roader with a more powerful engine, a retuned suspension designed for soaking up bumps and ruts at improbable velocities, aggressive all-terrain tires and a track as wide as a locomotive. Bronco, of course, is the company's best-known SUV, an American icon of boxy design, utilitarian features and imposing presence — a name resurrected last year for an all-new sport-ute designed to take the Jeep Wrangler out behind the bleachers and give it a beat-down. And Ford, well...if you don't know that one, I can't help you.
What makes the Ford Bronco Raptor special?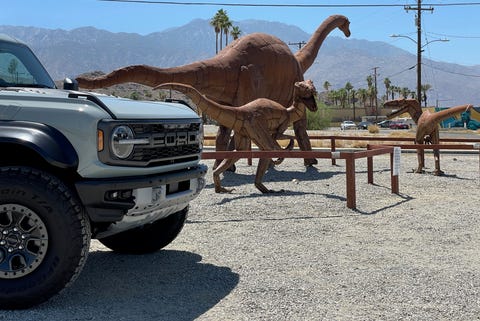 As Ford does with its Raptors, the baddest Bronco comes outfitted with an arsenal of Ford Performance-masterminded adjustments and changes. Under the hood lies an engine unlike any other new Bronco's motor: the twin-turbo 3.0-liter V6 found in the Ford Explorer ST and Lincoln Aviator, here tuned to make 418 horsepower and 440 lb-ft of torque. (In case you're left wishing it had more cylinders, keep in mind that's 30 more torques and just 32 fewer horses than the V8 in the Mustang GT.)
While base-engined Broncos can be had with a seven-speed manual, the Raptor only offers a 10-speed automatic — but unlike other ponies of its breed, it gives you metal paddle shifters behind the wheel to snap through the cogs if you want. (You won't want to much, though. 10 gears is a lot to choose from, and the gearbox is pretty damn smart.) And, of course, four-wheel-drive is standard, with 4A (automatic engagement, for on-road use) 4H (constant 4WD, high-range) and 4L (constant 4WD, low-range) to choose from.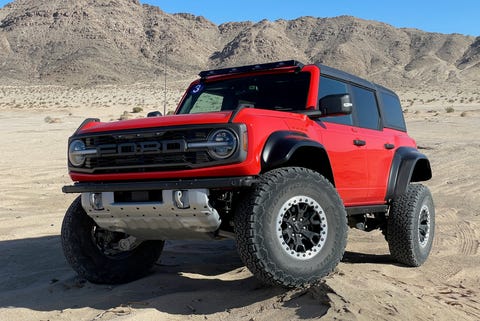 But ride and handling are just as important to a Raptor as power, if not even more so. This Bronco packs the Raptor High-Performance Off-Road Stability Suspension system, which Ford gave the torturenym of "HOSS;" it uses Fox Live Valve tech with position-sensitive damping and Fox 3.1 Internal Bypass Sem-Active dampers, along with integrated reservoirs up front and piggy-back reservoirs in the rear. Don't know what that means? Don't worry about it — the results speak for themselves, as we'll get to in a bit.
As the hipbone is connected to the legbone, those lead to the 17-inch wheels — beadlock or not, your choice — which are clad in meaty BFGoodrich KO2 tires that stretch 37 inches in diameter. Both tire size and suspension play a key role in providing the Bronco Raptor with its impressive ground clearance of 13.1 inches, as well as its startling girth; at 85.7 inches across with mirrors folded, it's 9.8 inches wider than the regular Bronco, and nearly as wide as the F-150 Raptor.
What's the Bronco Raptor like to drive on the street?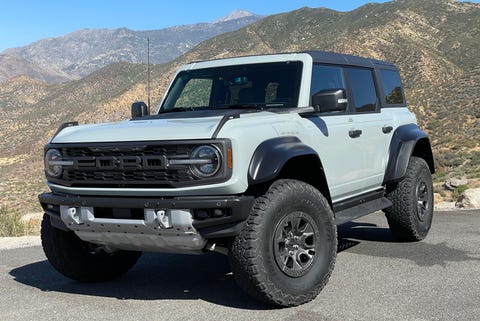 More composed and pleasant than you'd probably expect. With all that suspension travel and all that sidewall to sop up potholes like thick gravy, the ride is delightfully smooth — arguably even more so than the regular Bronco, at least in Sasquatch form. There's a bare hint of turbo lag at very low revs, but it clears up progressively and quickly, and once it does, this Raptor takes off like there's a tasty cow dangling from a sling just down the road.
Nail the gas or pitch the Bronco Raptor into a turn, and it'll bob, dive and sway in a manner that might leave you a bit nervous. Conquer your nerves, though, and you'll find this equine saurian an oddly engaging dance partner. The steering is an unexpected delight, accurate and pointed in a way most body-on-frame vehicles can't claim.
If there's any issue with the Bronco Raptor's on-road driving experience, it's that the power and handling make it almost too easy to write momentum checks the brakes and tires can't cash. Hit the brakes to slow for an oncoming turn, and the Bronco's efforts to scrub speed briefly feel, shall we say, ineffective; the discs bite, but whatever attempts they're making are stymied by the all-terrain tire's tread pattern, which struggles to find stick on dry asphalt. I had one or two heart-stopping moments before I learned to drive within the limits of the tires; then again, most people probably won't try and drive a Bronco like a GTI on a winding mountain road. (Such are the burdens of automotive journalism.)
Enough of that. What's the Bronco Raptor like off-road?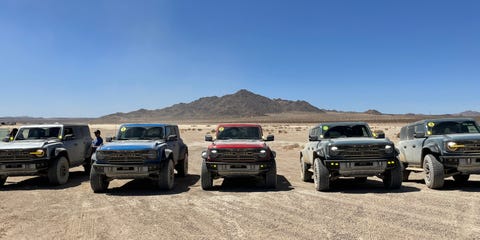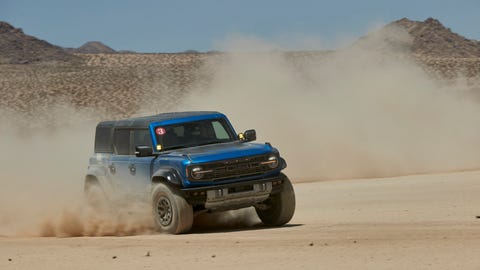 Going fast in places where roads are mere fantasies is the primary purpose of a Raptor, and the Bronco version is no exception. Ford turned us loose on a stretch of the actual King of the Hammers course. Irritatingly at the time but perhaps wisely in retrospect, they only gave us one lap around the roughly five-mile course; it was only enough to peer down into the depths of the Bronco Raptor's capability, but not enough time to actually try and find out just how much punishment those Fox shocks could really take...or, alternately, to go flying ass-over-teakettle when the reach of my confidence exceeded the grasp of the tires.
Still, that lap was enough to leave me thirsty for more — and to reveal just how damn good the Bronco Raptor really is. Tearing along deep two-tracks at more than a mile a minute, bouncing and bounding along bumps and ruts — the course would have been enough to rip the guts out of most off-roaders, but this Ford practically laughed them off, absorbing the impacts, clawing up the dirt with gusto, always giving what I needed it to give. An autocross-style course on a dry lakebed served up a chance to push the Bronco Raptor a bit more, revealing more of its playful side; it was all too happy to drift and slide through the wider turns, while still clawing hard into the hard-packed sand for the tight little slalom course at the end of the run.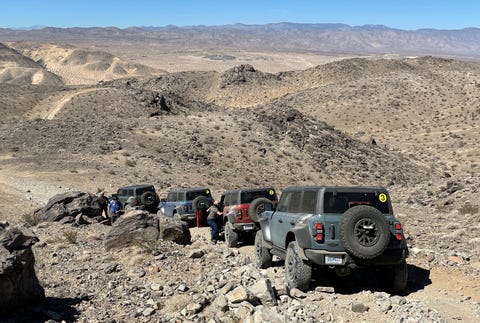 But the Bronco Raptor also excels at more conventional forms of off-roading — the careful-tire-placement, gentle-throttle-and-braking, slow-and-steady-wins-the-race variety. Credit not just the marvelous electronic gadgets, but the sheer physics of its design; it boasts an approach angle of a stunning 47.2º — yes, closer to vertical than horizontal — a departure angle of 40.6º and a breakover angle of 30.8.º Add in the torque multiplication of its low first gear and its low range, and you have a crawl ratio of 67.88:1. Tie that in with the immense surface area of those big tires and the 448 lb-ft of torque from the engine, and it's amazing this thing can't climb walls like the Spider-Mobile.
We picked our way up and down steep trails covered in raw, jagged rocks with ease for the better part of an hour, to nary a complaint or issue from any of the trucks in our convoy. Even more impressive was the super-technical short rock-crawling course that followed, where a veritable battalion of expert spotters guided journalists up a rocky trail that a human would need to scramble up on all fours to conquer. It was, simply put, the single most impressive performance I've ever seen from a stock off-roader.
Like the F-150 Raptor, its biggest flaw for off-roading is its bigness; while it may be smaller than the pickup, it's still very wide, and decently long to boot. It likely wouldn't be the best bet for tight trails — it's wide enough that the feds make it wear commercial vehicle-spec amber visibility lights — but for any trail with at least 86 inches of give at its narrowest spot, it's close to untouchable.
What's the Bronco Raptor like inside?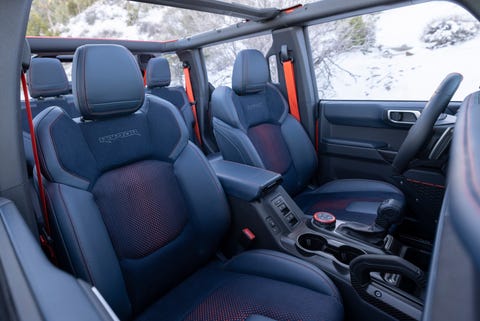 Quite comfortable, if you're in one of the front seats. They're well-bolstered and supportive, making them a good fit for both highway slogs and sliding/bouncing around at speed.
It's less ideal for folks in the back, at least in the fierce desert heat of the Mojave Desert where we tested the truck. Like other Broncos, there's no air vents for anyone in the back seat, so if it's really hot, those second-row occupants may not feel much of the air conditioner's bounty. But odds are good most people buying off-road-oriented SUVs to transport families on a regular basis will be looking at Explorer Timberlines and Tahoe Z71s, not Broncos.
The controls, blessedly, do a fine job of blending both electronic touchscreenery and physical buttons, even if those buttons are ultimately just connected to electronic doo-dads of their own. The important off-road features — the G.O.A.T modes, the 4WD system, the locking differentials, the disconnecting anti-roll bar and so forth — all are controlled by buttons, but also tied into the drive modes, so the Bronco can automatically tailor their setup based on whatever a given drive mode requires. Volume, tuning and climate control remain the provenance of large, utilitarian dials.
There's more tech to be found inside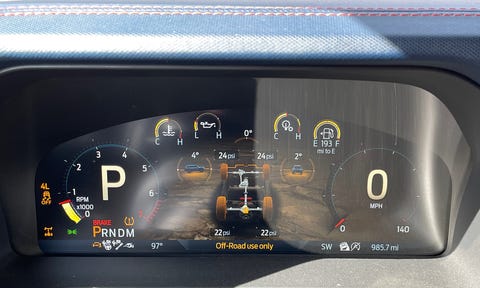 Perhaps the most notable update from the driver's perspective is the new all-digital instrument panel. It replaces the funky half-analog-half-digital unit found in lesser Broncos, and the SUV is better for it; while that setup bridges a somewhat cheap-lookin combo of a chonky analog speedometer and a square-ish digital cluster with a tiny bar graph tach, the Bronco Raptor's unit is a beautiful, chromatic widescreen display that alters its configuration based on drive modes and the desires of the driver to showcase all sorts of information.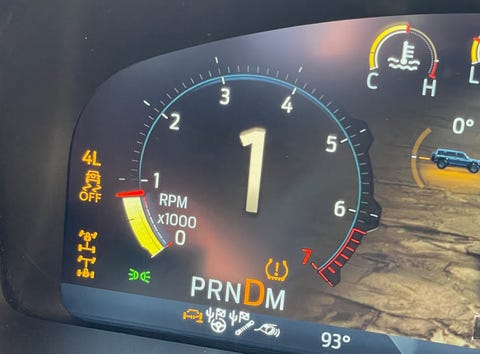 The Bronco Raptor takes full advantage of all that real estate, too, as you can see here. The slew of drive modes and other configurable settings are a lot to keep track of, and when in the heat of the moment while off-roading, you don't want to be frantically glancing around the cabin to confirm your diffs are locked or you're in four-low. The instrument panel's reconfigurable array of info enables it to place everything you need to know in one spot, right in front of you — but also to hide it away when you don't need to worry about it.
What does the Ford Bronco Raptor compete against?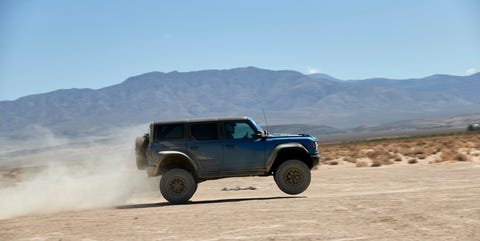 The closest approximation to the Bronco Raptor would probably be the Jeep Wrangler 392 Rubicon, which takes the most capable version of the Wrangler, jacks it up two more inches and crams a 6.4-liter Hemi V8 under the hood. But the Jeep is basically just a riff on the classic muscle car package — take a best-selling car, cram the biggest engine you can in there, and sell it for a sweet markup — whereas the Bronco Raptor is more of a complete package, tuned and honed for all-around performance. The forthcoming Mercedes-AMG G63 4x4² will likely be a fearsome competitor, but at a significantly higher price — rumor suggest around a quarter-million bucks, which would buy you three Bronco Raptors.
So, suffice it to say, there may not be a serious competitor for the Bronco Raptor for some time. After all, it took a decade for a predator meaner than the F-150 Raptor to evolve — and these days, automakers are more concerned with transitioning to electric power and EV architectures than building speedy gas-powered off-road playthings.
Sooner or later, something will come along and give the Bronco Raptor an honest fight — life, after all, finds a way. (I'm hoping Jeep engineers can convince the beancounters to crame the Hurricane inline-six and the Gladiator Mojave suspension into a Wrangler before the JL-generation is sent to the boneyard.) For now, though, it seems hard to argue that it's the most capable, well-rounded off-road monster you can buy from a new car dealership in 2022.
The 2022 Ford Bronco Raptor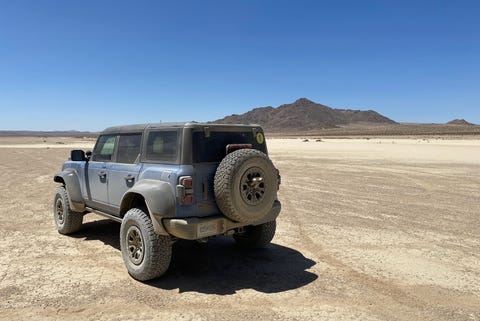 Base Price: $70,095
Powertrain: 3.0-liter twin-turbo V6; 10-speed automatic; four-wheel-drive
Horsepower: 418
Torque: 440 lb-ft
EPA Fuel Economy: 15 mpg city, 16 mpg highway
Seats: Five
The 2021 Ford Bronco Is the Jeep Wrangler's Worst Nightmare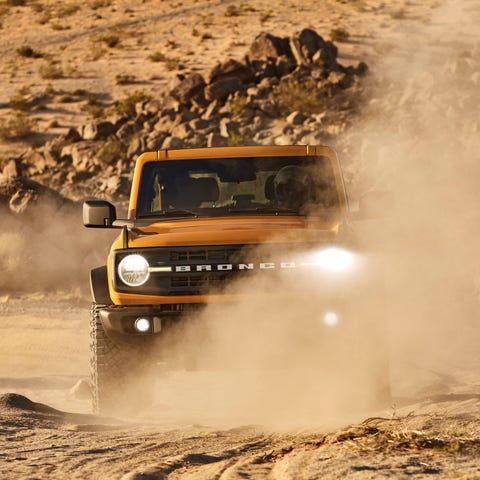 The new Bronco is a beastly off-roader and a comfortable on-road ride. Just watch out for the options list.