The 2024 Mercedes-AMG C 63 S E Performance Revealed: It's Utterly, Insanely Powerful
You'll love the power, but V8 fans will need to get used to the fact that it comes from a turbo-four plug-in hybrid setup.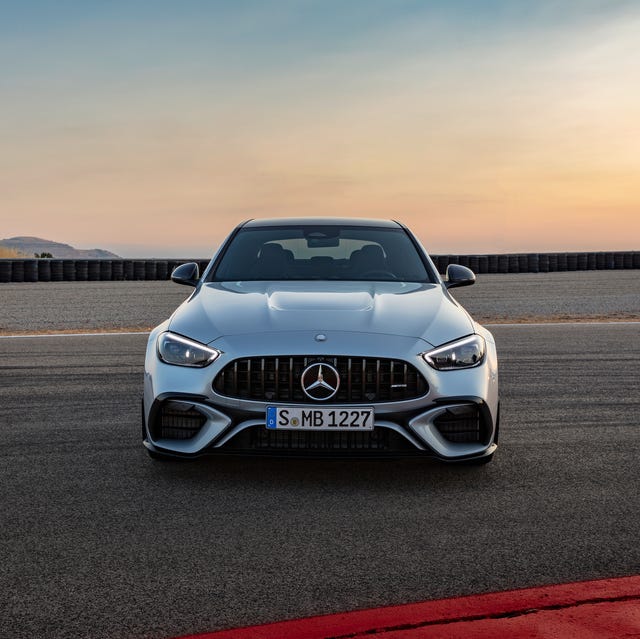 Mercedes-Benz has already launched the new 2023 C-Class sedan. Now, the brand is unveiling the apex predator of the compact sedan lineup, the all-new 2024 Mercedes-AMG C 63 S E Performance. Mercedes is calling the AMG C 63 S E Performance "the dawn of new era." And for once, that's not marketing hyperbole. Mercedes-AMG swapped their trademark V8 with their engine of the immediate future: an outrageous 2.0-liter hybrid setup that generates even more power.

Here's what you need to know about the 2024 Mercedes-AMG C 63 S E Performance — beyond it being a mouthful to say.
The AMG C 63 S E Performance packs the world's most powerful four-cylinder engine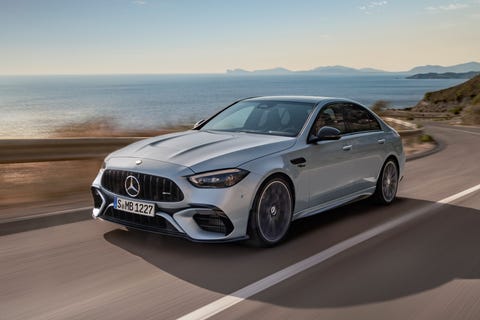 Hearing "2.0-liter four-cylinder" seldom gets the pulse racing. But this is the craziest four-pot put into production. It pushes out an incredible 469 hp, more than the current-gen 5.0-liter V8 in the Ford Mustang GT.
That's just the combustion part of the hybrid, too. The AMG C 63 S E Performance also has a 201 hp electric motor on the rear axle. Peak output is a maniacal 671 hp and 752 lb-ft of torque that will rocket the sport sedan from 0-60 mph in 3.3 seconds and to a top speed of 174 mph.

The AMG C 63 S E Performance has rear-axle steering and a drift mode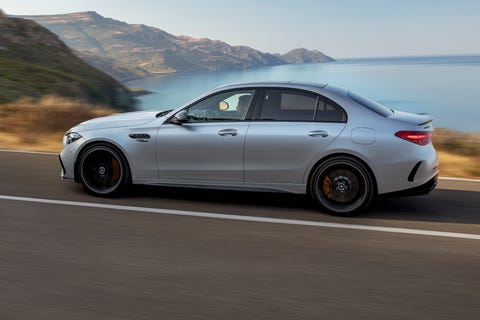 The AMG C 63 S E Performance features Mercedes's 4Matic+ variable all-wheel drive system. The sedan will have a drift mode. It will also come standard with rear-axle steering. Below 62 mph rear wheels will turn in the opposing direction up to 2.5 degrees to tighten the turn radius. At speeds above that, wheels will turn in the same direction for more nimble highway maneuvering.
The C 63 S E Performance draws on Formula 1 tech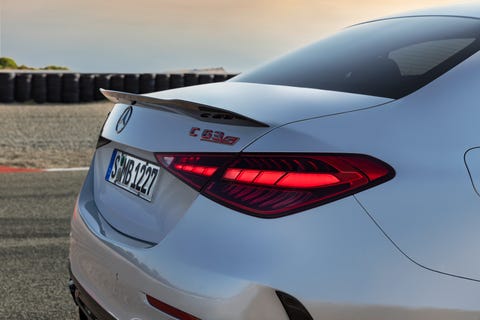 You may not have realized this — after their run of seven consecutive F1 driver's championships — but Mercedes-AMG is involved in F1. They have been (up until this season) the dominant power of the turbo-hybrid era. And Mercedes says this car draws on knowledge obtained through that racing series.
Specifically, the C 63 S E Performance employs a lightweight, high-performance 400-volt battery designed for quick power draws with a direct cooling system. The C 63 S E Performance also provides electric support to the turbocharger, eliminating lag.
The AMG C 63 S E Performance also will use regenerative braking with three different settings, including a mode for one-pedal driving like an electric car.
Mercedes will still try to make the AMG C 63 S E Performance sound like an AMG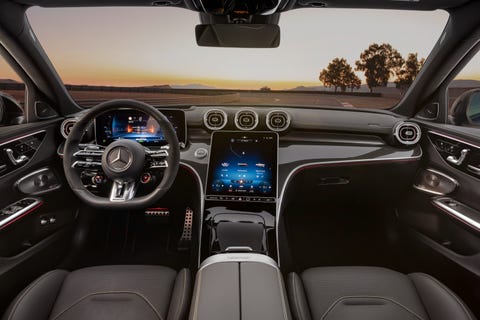 If you think you'll still miss that V8 sound, Mercedes-AMG will help the AMG C 63 S E Performance sound the part. External speakers that emit a warning sound for pedestrians will also be deployed "for a more advanced sound experience." The noise will be "enriched" before it arrives into the cabin through the internal speakers.
Expect to see this new AMG next year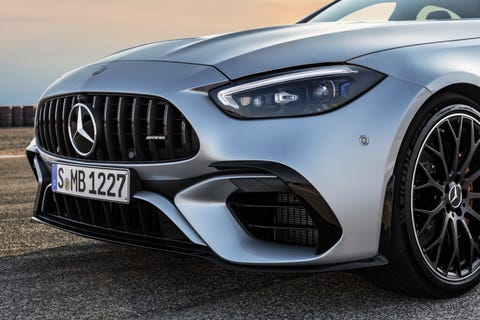 While Mercedes-Benz didn't offer an exact on-sale date for the new C 63, the 2024 model year designation suggests it will go on sale in calendar year 2023 — which, believe it or not, is just three months and one week away. Here's hoping it goes on sale early that year.