2023 Honda Accord Hybrid Review: It's Better Than a Crossover
Once again, like clockwork, Honda has delivered a new Accord that redefines value in the new car market.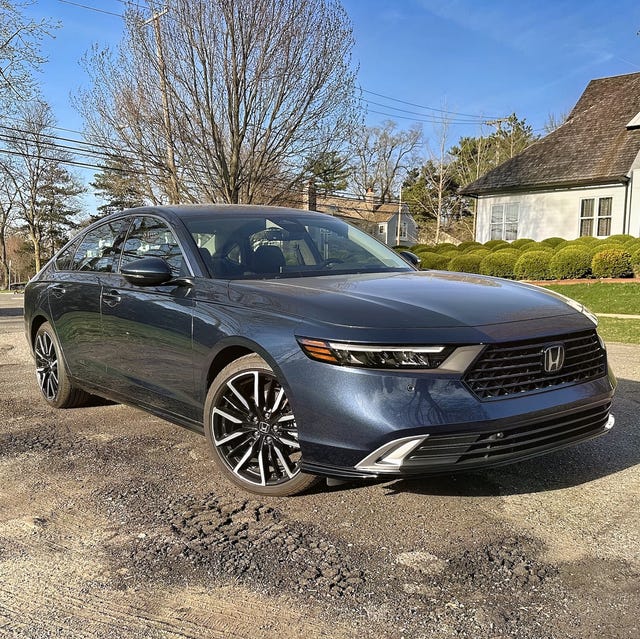 I don't recommend the Honda Accord to folks that often. Know why? Because no one ever asks me, "what is the best all-around vehicle that's great to drive, spacious, practical, efficient, affordable and reliable?" Typically, if someone wants all of that, they're only interested in a crossover — and they won't consider a sedan no matter what.
But — sedan or not — the Honda Accord is about the surest bet in the automotive world. It has taken up residence on Car and Driver's 10 Best list since debuting nearly 50 years ago. And it required the least debate of any pick on our best cars you can buy list. Several manufacturers have moved away from building family sedans; a major reason is that they can't compete with the Accord.
When updating a standout like the Accord, the task is to refine rather than redefine the car. But the all-new 11th generation model for 2023 does bring some significant — one might even say controversial — changes. Honda dropped the manual transmission option after 2020; and, after ditching the V6 for a punchy Civic Type R-derived turbo-four in the last generation, that turbo four has now been dumped for a more efficient, 204-horsepower hybrid setup.
Honda also rebooted the Accord's style. The brand has swapped busy dynamism for clean, almost obsessively simple lines. And depending on your perspective, the 2023 Accord either conveys elegance or has reached the apotheosis of boredom — like the expressionless emoji in car form.
Did Honda maintain its impressive streak of nailing it with the Accord? I drove the top-tier Touring Hybrid model around town for a week in Michigan to find out.
The 2023 Honda Accord: What We Think
Yeah. Honda did it again. The new 2023 Accord is fun to drive, efficient and practical. I'm not sure Honda took the right direction with the exterior design, but it remains the best all-around car you can buy for less than $40,000 — and the best proof that you don't need a crossover.
2023 Honda Accord: Testing Notes
The Accord is still fun to drive — really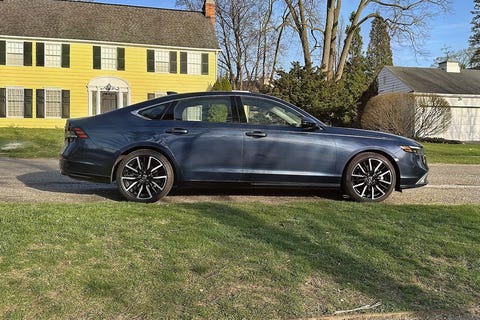 Honda has mastered the art of fine-tuning affordable cars, and the Accord has been the best off-track manifestation of that over the years — a sleepy driver's car. The 2023 model lives up to that reputation, even if the hybrid drops a little more than 40 horsepower from the last gen's performance model.
You don't climb into the Accord; you drop down to a low-slung driving position more akin to a sports car than a boring sedan. It still has the Accord's characteristic laser-sharp steering and agile handling. The hybrid is still torque-laden and quick by normal car standards (Car and Driver clocked it at 6.6 seconds from 0-60 mph).
Whether on a curvy (by Michigan standards) two-lane road or scything through traffic on a four-lane highway, the Accord entices you to drive with vigor, even if the piped-in noise when you're on it leaves something to be desired. And the Accord delivers the classic sports car experience of making you seriously annoyed when stuck behind less exuberant cars in front.
The only quibble I had driving the Accord over a week was that the suspension felt a touch stiff over pavement bumps, which comes into play a lot in Michigan. Though that was still far more pliant than, say, the Civic Type R.
The Accord's hybrid system is very efficient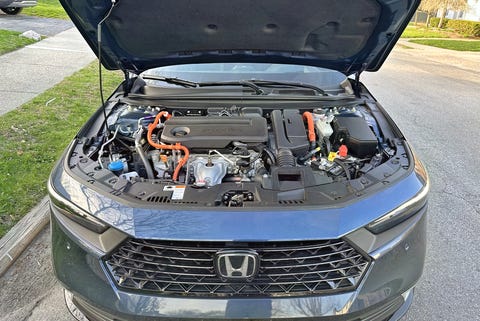 The Hybrid Touring is the least thrifty of the 2023 Accord Hybrids. Nonetheless, the EPA rates it for an impressive 44 miles combined. I made no effort to drive efficiently, shifting the Accord into sport mode at every opportunity, and I also had to leave it idle while taking pictures. I still averaged 39.6 mpg over the week.
The Accord offers a ton of space inside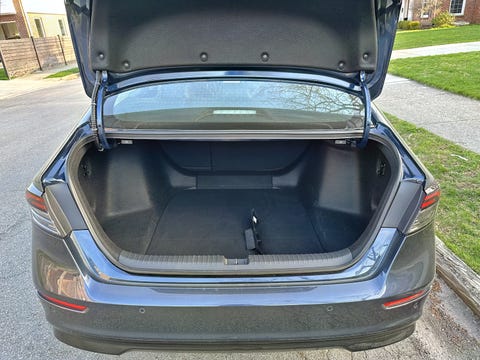 Buyers have switched to crossovers for more room. But the Accord, like most midsize sedans, is sufficiently comfortable and spacious. Reading it, "16.7 cubic feet of trunk space" doesn't seem like much. But as it's a sedan, that space is horizontally aligned and all usable — in a boot that feels downright cavernous. There's ample legroom front and rear. My only real issue over the week — a slight one — was maneuvering my large car seats through the door opening.
Like the rest of the new Honda lineup, the interior resembles the latest Civic, with the mesh extending the length of the vehicle horizontally. Going Touring Hybrid doesn't level you up to fancy Nappa leather; this is still, in top spec, a sub-$40,000 car. But Honda does level up the amenities with ventilated seats up front, heated rear ones and an upgraded sound system.
The Accord Hybrid Touring has Google…built-in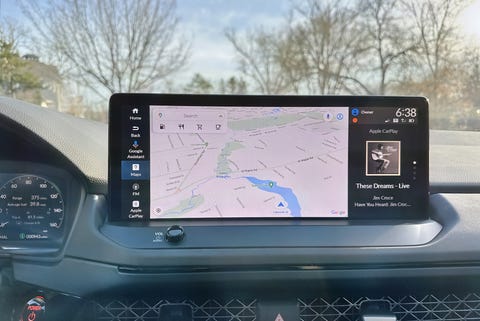 Honda, refreshingly, hasn't tried to make its proprietary infotainment tech a thing. They've partnered with Google. And the Accord Touring Hybrid is the first vehicle to get the new built-in Google OS.
You can "Hey Google" it up with the personal assistant. And, helpfully, the in-car navigation is just Google Maps (which somehow had a differing opinion on how to get to a Detroit event from my phone's version of Google Maps).
The most notable feature for most buyers — who will pair their phone anyway — is that the system is less laggy than the standard Honda system. And there are fewer buttons beyond an isolated volume knob that looked like it was added ex post facto.
The new Accord is a bit boring to look at, if I'm being honest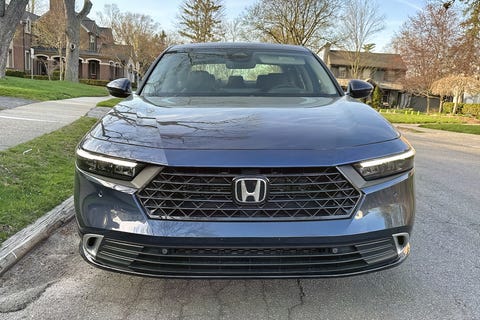 I'm not a massive fan of how the new Honda Accord looks. It's aggressively mild. There's nothing offensive or particularly off-putting about the way it looks; that would have been too interesting.
An exterior should prime you for what a car is all about. In the Accord's case, the blandness on the outside lets down what is a reasonably spicy car. At a very minimal level, an exterior that has been substantially fussed over should look better than what came before. I'm not sure the Accord meets that criterion, either.
2023 Honda Accord Touring Hybrid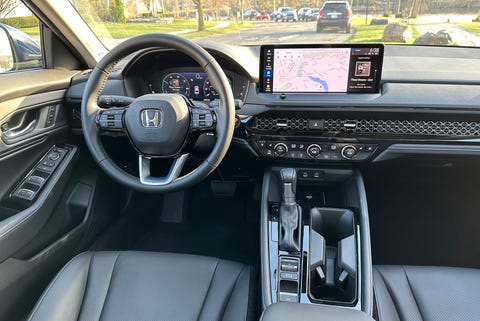 Powertrain: 2.0-liter inline-four hybrid, CVT, FWD
Horsepower: 204
Torque: 247 lb-ft
EPA Fuel Economy: 46 mpg city, 41 mpg highway
Starting MSRP: $37,890
The 2024 Toyota Tacoma: Here's Everything You Need to Know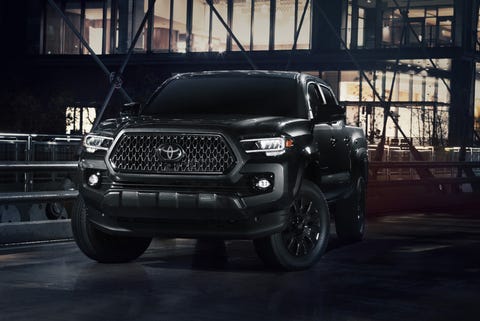 It's getting a new top-of-the-line off-roading trim.