2023 Honda Civic Type R Review: Honda's Beloved Hot Hatch, All Grown Up
The body may be less wild, but the Type R is still the car we adore.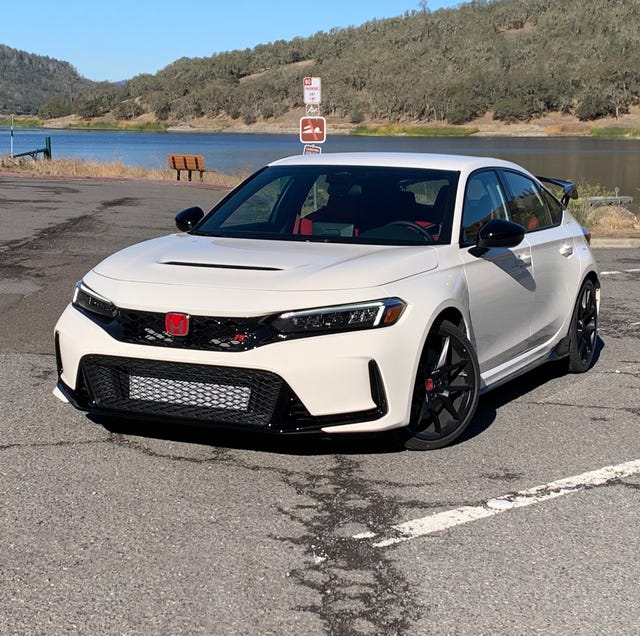 Honda led off by noting that the new 2023 Civic Type R is "the most powerful Honda production vehicle ever sold in the U.S." It's an empty suit of a superlative when you note Honda achieved it by milking a not-so-gobsmacking nine extra horsepower from the previous generation's 2.0-liter engine. Using it is a tacit admission by Honda that the new Type R is more of an incremental update and refinement than rumors of a radical, hybrid, 400-horsepower AWD Civic Type R suggested. But the same could be said for virtually every affordable, low-volume combustion performance car, as manufacturers invest in going electric over everything else.
The Civic Type R did add that power, though, along with an extra 15 lb-ft of torque. Honda engineers stiffened the chassis and retuned its suspension. It has a wider track and a longer wheelbase for added stability. And Honda endeavored to resolve some of the Civic Type R's most prominent criticisms, whether that was the less-than-stirring exhaust note or hyper-aggressive styling unfit for anyone but a backward hat-clad, Red Bull-quaffing teenage ne'er do well.
Honda brought me out to California to drive the Civic Type R in its intended environments: seriously curvy Napa Valley mountain roads and on track at Sonoma Raceway on dealer-optional Pilot Sport Cup 2 tires (with Honda staffers constantly monitoring the pressures between runs). And after a lengthy day of Type R-ing, the new version proved to be exactly what it needed to be: the ultimate Honda hot hatch — if not the ultimate hot hatch for everyone.
Why is the Honda Civic Type R special?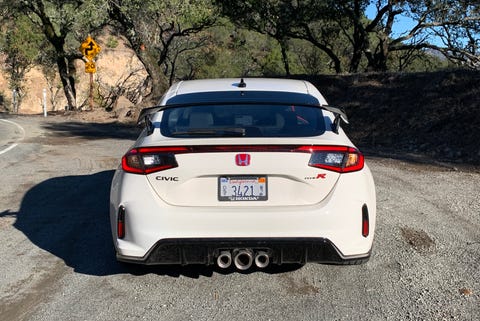 Honda engineers excel on a budget. The Civic Type R is their take on building "the ultimate high-performance hot hatch" (at a price buyers can afford). Their interpretation sticks with front-wheel drive. It's not the typical choice for performance cars — Lamborghinis and Porsche 911s stick with rear-wheel or all-wheel drive. But Honda argues that front-engine, FWD is a simpler, lighter and purer layout than, say, the VW Golf R's AWD with its "Vehicle Dyanmics Manager." Sticking with FWD also avoids an extensive and costly overhaul of the base Civic.
Engineering out the torque steer that plagues high-powered vehicles, Honda has ostensibly produced the world's quickest production FWD track car, which is dramatically less expensive than the quickest RWD one. This model won't be the last Type R we get in America. But it almost certainly will be the last purely combustion-powered version.
Hey, the Civic Type R looks different?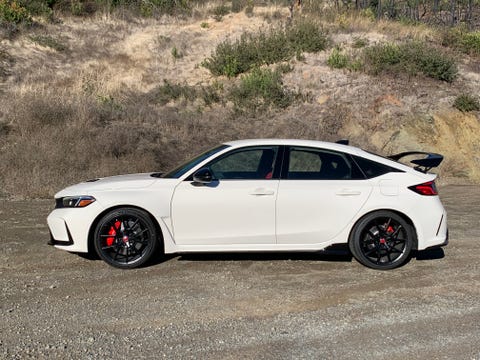 Yep. The most glaring change for the Civic Type R is its exterior appearance, which Honda calls "noiseless." I cracked that it looked like the Civic Type R's LinkedIn photo when it first came out. And I'm not backing off that entirely after seeing it in person.
The new look is subtler and more sophisticated — perhaps the sign of a more mature Type R brand after the first effort sought attention. There are some visual features to appreciate with the Civic Type R, like Honda integrating the wider fenders into the bodywork. But I still think many a civilian will see the Type R and why someone stuck a giant aftermarket spoiler on a Civic hatchback.
How does the new Civic Type R drive?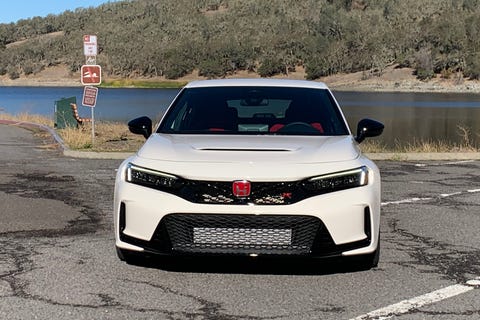 The last Civic Type R was known for its handling. The new model is basically that, but further refined. The Type R feels quick, precise and light on its tires. Shifting with the manual is intuitive from the get-go with an excellent rev-matching system. It has a broad peak torque band that comes on at 2,600 rpm. With chief engineer/racing driver Hideki Kakinuma at the helm, the Type R exhibited athletic grace at the limit and (almost literally for the passenger) breathtaking stopping power courtesy of its big Brembo brakes.
On the road, the drive modes felt distinct and well-curated. Although like the standard Civic, the full-screen graphic when changing modes lingered so long on the touchscreen I missed the Google Maps prompt to continue my drive route and had to make my own way to Sonoma. You get a hard-steering +R mode for corners, a Comfort mode to move things more to a standard Civic realm and a Sport Mode that strikes a nice balance in between. By the end of the day, I was in the individual settings, dialing in all of the Sport settings but with the Comfort suspension. I expect that's where many drivers will settle.
Ride quality with the Type R is a sacrifice you make for the performance. It's tolerable in Comfort mode and not a complete stagecoach. But I was wiped after about two and a half hours of muscling through twisty mountain roads. It's not a car I would want to be chauffeured in. Visibility is great going forward; it's not as great looking behind you with an upward-tilted rear window, though the spoiler does not obstruct the view.
The Civic Type R has new comfy-but-sporty seats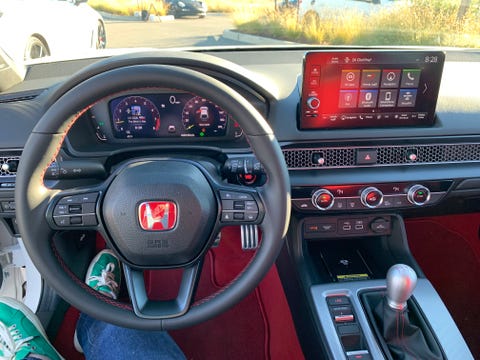 The Civic Type R interior bears a strong resemblance to the standard Honda Civic interior; why mess with success? There are two major differences. The upholstery is red to prime you for excitement and looks outstanding with the optional Honda Championship White paint job (present on all of our program vehicles). And Honda added some body-stabilizing sport seats.
These sports seats hold you in place like sport seats should, and are helpfully designed to accommodate a helmet. But they are also designed to be extra-cushy for long rides and daily use. Sitting in them feels a bit like being spooned by the car, but not in a creepy way. The rest of the interior is basically like any other Civic hatchback — surprisingly spacious and practical.
One mild critique I had was with the steering wheel and the shift knob. Both were smooth surfaces that, at least for me, required a harder grip to keep my hands from sliding. That led to some fatigue over the course of the day. If you don't own a good set of driving gloves, Honda offers options for an Alcantara wheel ($400) and a leather shift knob ($225). When you're paying this much for a Honda Civic, you might as well splurge.
Does the Civic Type R bring the noise?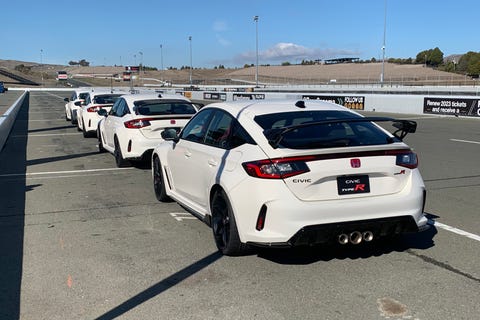 Yes, but maybe not the kind you want. The exhaust note from the Civic Type R — a note of complaint with the last model — remains slightly underwhelming. Honda made some tweaks to help the noise, straightening the exhaust pipe and adding an active exhaust valve. But it still doesn't have the maniacal orchestra of crackles and pops you get from a Hyundai N car. Counterpoint: I didn't get pulled over for exhaust noise by the California cops.
The other noise-related issue with the last-gen Civic Type R was how loud it was inside; removing sound deadening is one of the first places you go to cut excess weight for a track car. I didn't drive the last generation and can't assess whether there's been an improvement. But road noise gets notably unpleasant after you hit about 55-60 mph on the highway. It may not bother you too much on a Napa mountain road. It will bother you commuting for a long, straight highway stretch.
How much does the Civic Type R cost?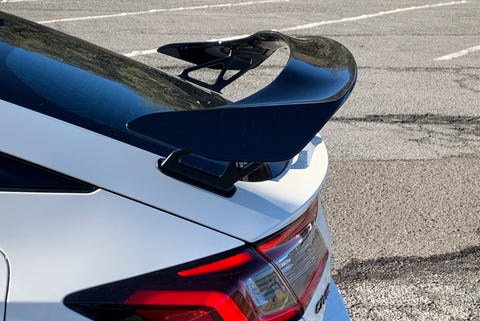 I thought the Volkswagen Golf R had the most boring configurator on the Internet, allowing you to choose your transmission and paint color plus a few accessories. The Civic Type R configurator one-ups it. It comes in one more or less fully loaded trim. Manual transmission is the only choice.
The base MSRP for the Civic Type R is $42,895 without the mandatory $1,095 destination handling fee tacked on — less than the price of an average new car. My road tester priced out to $44,385.
Championship White (the color of every single Type R on our trip) is a $395 option. You can level up a Civic Type R with upgraded forged alloy wheels ($3,100) and a carbon fiber spoiler ($2,250). Those options and floor mats will put you right around $50,000.
What are some Civic Type R alternatives?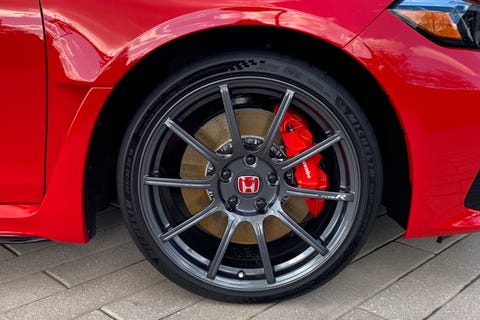 Verdict: the Honda Civic Type R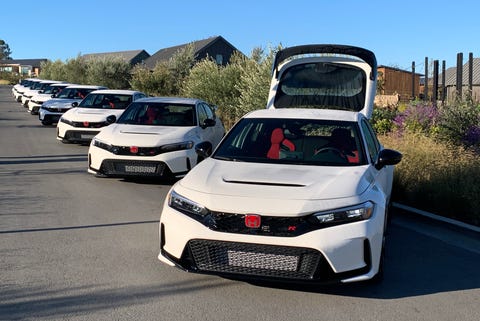 The Civic Type R is for enthusiasts. So, it's less a matter of rational cross-shopping and more where your automotive enthusiasms lay. If you're itching for the high-po VTEC life, live near canyons and plan to hit track days regularly, the new Civic Type R may indeed be your ultimate hot hatch. If you live in flat, snowy Michigan like me, have a four-person family and just have a lot of errands to get through, the Type R may demand too much from you (and those you love) to be an everyday driver.
The 2023 Honda Civic Type R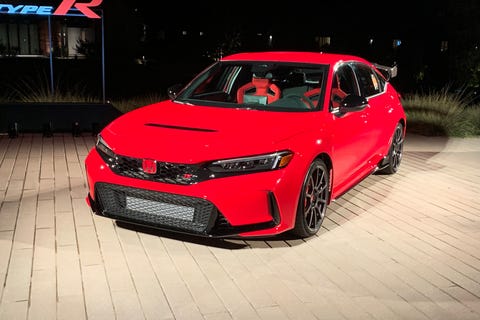 Pros: Quickness, precision handling, comfortable front seats
Cons: Bland exhaust note, road noise on the highway
Powertrain: Turbocharged 2.0-liter inline-four; 6-speed manual; FWD
Horsepower: 315
Torque: 310 lb-ft
EPA Fuel Economy: 22 mpg city, 28 mpg highway
Seats: 5