Every product is carefully selected by our editors. If you buy from a link, we may earn a commission.
The Best Motorcycle Helmets You Can Buy in 2022
Never compromise when it comes to your brain bucket.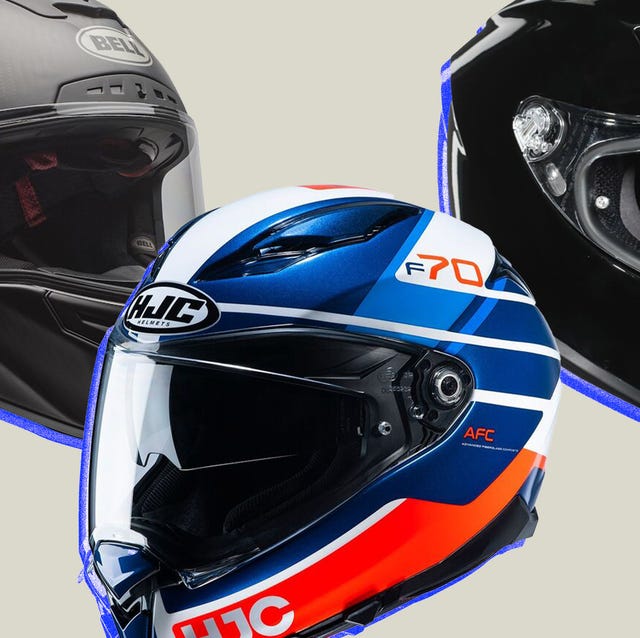 Buying a helmet is the most important motorcycle gear purchase you'll ever make. It may be the most expensive item on your list — besides the bike, of course — but if you get in an accident, it will be the most critical item. Whatever your riding style, the best motorcycle helmet is the one that will be versatile, keep your head cool and comfortable — and come loaded with the latest safety technology and helmet ratings.
Of course, the "right" helmet, like the correct bike, varies. If you're bombing eight-to-twelve-lane highways, you need a helmet hewn to reduce fatigue caused by wind buffeting and the screech of air leaking through the visor or sneaking its way beneath your jawline. If you're clocking long hours on the bike, the wind monster will eventually haunt your psyche like a creeping migraine; you'll want the quietest helmet you can find.
If you're expecting the weather to be particularly hot (or cold), find a lid that keeps you either cool or warm — better helmets will be adept at both. If you're heading off-road for some ADV riding, find a helmet designed with variable cooling (sometimes the economy choice in that realm can be a modular helmet with a flip-up chin bar for some instant, dunked-in-ice-water relief). MX riders will want a helmet with better protection — there's a greater likelihood of coming off the bike — and a more open design to accommodate goggles and more airflow.
Poke around to find the lid that fits your riding style best; we've also covered some vintage styled motorcycle helmets and bluetooth motorcycle helmets separately. No matter what, the right helmet is the one you'll wear for every single ride.
(Note: due to ongoing supply chain issues, some helmets may be temporarily out of stock, so check back often.)
How We Tested the Best Motorcycle Helmets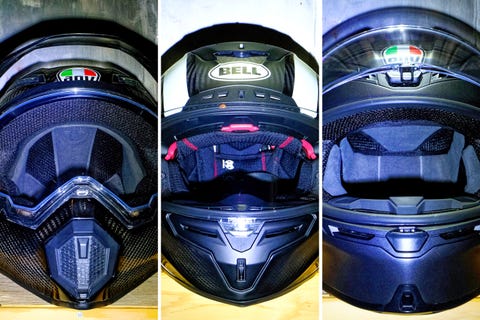 We chose helmets based on first-hand testing during at-home rides and product launches and consultations with industry experts.
The Best All-Around Motorcycle Helmet
AGV K6 Helmet
At 2.76 pounds, the AGV K6 is crazy lightweight. We went pretty deep testing it and enumerating all of its features, but our briefest of briefs on its attributes begins and ends with ultra-low weight, and wearing the K6 just proved way less fatiguing than any other street lid we've tested.
The K6 also scored 5/5 stars in the U.K.'s Sharp Helmet Scheme test, partly because AGV constructed it using five different densities of EPS foam. This is state-of-the-art tech, and like the Bell Race Star listed here, the idea is to work like the crumple zones of a car, compacting at different speeds to spread the force of an impact so that your skull absorbs as little energy as possible. AGV also uses metal rather than plastic for the visor hinges to stay locked even if you wreck, since having it released could send debris into your face. Also, plastic hinges wear out quickly, and having one snap mid-ride (been there) is an annoyance we bet you'd like to avoid.
The new-fangled hinges work in tandem with a central latch at the lip of the visor, ensuring a tighter seal when that windscreen is clamped shut. You'll hear less air cutting through, which makes the K6 a lot quieter than that beater helmet you should've retired long ago. The visor's 190-degree field of view also ensures you see more, which is especially important, so you detect cars creeping into your blind spot sooner.
AGV ships the K6 with a Pinlock insert, too, so you can install that second lens inside the visor to prevent fogging. If your present helmet fogs too easily and you're constantly popping it open to de-mist, this system ensures less fiddling and more attention on the road. Also, naturally, that means you enjoy riding more, which is ultimately the point, right?
The Motorcycle Helmet to Buy if You Can Splurge a Bit
Bell Race Star Flex DLX Helmet
Top 5/5 safety rating for Sharp rating agency
Photochromatic visor that adjust to surrounding light
Memory foam-like neck collar to help muffle noise
Jade yarn in liner helps keep skin cool
The UK's Sharp rating agency gives the Race Star Flex DLX five stars for safety. If you're going to commute on the 405 (or any freeway), you want that level of protection. And, truth be told, after testing, this is a very close competitor to the AGV K6, and in some ways, especially if you're focused on going faster, it's a better fit for that application.
Here's why. The Bell has two brilliant tricks: First, it gets a photochromic visor that darkens in brighter light and goes fully transparent in shadow, on cloudy days or when you ride from the full sun into a tunnel. Almost instantly, the lens transitions, and you can spy every detail. Pop through the other side, and you're back to a sun shield. We also really dig the memory foam-like neck collar. This setup feels rather snug at first, but it is designed to better muffle the air that typically causes the higher decibels of sustained riding. This is genuinely one of the quietest lids we've ever tested, matching the K6 in that department.
Bell's also taken cooling to the next level, with venting at the mouth, just above the visor at the brow, and at the top of your cranium, with an entry port at the top of the lid and an exit port just at the back. Also, while we've seen tech before in sportswear that uses similar chemistry to menthol flavorings, the VIRUS Cool Jade Power Mesh Liner has recycled jade yarn that they say can lower your skin temperature by up 10° F. Yep, we know, it sounds weird. Still, it actually is something we could feel, and the hotter you get, the more cooling you'll experience.
Bell also makes the cheek pads on the Race Star Flex DLX magnetic. Why care? Because you can yank them easily for a quick washing, and first responders can also more readily remove the helmet from your head in case of an accident.
Bell learned by studying high-speed racing crashes and built the Race Star Flex with something like a car's crumple zones. Here, the liner uses three densities of foam, designed to compress in reaction to a crash force, slowing that energy so that it dissipates in accordance with the speed and power of that hit. Provided you keep the shiny side pointed up, you'll appreciate that Bell designed the Race Star Flex for riding in a tight tuck or for a typical urban posture, with the visor cut to maximize your peripheral vision either way.
The Best Motorcycle Helmet on a Budget
HJC F70 Tino Helmet
Packs impressive safety for the price point
Quick release cheek pads allow EMS quicker accents after an accident
Lightweight checking in at less than four pounds
Windscreen is Pinlock compatible
Helmet safety should always be your top priority. So, buck-for-protection-wise, you should be pleased that HJC's F70 earns four out of five stars on the UK's stringent Sharp's test. Its quick-release cheek pads, which allow EMS workers to help you more quickly in case of an accident, are a safety feature typically reserved for more expensive lids. Also, at 3.5 pounds, it's relatively lightweight.
We like that the F70 combines several features of more expensive lids, too. For instance, there's both a breath guard at the base of the visor and a chin spoiler below the jawline. Both are removable, but if you ride a lot at highway speeds, these touches work in tandem with a wind-tunnel sculpted shape to slap down wind howl.
HJC also gives you dual forms of venting: two ports at the mouth pour air toward your face, while two brow ports scoop refreshment across the top of your skull. The F70 also gets an internal sun visor, much like the one in the HJC i90 Modular in this guide, and just like that lid, this one comes with carve-outs for speakers and can accommodate HJC's 10B or 20B Bluetooth communicators.
The visor's already 95% UV protective, but if you want to add fog-proofing, this windscreen is Pinlock compatible, so you can order a zero tint or other hued internal shield to prevent unwanted misting.
The Best ADV Motorcycle Helmet
AGV AX9 Carbon Helmet
Lightweight at less than four pounds
Two-position visor to ride without sunglasses
Visor is cut lower into chin guard for extra visibility
Removable mouth port for use in hot or cold weather
After testing the AGV AX-9 for over a year, trying it out with both a Sena and Cardo comms system, riding in it through storms, relentless humidity, and mud deep enough to be forced to push the bike—and recruit more than one buddy to help push, too—it's not hard to crown this lid for the always challenging category of best ADV helmet. Even with its prominent visor, it's still light, at just 3.69 pounds.
That two-position visor is brilliant, by the way. It's shaped to allow air to cut right through it, so there's seldom an updraft striking it, and by having it, you get excellent eye shading, allowing you to avoid sunglasses. If you're riding in constantly changing light, having to fiddle with sunnies or goggles can prove problematic and makes it nearly impossible to pick up critical trail details. Plus, those fog. The visor eliminates those woes, and the Pinlock visor allows adding a second interior lens to lessen the chance of vapor obscuring your view. Also, note the visor shape: It's cut lower into the profile of the chin guard, allowing you to see that rock that's just ahead of your front wheel, even as you site the obstacles farther down the trail.
Too hot in your present lid—or too cold? AGV designed its mouth port with both relentless heat and frigid riding conditions in mind. Remove it entirely for maximum cooling; put it back when that sunny day turns frigid to slow airflow and keep your head warmer. And it gets a pair of closable vents at either eyebrow, too, so you can add or impede the flow of air as you moto.
The Best Motorcycle Helmet for Off-Road Peripheral Vision
Klim F3 Prizm Helmet
Large eye port for added visibility
Great for wearing with large goggles
A lot of venting with 13 air intakes and six exhaust ports
Smaller shaping to reduce fatigue
You'd be hard-pressed to find any helmet with a bigger eye-port than the Klim F3 Prizm Helmet. The added visibility allows you to spy obstacles better off-road. It also works more easily with motorcycle goggles, which keep getting bigger and bigger.
This Klim helmet's shaping is smaller, so you're managing less mass, which should reduce fatigue when hammering on really gnarly off-road segments. With 13 air intakes and six exhaust ports, it's exceptionally vented, so you're not frying your bean during the slow-speed technical portions of your ride.
The Best Motorcycle Helmet for Racers
Arai Corsair X Schwantz Helmet
Aerodynamics and venting optimized for a racing posture
Lightweight at less than four pounds
Face shield has two-position latch system for extra venting
Neck roll is removable for extra venting in hot weather riding
Arai specially designed the Corsair-X for riding in a racing posture — think more crotch rocket than Harley. This helmet's angled venting, aerodynamics and low weight — just 3 lbs, 11 oz — are intended for the rider riding fast on the street or hitting the track. Arai made the helmet rounder and smoother to improve airflow in a tuck and have the helmet dissipate more energy if there's an impact.
The Corsair-X face shield features a two-position latch system, holding the shield shut securely but in a de-misting position, letting you vent safely without the shield flying up at 70 mph. Ports on this bucket improve airflow to the front of your head. A removable neck roll reduces noise in cooler weather or removes completely to let you exhaust even more heat when you're bombing the track.
The Best Modular Motorcycle Helmet on a Budget
HJC i90 Helmet
Lightweight checking in at under four pounds
Has an internal flip down sunvisor
Grooves in the foam to accommodate glasses
Large vent controls to use with gloved hands
Modular helmets are ideal for many riding conditions, especially if the moto'ing you're doing will be hot and thirsty making; it's easier to swing the chin bar out of the way to sip on a hydration pack's straw than pulling the whole brain bucket off your noggin.
We like the HJC i90 because even at this affordable price, it's still under four pounds, has excellent venting, and you get an internal flip-down sun visor, which is critical for cutting glare when you're riding through harsh daylight. HJC added grooves to the foam at your temples so glasses wearers won't suffer brain squeeze, and the ovoid shape cuts through the wind at higher speeds.
Need more air? The mouth- and top head vent controls are massive, so they're a snap to operate with a gloved hand.
Niceties continue on the interior, where the i90 designers went the extra mile to quell turbulence — a major factor with most modulars when you drop the chin bar and zip to freeway speeds. Here they've added longer cheek padding that wraps your jaw and a chin curtain to reduce airflow into the underside of the HJC.
HJC made the i90's visor Pinlock's ready, and the DOT and ECE approved lid accepts (sold separately) HJC's 10B or 20B Bluetooth comms system.
The Best Motorcycle Helmet for Touring
Schuberth C3 Pro Helmet
Designed to be extra quiet for long rides
Rear spoiler reduces buffeting and wind turbulance
Micro-ratchet chin strap for quicker and more secure fastening
Integrated sun shield
Schuberth designed the C3 Pro to be extra quiet for long-riding miles and reduce fatigue. The rear spoiler staunches buffeting and the subsequent noise from wind turbulence. Schuberth even included small divots in the air vents that redirect airflow over the inside of the helmet. This means the air cools your cranium without sounding like it's blasting by your ears. Schuberth even made sure that frontal airflow is smoother around the wide shield.
Add these improvements up and you get a helmet that produces only 82 dB of noise at 62 mph, which makes it one of the quietest helmets you can buy. We also love the micro-ratchet chin strap for quicker and more secure fastening as well as the integrated sun-shield that deploys behind the primary one.
The Best Motorcycle Helmet for Standing Out in a Crowd
Icon Airframe Pro Carbon Helmet
Aft neckline is tapered to not catch on jacket collar
Can customize internal padding for the most comfortable fit
Ultra-aerodynamic shape to reduce wind noise
Can be a lot of look if you're not ready to rock naked carbon fiber with gold accents
Icon's Airframe Pro Carbon helmet is not for the timid. The naked carbon fiber shell alone draws attention, and then there are the gold accents on the shield and the gilded rear spoiler/vent. But this helmet has more to offer than just its rockstar good looks.
The aft neckline is tapered, so it won't catch your jacket collar when you're in a tuck position. The additional padding options let you custom-fit the internals to get the most comfortable fit possible. Components are hydrophobic, and the chin/mouth deflector allows you to tailor airflow at the front while directing every exhale through the vents to prevent fogging. Its ultra-aerodynamic shape also should prevent wind noise.
The Best Motorcycle Helmet for MX Riding
Bell Moto-10 Spherical Helmet
MIPS technology to reduce concussions
Rubber like bumper on the rim to protect against collar bone breaks
Ample venting
Ultra-wide cutout for fitting goggles
You're likely already familiar with MIPS technology if you mountain bike or ski. Here Bell's using it in MX, and the theory is that to reduce concussions, you have to dissipate not just blunt force but rotational energy. Your skull has such a "system" in place, with fluid around your brain providing the cushioning. In the Moto-10, there's no gooey substance, but the liner is designed to slide within the exterior hard shell. Anchor the helmet to your head, and just a few millimeters of motion of the inner against the outer provides enough stall time to weaken the force of rotation, so your anatomy gets less banged up when you beater.
Given the number of baubles that are likely when you're ripping through the woods, Bell engineered a rubber-like bumper into the lower edge of the Moto-10's rim since the leading cause of collar bone breaks in riding is your helmet pinched against that fragile bone. By wrapping that junction in a bouncy material, the theory is you'd be less likely to suffer such a fracture.
Bell also takes venting seriously with this lid since so much of MX is spent at relatively slow speeds, where it's hard to generate enough airflow. With the Moto-10, airflow is directed into eyebrow vents and the gap above the goggle line. It then exhausts through the entire rear half of the helmet, with a massive exit port that stretches from your temple to the back of your skull.
Lastly, if you already have a goggle you love, the Moto-10 gets an ultra-wide cutout to fit more google sizes than any other model on the market. And you naturally get more venting around that eye protection, too. Your eyes are shaded by a visor that Bell anchors at the sides of the helmet, too, not the center, which means they don't have to reinforce this lid at that central, vulnerable part of your head, enabling a lighter and also safer build.
The Best Wireless Comm Helmets You Can Buy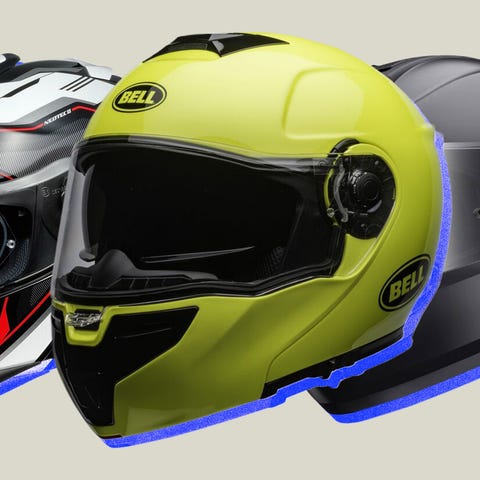 The best helmets for keeping in touch with other riders, taking calls and receiving turn-by-turn navigation prompts.
This content is created and maintained by a third party, and imported onto this page to help users provide their email addresses. You may be able to find more information about this and similar content at piano.io