Every product is carefully selected by our editors. If you buy from a link, we may earn a commission.
The Best Winter Motorcycle Gloves You Can Buy
Those old snowmobiling gloves you found at the neighbor's garage sale aren't going to cut it.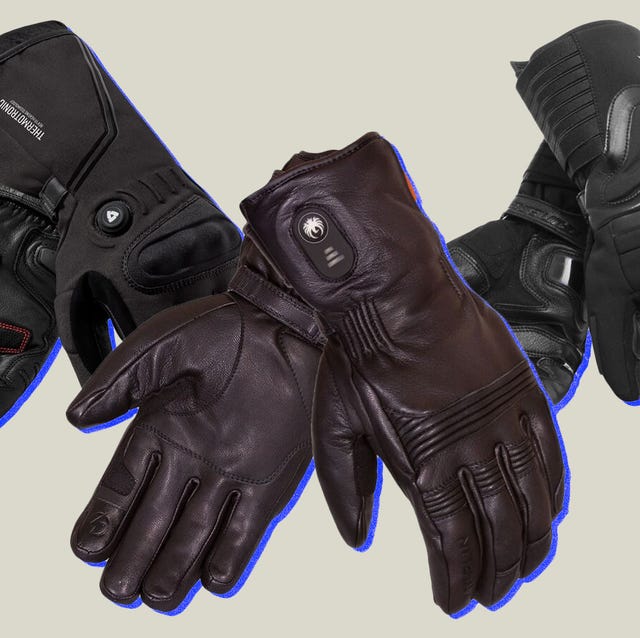 Motorcycle gloves have a tough job to do. They have to protect your hands in case of a crash and provide dexterity. Add in the need for winter warmth, and all these duties become much more challenging.
Luckily the same tech that's making ski wear and other winter garb far warmer and easier to move in has landed in the moto space, too, so it's not hard to find a warm but relatively lightweight mitt that still provides the freedom of movement you need on your moto.
But here's a caution: For the same reason you shouldn't use a work glove while you ride your moto in summer, a ski glove also doesn't provide the specific protection you need for riding a motorcycle. And, sorry, ditto those old snowmobiling gloves you found at the neighbor's garage sale.
What to Look for with Winter Motorcycle Gloves
Armor
Gloves should have a slider for the heel of your hand, so your palm will slide along the pavement rather than stall there. If you don't believe us, watch any video of Moto GP, where you see those racers slide rather than land hard and stick to the tarmac. Sliding dissipates energy; stalling takes all the forward momentum of riding and sends it into your body.
You'll also want good knuckle armor at the very least because even if your machine has hand guards, the random rock roost kicked up by your buddy or just a stone thrown by the wake of a semi could easily break a finger.
Cut
Better moto gloves have pre-bent fingers and a pre-curved, C-shape to their profile. That reduces the force you have to input to get the glove to turn around your grips so your hands don't fry after a few hours of riding.
Grippy Palms
Here's how snow tires work. They use a softer material in cold weather than the average summer tire. Makers of better winter moto gloves apply the same thinking to the palms of their mitts so that grabbing the throttle, brake or clutch levers still provides positive feedback when it's freezing outside.
Wind/Waterproofing
All the gloves on this list get some waterproof/breathable membrane fabric, either a brand you know, such as Gore-Tex, or an in-house version. You need your hands to breathe. Otherwise, the sweat they make when your digits are warm will turn to ice-cold condensation at 65mph—which is not good. And you already understand waterproofing.
Insulation
Even if gloves come with battery tech to heat them (next section), a winter glove has to have material to hold in that warmth. The gloves on this list include that batting from makers like Primaloft and others.
Electric Heating
We've included more than one glove on our list with battery-powered heating, which, if you've ever worn heated gloves for skiing, you already know can be a game changer when the weather turns icy. What could be better? Well, heated grips aren't uncommon in the moto space, so do you also need heated hand protection? That's up to you, which is why we've also included some unheated models on our list.
Note: Some items may be out of stock so check back frequently.
The Best Winter Motorcycle Gloves
The Best Winter Motorcycle Gloves You Can Buy
Alpinestars HT-7 Heat Tech Drystar Gloves
Best Winter Glove for Touring or Adventure Riding
Rukka R-Star 2 In 1 Gore-Tex Gloves