Every product is carefully selected by our editors. If you buy from a link, we may earn a commission.
The Best Motorcycle Gloves You Can Buy in 2022
Your hands will always be the first line of defense when you fall. Make sure they're protected.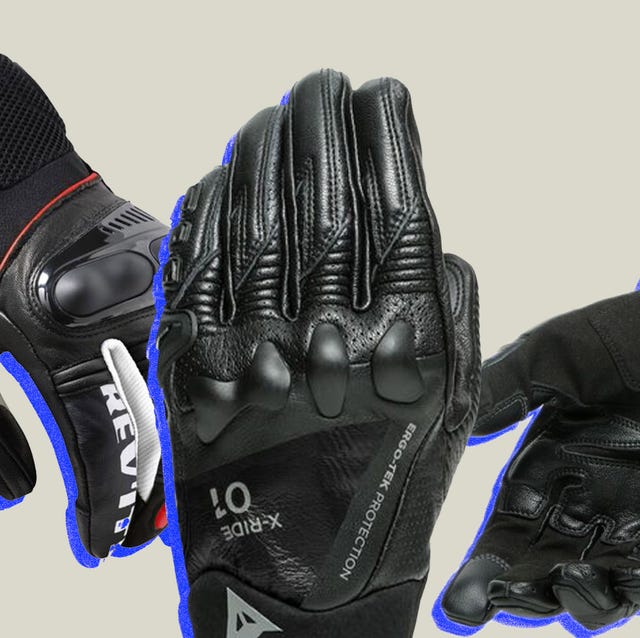 The best motorcycle glove, like the best camera, should be whatever you have with you. Because, like the latter example, not having any tool for the job is the worst-case scenario. Like riding without a helmet, riding glove-less feels to us akin to skydiving without a parachute. No bueno.
But just any glove? That's only partly bueno. Because digging out the chainsawing mitts to save your palms from shredding across the tarmac is an insufficient step. The best motorcycle gloves have a few key attributes that set them apart from anything else that would cover your hands. First, they have sufficient slide protection for your palm. When you fall, your brain tells you to put your hands out to prevent your head from banging the earth. It's just instinct. But if that first contact point, the heel of your hand, most likely, cannot slide because the glove you're wearing wasn't designed with a pad for the pinkie side of your palm, you'll snap your wrist. Sliding is good—it dissipates force.
Next, you want knuckle protection, too — if you moto off-road, especially — because random tree branches and roost will peg your digits as you grip the bars. Even if you only ply the pavement, a bee (or a stone) hitting your hand at 60mph will smart!
Extras? The best motorcycle gloves are ergonomically pre-bent, so your hands' small, easily fatigued muscles have less work to do. But that requires using more pieces of material, which costs more because that demands more labor for assembly. Yet the resulting suppleness and easy articulation can be worth it, especially if you're putting in long miles. Not doing that? Don't worry. Our list has a spread of gloves across all budgets, so there's no excuse for not protecting yourself.
How We Tested the Best Motorcycle Gloves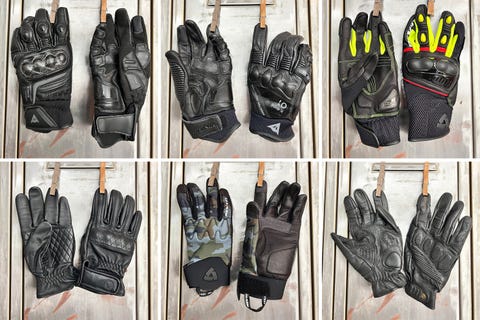 We compiled this list of the best motorcycle gloves you can buy through a combination of first-hand testing on press trips and at-home rides and consultation with industry experts.
The Best All-Around Motorcycle Gloves
Dainese Carbon 3 Short Gloves
Pliable and lightweight goatskin leather
Pre-curved design for easy articulation
Polyurethane slider at the base of the palm
The Carbon 3 comes as either a short or long model; the longer gauntlet version rises higher on the wrist, which may work better, depending on your go-to riding jacket. We've been testing this glove for about a year, and we love its excellent protection with a pre-curved design that allows easy articulation for fanning the clutch or subtle brake inputs. One reason your digits will feel spoiled by the Carbon 3? It's a goatskin glove, and that leather (vs. synthetic or cowhide), along with the sheepskin palm, offers pliability and lack of bulk that's just kinder and comfier for all-day use.
Then Dainese welds on ample protection, with carbon knuckle guards, leather across the outer fingers, and a polyurethane slider at the base of the palm. There's even a wrap of leather around the pinkie and another hard thermoplastic resin slider to protect the small finger knuckle if that takes the brunt of a slide.
The Best Motorcycle Gloves Money Can Buy
Dainese X-Ride Gloves
Pre-curved shape
Stretchy material on the back of the hand and fingers
Ergo-tek knuckle protection
The X-Ride was built using significant research from Dainese's sponsored Moto GP riders and how they crash. Also, Dainese studied when they're not coming off their bikes to figure out what these athletes need to help them ride better. During our tests (sorry, we didn't crash!), we especially appreciated the stretchy material on the back of the hand and fingers. That lets your digits move more easily, and the pre-curved shape aids this.
For protection, the X-Ride gets Dainese's Ergo-Tek knuckle protection, with nylon-carbon plates inserted in especially vulnerable zones, like wrapping the pinky. Dainese incorporated a thermoplastic resin slider at the base of the outside of the palm, and double layers each finger in leather, to protect in the event of a stone strike or other detritus bulleted at your hands.
The Best Motorcycle Gloves on a Budget
REV'IT! Metric Gloves
Mesh venting
TPU protection across the knuckles
Lightweight construction
Touch-sensitive fingertips for using a smart phone
Not warm enough for truly cold weather
While REV'IT! markets the Metric as a summer glove, it's a hybrid. The goatskin palm is super supple, and in our tests, as long as it wasn't actually cold outside, we found the Metric to be perfectly comfortable. The added mesh venting, including at the wrist, makes this a handy separate option for ADV riders who want to switch from a heavier street mitt once they hit the dirt but don't want to wear a full MX glove.
The logic behind that reasoning is that you still get a hard polyurethane palm slider (that wouldn't come on an MX mitt) if you're back and forth from asphalt to dirt. And to protect you in any circumstance, REV'IT! includes TPU across the knuckles, with additional TPU added to the back of both the middle and second fingers. REV'IT! adds touch sensitivity to the fingertips, too, for operating a phone or Garmin when you stop for gas or coffee. One overall impression: These are insanely lightweight for all the protection they provide, defying an expectation that a good glove must be overbuilt.
The Best Vintage Motorcycle Glove
Aether Moto Glove
Vintage style that transitions to everyday use
Double-layered leather palms for additional slide protection
Padded knuckle armor
If you ride an old BSA or even something as "new" as a BMW R90/6, wearing a synthetic or combo synth/leather glove strikes us as mild heresy. But a retro bike doesn't magically cocoon you from 21st-century danger. Instead, the solution comes from our friends at Aether, who make apparel that oozes classic style without compromising comfort or protection.
In our testing, just wearing these mitts once had us deciding they'd be fine for driving, too, and indeed for wearing as gloves for daily life as well. The only "tell" is the padded knuckle armor, but nobody else but fellow riders will notice that detail. And you'll have to share with riding friends that the palms are double layered to protect you in a slide, a detail you won't perceive in the slightest when you wrap your hands around your bike's grips.
Also, although it's super subtle, Aether added a second layer of leather across the tops of the fingers in case of a rock strike. These gloves don't scream that they're protective, but they are, and just like understanding that vintage ride of yours, they're decidedly, perfectly subtle.
The Best Motorcycle Gloves for Hot Weather
REV'IT! Spectrum Gloves
Screen-touch tech for smartphone use
Stetchy knit at back of the hand for cooling
Reinforced palm slider for extra wrist protection
Imagine your favorite MX glove cross-bred with your favorite street glove, and you'll land on the REV'IT! Spectrum. The back of the hand is all about keeping your skin cool and comfy, with a stretchy knit that's shielded at the knuckles and finger backs with gel pads. On the palm side, the fingers get screen-touch tech for smartphone tapping or using your GPS, and we found the goatskin leather supple and great for throttle twisting and braking sensitivity.
And just because these look basic doesn't mean they'd do you wrong; REV'IT!'s Spectrum has a reinforced palm slider to protect your wrist in a spill.
If you're an ADV rider who's mostly riding dusty, dirty roads and more tech terrain, you'll especially dig these as a backup glove to anything more heavily asphalt-focused.
The Best Affordable Vintage Style Motorcycle Gloves
Alpinestars Oscar Crazy 8 Gloves
Lightweight construction
Vintage style on a budget
Screen-touch sensitivity for smartphone use
Rubberized finger tips for extra grip
We dig the Alpinestars Crazy 8 as a Plan B to Aether's Motos. They give you that retro look and they're ultralight—if a hair less protective than the Aether. Still, you're getting armoring at the knuckle and behind the middle and index fingers. Alpinestars also adds a rubberized material at the junction of the thumb and forefinger, so you've got more grip on the bars. Alpinestars sewed in screen-touch sensitivity at the index fingertip, too, and there's a slide protector at the base of the palm.
These go in the books as the glove for riders who think they're too bad-ass to wear anything. Get these, and you'll still feel badass — only now you actually will be.
The Best Protective Motorcycle Gloves You Can Buy
Dainese Full Metal 6 Gloves
Loaded with protection
Pre-curved with elastic zones for easy articulation
Soft and pliable goatskin leather palm
No touchscreen sensitive material at the index finger
Once you don the Full Metal 6, you'll wonder how you could wear anything less. Sure, these are the most protective gloves you could own. They're shielded with carbon inserts at the backs of the index, middle, and second finger joints, thermoplastic zones wrap around the little finger and composite inserts, and titanium plating cocoons the knuckles and back of the hand. Another carbon composite protector stands ready at the ulnar nerve of your wrist. And we're not done! There's even more carbon fiber protecting the joints of the thumb and (phew!) a thermoplastic slider at the heel of the hand. If you're going to eat pavement, do it in these.
But what's so counterintuitive is that the Full Metal 6 is profoundly hand-friendly. Dainese's achieved massive comfort by adding elastic zones everywhere your hand needs to articulate, pre-curving the bend of the fingers, adding a second fastener at the base of the hand as well as the one at the wrist (which lessens fatigue by preventing the glove from swimming around on your hand), and using ultra-soft drum-dyed goatskin leather to create a very pliable palm.
If you're waiting for a downside, there's but one: Dainese didn't add a touchscreen material at the index finger. Probably (we're guessing), it's because this mitt is all about the business of riding, not mixing your tech life and your moto life. Stop for coffee, take off your helmet and gloves, and look at TikTok.
The Best Gloves for Riding in Dirt
Fox Racing Bomber Gloves
Silicone leather grippers
Double-layer clarino palm that's protective and doesn't bunch up
TPU protection at the backs of the fingers and knuckles
Touchscreen-sensitive fingertips
One of our favorite brands for mountain biking makes one of our favorite gloves for MX. It starts at the palm, where Fox's silicone lever grippers enable easier clutch fanning and brake feathering. The more you ride dirt, the more you know that the ideal glove saves your hand from the heavy workload, and that's also why the Bomber's palm is otherwise uncluttered, with a double-layer Clarino palm that's just protective enough but won't bunch up and make you fight for contact with the bike's grips.
On the backside, Fox adds a protective neoprene cuff fused to pliable goatskin, which is armored with TPU at the backs of the fingers and knuckles. If you need to stop and video your friend's insane antics, you'll appreciate the touchscreen-sensitive fingertips that allow you to operate a GoPro or your phone.
The Best Motorcycle Gloves for Cold and Wet Weather
Rukka Harros Gore-Tex Gloves
Gore-Tex lining for full wind and waterproofing
Outlast liner that regulates temperature
Pre-curved fingers for better articulation
Double wrist closure to keep water out
If you're aiming to ride the Colorado, Washington or Wyoming BDR, you'll need a glove like this—one made for the colder, wetter weather that will undoubtedly smack you along the way. All this makes sense when you realize the Rukka brand is Finnish and was created to help sailors battle miserable weather, and Finland is a cold, wet place with some of the nastiest weather on the globe.
Whether you're on a boat or your moto, however, you need the same qualities: That starts with dexterity, so despite having a Gore-Tex lining for full wind- and waterproofing, as well as a liner made with Outlast, that stores heat when your hands are warm and returns it when they're cool, the Harros's fingers are pre-curved, and the palm's leather panels are cut along the folds of your hand, allowing your thumb to bend more easily around your bike's grips. Rukka also armors the knuckles, and the gauntlet is long enough to prevent any wind from climbing up your sleeves. They're double secured, with both a wrist closure and one further up your arm. That makes for more work to remove the Harros but prevents slop from getting to your hands.
The Best Motorcycle Helmets You Can Buy in 2022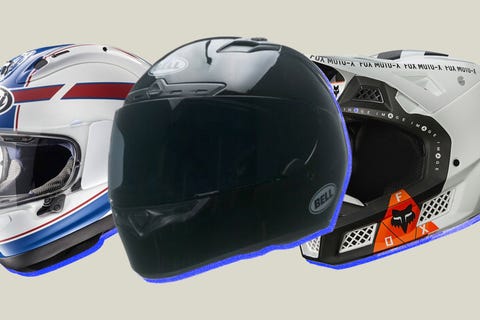 Never compromise when it comes to your brain bucket.
This content is created and maintained by a third party, and imported onto this page to help users provide their email addresses. You may be able to find more information about this and similar content at piano.io