Every product is carefully selected by our editors. If you buy from a link, we may earn a commission.
Save Big on a Home Charger for Electric Cars and Plug-In Hybrids
If you have an EV or PHEV, you should have a home charger to top it up, too.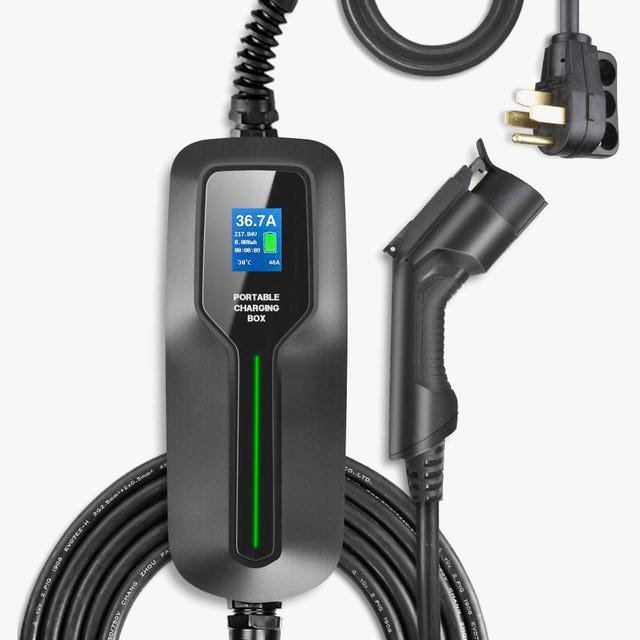 Don't miss out! Amazon Prime Day will end in less than 24 hours! To stay on top of all the best deals, visit and bookmark this page.
---

Electricity is the fuel of the future for the automobile. Sports cars, luxury cars, pickup trucks — they're all going electric. (Indeed, you might not be able to buy a new vehicle powered by anything else in places like California by 2035.) And in spite what many out there would have you believe, the transition away from gasoline to electric power won't suck the fun out of cars; not only are EVs greener than internal-combustion vehicles, they're also easier to maintain — and, in most cases, more fun to drive, especially around town.
Another aspect of electric vehicle life that's pretty great: not only is it cheaper to "fill up" your car (electricity being less expensive than gas, and EVs being more efficient than ICE vehicles on an apples-to-apples basis), but you can do it at home. Of course, to do that efficiently, you need a better way to charge than the three-prong outlet on your patio; that might be good for your laptop, but it'll take days to top off your Taycan.
That's exactly what this level 2 charger lets you do. It works with any EV that supports the J1772 charging standard, which is the vast majority of them (Teslas need an adaptor to use it, but that's a cheap addition). A weatherproof design means it can be installed inside or outside; all you need is a 220-volt / 240-volt outlet to plug it into. (That said, we do recommend at least consulting with an electrician before mucking around with this sort of thing.)