Every product is carefully selected by our editors. If you buy from a link, we may earn a commission.
These Are the Shoes You Need to Run Your Fastest Mile
Fulfill your need for speed with help from these high octane racers.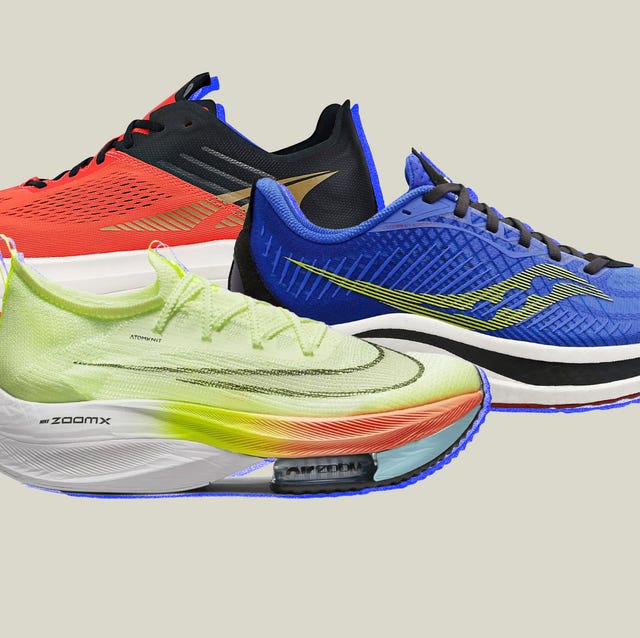 Going fast is fun. Whether in a car, on a bike or sprinting through a workout, there's nothing quite like the rush that speed delivers. For runners, your shoes play a key part in how fast you can truly be. And when you're in the heat of an important race – whether that be a marathon or a simple 5k – every second matters.
To get the most out of every step, you need shoes that work with your quickness, rather than against it. You don't put winter tires on a dragster, right? To help you stay in that competitive lane, check out our top picks for taking on your next race.
A Word on Carbon Fiber
Many of the racing shoes we've chosen feature a carbon fiber foot plate. This technology helps create a rigid base that promotes responsiveness and energy return. Additionally, carbon fiber is a lighter material, which helps cut weight for a sleek profile designed to truly put some spring in your step.

It should be noted, however, that while these carbon-infused racers can tack up your peak speed, they're not the greatest for everyday running. Because of the rigidity, shoes featuring carbon fiber foot plates can be hard on your muscles and joints, which can get uncomfortable over prolonged use. Instead, bust these puppies out for speed work or race day, and opt for a more cushioned running shoe during other training cycles.