Every product is carefully selected by our editors. If you buy from a link, we may earn a commission.
The Best Compression Socks of 2022
Let's talk about socks, baby.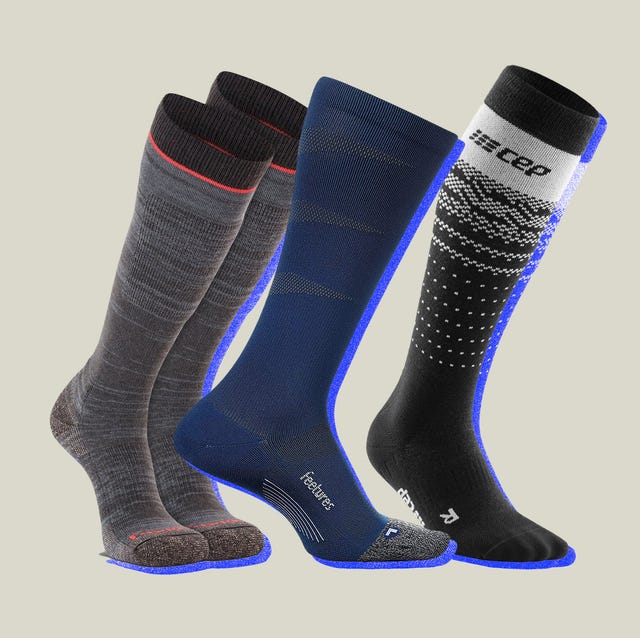 News flash: an arguably mundane component of our wardrobe may deserve a rethink. Our socks are rarely considered for their health benefits, but high-tech compression socks are changing this landscape.
Compression socks work by gently squeezing ankles and calves to improve circulation of blood and lymphatic fluid back to the heart. More circulation means re-oxygenated blood can return to the muscles quickly, allowing them to work and recover more efficiently. Meanwhile, the lymphatic system is a drainage setup, the one that causes swollen ankles on a long flight when it can't work properly.
Migrating from the medical world, compression socks are now used by athletes for recovery and during exercise, folks who work on their feet, people who sit for long hours on flights, anyone with lower leg inflammation and people with poor circulation.
Compression may also reduce swelling, assuring shoes continue to feel comfortable after a long day of standing, hiking, or skiing. For athletes starting a new sport, compression socks may reduce the risk of injuries such as shin splints.
But before we jump into our favorite squeezy knee-highs, here are a few important notes.
Get the height right
Graduated compression works by squeezing tightest at the ankles and systematically reducing compression to just below the knee. Mid-height height socks can offer some compression as well, but will have less effect than their taller partners.
Check the squeeze level
Everyday-use socks typically land between 15 and 20mmHg, a measurement showing the amount of squeeze from each sock. Compression socks for medical purposes will usually have compression above 20mmHg.
Consider the calves
For some folks, calf circumference and shoe size will correlate with a brand's expected fit. For other people, shoe size and calf circumference may not correlate. Some brands, such as Lily Trotters, offer a wide-calf option. Other brands, such as CEP, size their socks entirely on calf size and utilize a super-stretchy foot weave to accommodate a range of foot sizes. Best bet: Check to ensure your foot size and calf circumference align with a brand's safe expectations.
CEP's Jared Finney says socks should be "snug and supportive without feeling tight or uncomfortable." As far as how long or when to wear them, do what feels good. Your body knows what feels right. If your socks begin to feel too tight, take them off. Tune in to how those lower legs and feet are picking up and you'll quickly know if the compression is working for you.
These Are Some of Our Favorite Running Socks
Give your running socks some extra attention. Your feet will thank you.
10 Workout Recovery Products That Feel Damn Good
These body-friendly items are worth stocking in your home, gym bag and travel kit.