Every product is carefully selected by our editors. If you buy from a link, we may earn a commission.
The Best Compression Socks of 2022
Let's talk about socks, baby.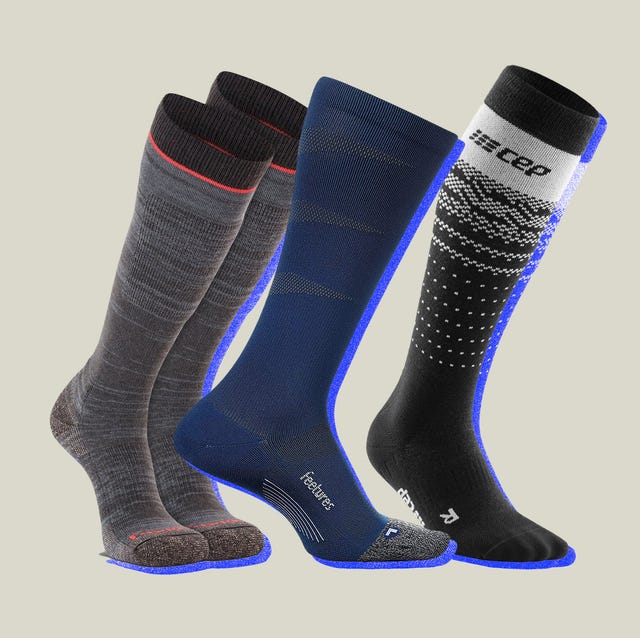 News flash: an arguably mundane component of our wardrobe may deserve a rethink. Our socks are rarely considered for their health benefits, but high-tech compression socks are changing this landscape.
Compression socks work by gently squeezing ankles and calves to improve circulation of blood and lymphatic fluid back to the heart. More circulation means re-oxygenated blood can return to the muscles quickly, allowing them to work and recover more efficiently. Meanwhile, the lymphatic system is a drainage setup, the one that causes swollen ankles on a long flight when it can't work properly.
Migrating from the medical world, compression socks are now used by athletes for recovery and during exercise, folks who work on their feet, people who sit for long hours on flights, anyone with lower leg inflammation and people with poor circulation.
Compression may also reduce swelling, assuring shoes continue to feel comfortable after a long day of standing, hiking, or skiing. For athletes starting a new sport, compression socks may reduce the risk of injuries such as shin splints.
But before we jump into our favorite squeezy knee-highs, here are a few important notes.
Get the height right
Graduated compression works by squeezing tightest at the ankles and systematically reducing compression to just below the knee. Mid-height height socks can offer some compression as well, but will have less effect than their taller partners.
Check the squeeze level
Everyday-use socks typically land between 15 and 20mmHg, a measurement showing the amount of squeeze from each sock. Compression socks for medical purposes will usually have compression above 20mmHg.
Consider the calves
For some folks, calf circumference and shoe size will correlate with a brand's expected fit. For other people, shoe size and calf circumference may not correlate. Some brands, such as Lily Trotters, offer a wide-calf option. Other brands, such as CEP, size their socks entirely on calf size and utilize a super-stretchy foot weave to accommodate a range of foot sizes. Best bet: Check to ensure your foot size and calf circumference align with a brand's safe expectations.
CEP's Jared Finney says socks should be "snug and supportive without feeling tight or uncomfortable." As far as how long or when to wear them, do what feels good. Your body knows what feels right. If your socks begin to feel too tight, take them off. Tune in to how those lower legs and feet are picking up and you'll quickly know if the compression is working for you.
CEP Ski Thermo Merino Tall Compression Socks
Guaranteed for 180 washes, specific left and right foot fit, maximum breathability
Once you slip into this little sock, you'll feel the difference. CEP is owned by medi, a German manufacturer of medical compression socks. And medi's technology is paired with intentional athletic design, fabrics and weave. The quality is palpable: just one sock contains nearly six miles of their thread, woven intricately to differentiate between the stretchy foot and the graduated compression calf.
Fox Heritage Medium Weight Over-the-Calf
Great price for a merino wool product
This Fox River merino-wool blend sock recommendation comes directly from the coach of the University of Alaska Nordic ski team. Eliska Albrigtsen recommends these socks to her athletes, particularly those who have cold feet. She says the combination of compression and wool material keeps feet warmer and dryer for longer. Eliska says while these socks are great for the cold, they are also thin enough to be worn in more moderate temperatures.
Feetures Graduated Compression Knee High
Proven and much-loved footbed comfort
Only one compression style option
A lifetime guarantee on socks? Somehow, yes. Feetures optimize performance, particularly for runners. A seamless toe, anatomical right and left foot design and high-density cushioning round out the graduated compression of this sock to make it fit like a glove, so to speak.
3 different calf circumference sizes per shoe size
Among the pricier options
One of Europe's top compression sock brands, STOX has sock lines for sports, daily use, travel and recovery. Folks looking for short-term wear or a snugger all day fit will find just that with 23-32mmHg of compression.
These Are Some of Our Favorite Running Socks
Give your running socks some extra attention. Your feet will thank you.
Lily Trotters EliteSport Totally Tubular
So many Wide-Calf options available
Delicate fabrics may wear quickly
Made in the USA, Lily Trotters combines high-performance socks with exciting patterns and notable comfort. The brand's new EliteSports line features added support to shins, Achilles, arches and calves. Lily Trotters also provides a Wide Calf option for added size accessibility.
Bombas Everyday Compression Socks
Y-Stitched heel, seamless toe, arch support, strategic cushioning
Sizing based on foot size — will not fit everyone perfectly
Everyday compression meets Bombas' notorious comfort. These socks are designed for regular use, ideal for people who may be standing all day, traveling or sitting for long periods. Bombas compression socks come in either cotton or merino wool for warmer or cooler environments.
Dr. Motion Solid Copper Infused Knee-High Compression Socks
Lower compression rating (8-15mmHg+) for all day wear, inexpensive
This specific pair of Dr. Motion socks comes with heels, toes and soles infused with copper, a known anti-inflammatory. Dr. Motion aims to combine compression technology with innovative footbed design in an affordable, all-day-wear sock ideal for folks looking for a low to moderate amount of compression.
Vim & Vigr Compression Socks Collection
Four material types, three levels of compression
Wool material can wear quickly
Of Vim & Vigr's many options, the merino wool pair feels like a cozy hug of high-quality materials. The thickness is perfect for all day wear in colder months and the patterns range from comfortably mundane to quite exciting. They've got options, they've got patterns and they've got a 100 percent satisfaction guarantee.
10 Workout Recovery Products That Feel Damn Good
These body-friendly items are worth stocking in your home, gym bag and travel kit.
This content is created and maintained by a third party, and imported onto this page to help users provide their email addresses. You may be able to find more information about this and similar content at piano.io