The Best Canned Wines to Get Buzzed on the Go
Your fridges, coolers and backpacks will thank you.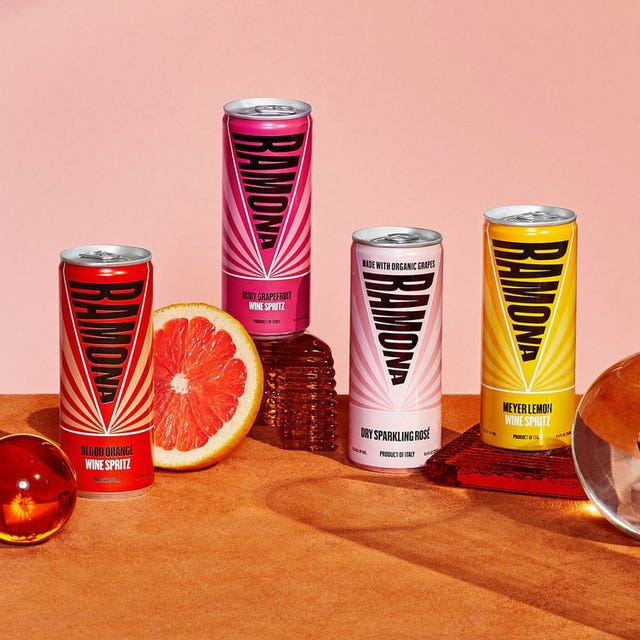 You've probably seen a burgeoning beverage category populating the portable drinks section of your local grocery store or wine shop in the last few years, and you're wondering if it's any good. Just like the newer, better versions of boxed wine, canned wine has been coming into its own, and both winemakers and retailers are taking note.
Sure, there is more variety in the glass bottle category, but canned wine is typically more affordable, portable and you don't have to worry about it going to waste if you only want a glass or two. It's easy to pack into coolers for outdoor adventures and backyard barbecues, and the often fun, funky labels look really good on the 'Gram. If you don't know where to start on your canned wine journey, these nine brands are a sure bet.
Is Canned Wine Any Good?
You bet it is. Just like any product category, certain brands and cans are better than others, but wineries are purposely canning their juice because it makes a delicious product more convenient. "Some of my favorite wines on the market right now are canned," says Zach Mimms, head sommelier at Pinch Chinese. "Just because the wine is in a can does not mean it is of lower quality than wine in a bottle."
Instead of thinking about canned wine as better or worse than bottled wine, simply think of it as different. "We don't can bad wine," says Ross McLauchlan, founder of The Austin Winery. "Think of it like a paperback versus a hardback book. Same words inside." Not only should you give canned wine a chance for the taste, quality and convenience, but aluminum is lightweight and easy to recycle, so it's a little better for the environment, too.
How Does Canned Wine Compare to Bottled or Boxed Wine?
As discussed above, canned wine is going to be just as delicious as bottled if you're buying from the right wineries. "Obviously, most of the wine on the market is sold in bottles," Mimms says. "So you're going to have a greater number of quality selections to choose from in that format. But there are some really stellar canned, boxed and even bagged wines out there."
The biggest difference between canned wines and its bottled and boxed counterparts is convenience. You don't need any tools to crack open a can of wine, and although we prefer it poured into a glass to experience the full range of flavors and aromas, you can simply enjoy it straight from the can. "Canned wine is also a better on-the-go option," Mimms says. "It's much easier to bring a few cans along with you to a picnic than a bottle, glasses and a corkscrew."
Drinking canned wine can also make the experience feel more relaxed and unpretentious. "A lot of people get in their heads when drinking wine and are maybe self-conscious about not knowing very much about the product," Mimms says. "Which is silly because you don't have to be an expert to enjoy something. But I think when you hear that can pop open, all those feelings fly out the window. It frees people to not overthink and just enjoy it."
What to Look for in a Canned Wine
If you want to try a canned wine but don't know where to start, see if any wineries that you already know and trust are canning their wines. You can also visit a well curated local wine shop with a knowledgeable staff. Many of the wines on this list were found by visiting neighborhood wine stores and asking the employees which cans were their favorites. Doing research on the winery and how they make their vino is another way to choose quality cans that are going to taste great. "First and foremost, [look for] 'real' wine," Mimms says. "To me, that means the grapes are farmed responsibly and the wine is made with the least amount of additions and subtractions as possible. And preferably, made by humans that treat their employees with care and respect."
The Best Canned Wines of 2022
Best Overall Canned Wine
Las Jaras Wines Waves
You might know Eric Wareheim for his sense of humor, but his love for food and wine can't be denied. So he founded Las Jaras with winemaker Joel Burt, and their wines are some of the most delicious on this list. Their yearly Waves release is a collection of three canned wine blends – a white, a red and a rosé – with eye-catching labels from optical artist Jen Stark. These cans will impress even the most discerning connoisseurs, and we love them paired with a great meal or simply enjoyed solo anytime the mood strikes.
Editor's Pick: Red Blend, which is one of the wine releases we look forward to most each year. It's best served with a chill, and its juicy flavor complements pretty much everything.
Best Splurge Canned Wine
Split Rail Winery
If you're not familiar with Idaho wine, this is the year to get acquainted. While there are plenty of great wineries doing their thing in the Snake River Valley AVA, Split Rail is definitely having the most fun. Winemaker Jed Glavin uses locally grown grapes and rarely makes the same wine twice, and he ages his juice in concrete eggs and amphora in addition to oak barrels. Split Rail's canned wines aren't more expensive than other brands on this list, but because Idaho wines aren't readily available outside of the region, the cost of shipping makes them a splurge. Trust us, they are worth every cent.
Editor's Pick: Electric Youth, a Rhone-style white that is funky and dry on the palate with notes of fermented honeydew and apple.
Best Budget Canned Wine
Ramona
Jordan Salcito knows her wine. As an award-winning sommelier, she oversaw the beverage program for Momofuku and passed the Eleven Madison Park Master Sommelier blind tasting exam on her first try. She launched Ramona in 2016 to bring quality, organic RTD beverages to the masses with the philosophy that even life's most casual moments deserve to be delicious. And the price is right – at $20 for a pack of four, Ramona cans are the most affordable on this list.
Editor's Pick: Dry Sparkling Rosé, a lightly effervescent blend of organic Montepulciano and Sangiovese grapes from Abruzzo, Italy with a rich minerality and fruity notes of tart cherry and red apple.
Best French Canned Wine
Licence IV
Licence IV is named after the permit that allows French establishments to serve alcohol, which you'll see displayed on enamel placards bolted to their walls throughout the country. Sommelier Gregory Castells grew up in his family's hotel in the South of France, where people would gather at the bar after events and on lazy weekend afternoons to share a drink with friends. Inspired by these casual occasions, he launched Licence IV to create beautiful French wines that will encourage you to slow down and enjoy the moment.
Editor's Pick: Le Rosé, a fresh, light blend of Grenache and Merlot grapes from Provence with notes of strawberries and pomegranate.
Best Biodynamic Canned Wine
Wild Arc Farm
"These wonderfully playful wines from upstate New York are some of my favorites," Mimms says. Todd Cavallo and Crystal Cornish are lifelong New Yorkers who moved from Brooklyn to Pine Bush after finding their perfect farmhouse. Now, they focus on regenerative organic farming and produce some of the most sought-after wines in the area at Wild Arc Farm. They're also responsible for revitalizing the piquette, a pomace wine that's made from macerating pressed skins, seeds and stems with water to reduce the waste leftover from the winemaking process.
Editor's Pick: Piquette, a dry, low-abv pale orange wine with a stonefruit nose and round, succulent notes of peaches and cream on the palate.
Best Organic Canned Wines
Nomadica
Nomadica may have the prettiest cans on this list, but we can assure you they have a great personality, too. The company was founded by Kristin Olszewski, who worked as a sommelier at restaurants like Husk and Osteria Mozza. Nomadica's wines are produced using organic, responsibly-farmed grapes with low intervention and minimal sulfur. Each bright, bold can is created in partnership with a visual artist who designs the label to reflect the tasting notes within.
Editor's Pick: Sparkling White, a lively blend of California Chardonnay and Muscat grapes with juicy flavors of nectarine, lemon and grapefruit that finishes with a touch of saline.
Best Easy-Drinking Canned Wine
Broc Cellars
Chris Brockway grew up in Omaha, Nebraska, but made the move to California because he was always drawn to wine. When he founded Broc Cellars in 2006, he wanted to deviate from the Cali wine mentality that bigger is always better, so he started making easy sipping, lower alcohol wines that can be enjoyed just about anytime. It sources grapes from small, organic California vineyards, use native fermentations and pick the fruit early to create wine with a satisfying acidity.
Editor's Pick: Love Red, a juicy, carbonic red blend that's ripe for all the summer occasions. Serve it chilled and enjoy it solo or with food.
Best Canned Wine from Smaller Producers
Maker
It can be difficult for small-scale producers to get their product in the hands of a wide audience, so Maker decided to build a business so more people can taste vino from smaller wineries. They partner with diverse, often award-winning winemakers, love to highlight lesser known regions and grapes, and prioritize producers who use sustainable and organic farming practices. You can purchase their beautiful cans in single varietal packs or a curated selection of their best-selling wines.
Editor's Pick: Sparkling Sauvignon Blanc, a crisp, bone dry beauty from black-owned Bodkin Wines. Winemaker Chris Christensen is the first American to make a sparkling Sauvignon Blanc.
Best Urban Winery Canned Wine
The Austin Winery
The founders of The Austin Winery are self-funded and self-taught, so they're learning new things each year about the winemaking business. And since they started in 2013, they've gotten really good at making wine. "I have to remind myself that one can is half a bottle because it's so damn fun and easy to drink," Mimms says. Because they're an urban winery, they don't own a vineyard, which means they get to source a huge breadth of grapes from around the Lone Star state. Everyone who serves wine at their tasting room is somehow involved in the winemaking process, and they want the experience to be enjoyable with no pretense – whether you're sipping a bottle on-site or enjoying a can poolside on a balmy summer day.
Editor's Pick: Pink Salt, a juicy blend of Albariño, Picpoul and Garnacha from the Texas High Plains that was fermented on the skins.
The 25 Best Canned Cocktails to Drink in 2022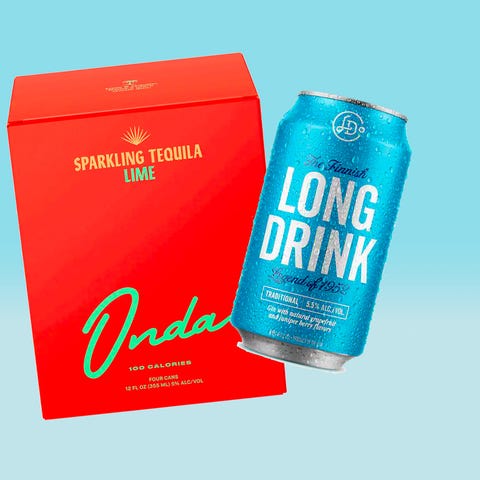 All of your favorite cocktails pre-mixed in a convenient can.
This content is created and maintained by a third party, and imported onto this page to help users provide their email addresses. You may be able to find more information about this and similar content at piano.io