Every product is carefully selected by our editors. If you buy from a link, we may earn a commission.
What Your Grilling Setup Is Missing: a Pan with Holes in It
These grill pans are hol(e)y grails when it comes to over-the-fire cooking.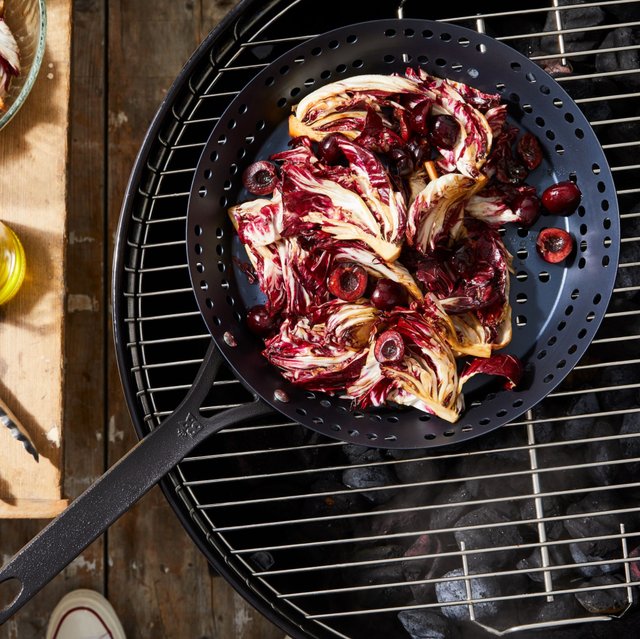 You need a pan with holes in it. Not for indoor kitchens, but for on-the-road, over-the-fire type cooking. Perforated pans have holes that let oil and grease drip away, much like grill grates on a standard grill. Similarly, the perforations allow the fire to touch your food for that fired-up flavor you desire from outdoor cooking. So ditch the standard cast-iron skillet, and buy one of these holey pans.
Carbon Steel Outdoor Cookware
If you haven't had the pleasure of cooking with carbon steel, it's about damn time. Carbon steel is the lighter, less-fussy alternative to cast iron with similar heat retention and non-stick capabilities. BK's line of carbon steel outdoor cookware come in a variety of shapes for whatever meals you have in mind.
Made In practically made cooking with carbon steel a home affair. Now, carbon steel is going camping. The grill frying pan retains the original's shape and design, including the curved handle for improved maneuverability. Because carbon steel is significantly lighter than cast iron (this pan weighs just over three pounds), it's the superior choice for taking on the road.
Steel Round Nonstick 12-Inch Grill Skillet
If packing light is your greatest priority, grill pans don't get much lighter than Just Grillin's grill pan. Weighing less than a pound, the grill pan is made from sturdy steel, which reviewers say is also fairly good at being non-stick. The handle folds away so the pan is compact, too. It's $8, so you really have no excuse not to try this on your next camping trip.
This content is created and maintained by a third party, and imported onto this page to help users provide their email addresses. You may be able to find more information about this and similar content at piano.io