Every product is carefully selected by our editors. If you buy from a link, we may earn a commission.
The 10 Best Cigar Brands to Smoke in 2022
Feeling lost in your local cigar shop? Here are the names you should know.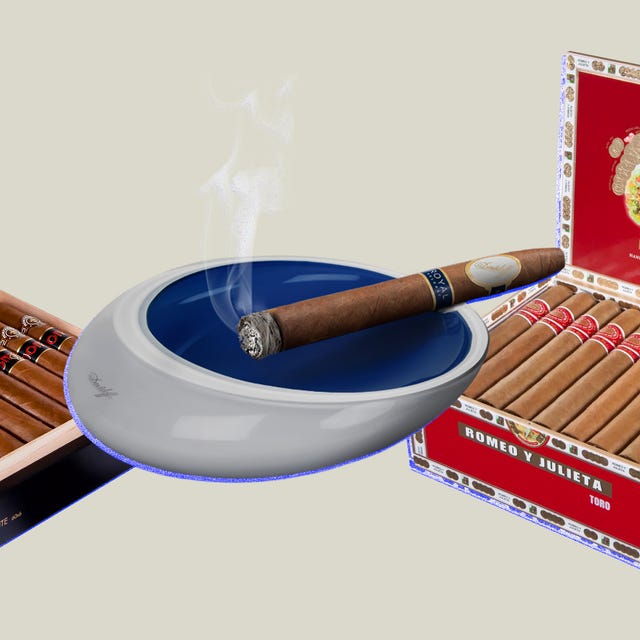 Anyone who's ever strolled into a cigar shop with the intention of buying a stogie (or a box of them) has been greeted by a dizzying array of brands, not to mention the various styles and types of cigars available. If you're a regular smoker, then you probably have your favorite brands that you return to again and again. But if you're a novice, then you likely find the plethora of unfamiliar names intimidating while wondering how you can tell the good from the not-so-good.
Whether you're new to the world of cigars and are interested in trying out the habit yourself or buying some cigars as a gift, or you're a seasoned smoker who's just looking to discover some new brands, this guide is for you. With a focus on reputation, popularity and quality, we've come up with the following list of the best cigar brands you can buy today, so have a look at the ten cigar makers below and find your next favorite smoke.
Where are cigars made?

Just about everyone is familiar with the allure of a Cuban cigar, but since President Kennedy enacted an embargo on Cuban goods in 1962, it's been illegal for cigars from the Caribbean island nation to be sold in the United States. "Cubans" have long been prized for their robust flavor and strength, but aficionados know that Cuba is not the be-all and end-all of cigar-producing regions.

Today, a trio of Latin American countries leads the way in non-Cuban cigar production: Nicaragua, Honduras, and perhaps the most notable of all, Cuba's next-door neighbor in the Dominican Republic. Each of the brands you'll encounter in this guide largely produces their cigars in one or more of these three nations, all of which have decades of industry and expertise to back up their production, along with the prime growing conditions for the tobacco itself — though a cigar's tobacco isn't necessarily grown in the same nation where it is ultimately produced. For instance, many brands use Ecuadorian-grown leaves for their wrappers, but comparatively few cigars are actually produced in the South American nation.
What makes a good cigar?
When you're dealing with cigars, the most important determining factor of whether or not the smoke will be any good lies with the tobacco used. That's the main reason why people make such a fuss about Cuban cigars: Cuba (along with a handful of other Latin American regions) just so happens to have the ideal conditions for growing the types of tobacco needed to make a good cigar. And that's just the thing. You can't just grow a nice tobacco crop and roll a cigar out of it. Every cigar contains several different types of tobacco that each serve a different purpose, and they're broken down into the following three categories.
Filler
This is the innermost portion of the cigar, and it's where the bulk of a cigar's tobacco ends up. The filler is almost always a blend of different tobaccos — sometimes including blends of different regions — and it's in fine-tuning these recipes that cigar makers can tweak the flavors of their smokes. The best cigars feature long filler, which are whole leaves that have not been chopped up, as they burn much more slowly and offer a better smoking experience.
Binder
The binder imparts the least amount of flavor into a cigar, but it's still a crucial component. Made up of the strongest leaves in a cigar, binder tobacco is used to "bind" the filler together by wrapping around it. Forming the middle layer of a cigar's construction, a binder must be chosen by a cigar maker to be compatible with a filler in both burn time and flavor.
Wrapper
Arguably the most important piece of a cigar's construction, the wrapper is where the bulk of a cigar's flavor comes from. It's a large, single leaf, wrapped around the binder to form the outermost portion of a stogie. You'll see a lot of attention paid to wrappers when it comes to buying cigars, as the country where it's grown, the conditions (shaded or sunny), the breed of tobacco and the aging process — whether it's natural (lighter, less fermented) or maduro (darker, more fermented) — all play a role in how it performs and tastes.
The 10 Best Cigar Brands of 2022