Every product is carefully selected by our editors. If you buy from a link, we may earn a commission.
Treat Your Home to Some Cozy Aromatherapy with These Candles for Men
Melt away stress and create a welcoming environment with these scented wax accessories.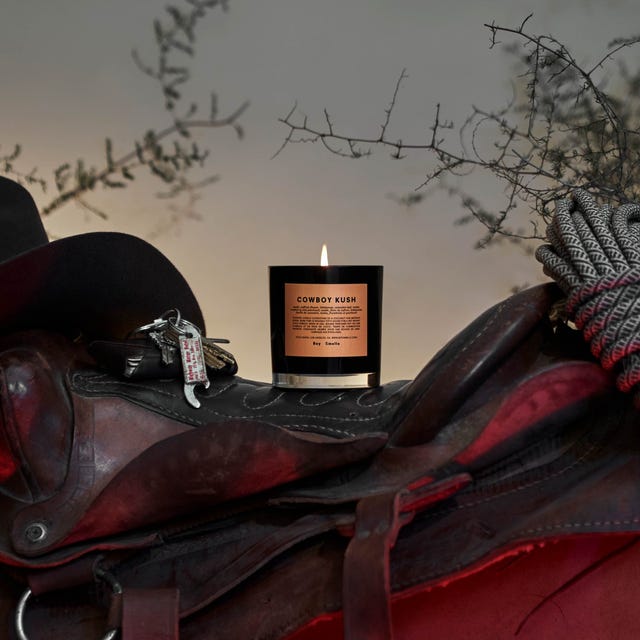 Your nose is a powerful tool. Not only can it help you sniff out the difference between tasty food and that which has turned bad, but your sense of smell is also said to be the sense most closely tied to memory. That also means your nose has the ability to somewhat shape your mood, impact your stress levels and potentially set the pace for the rest of your sensory experience on any given day. But you don't have to worry about being at the whims of whatever smell wafts your way if you don't want to. Rather, you can "hack" your sense of smell by actively picking out some aromatherapy home goods — candles, in this case.
Simple and time-tested, candles have been an easy means of setting a sensory mood for generations. And while once largely dominated by floral smells, the candle industry has, in recent years, expanded its horizons greatly. Now, there's a candle out there for every kind of person — from car enthusiasts to outdoorsmen, brutalist architects to backyard barbecuers and everything in-between. Whether you're already on board with the idea of filling your home with candles or you're entirely new to the concept (or even need a gift), you'll be able to find one from one of the candle brands below. These are the best candles for men.
This content is created and maintained by a third party, and imported onto this page to help users provide their email addresses. You may be able to find more information about this and similar content at piano.io