Every product is carefully selected by our editors. If you buy from a link, we may earn a commission.
The 10 Best Heated Blankets and Throws for Ultimate Coziness
Warm up to these heated blankets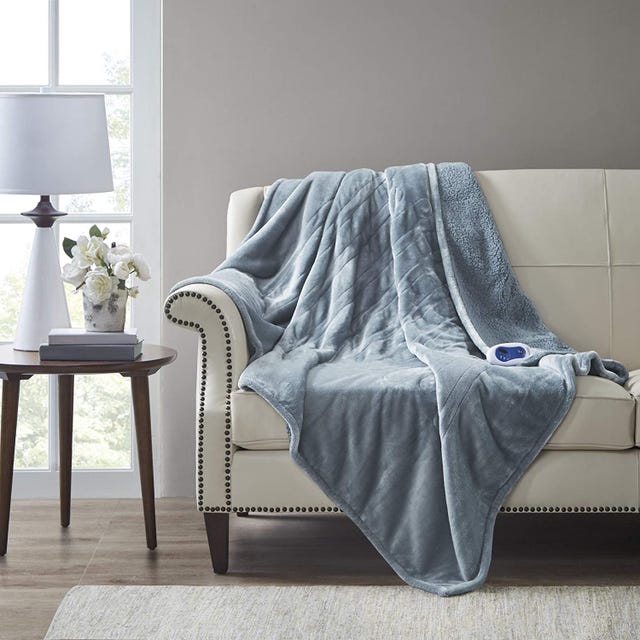 It's January and I live in Pittsburgh, which means, if I'm not fighting the bitter cold, I'm fighting my landlord over the radiator, which only kicks on when it's 40 degrees or less. Since we live in climate hell, that means a sensible 50-degree day leaves me freezing: there's no sun to warm up my apartment (Pittsburgh has 306 cloudy days per year, per the National Center for Environmental Information) and no radiator heat. No one can empathize with my struggle since my fellow radiator-havers crack their windows from the disgusting amount of heat their radiators emit.
Which is to say: heated blankets have become a saving grace. I'm warm (Amanda happy), and they don't use too much electricity (Amanda's wallet happy). I'm an empath, which means I know you need a heated blanket, probably. Here are 10 really great heated blankets to heat up your winter.
Heated Blankets 101
Check for UL Certification
Give yourself some peace of mind when buying your heated blanket. Underwriters Laboratories (UL), an independent safety testing organization, will give their seal of approval in the form of a UL Certification. This certification proves that UL has tested the product and has deemed it safe for use. Most name brands currently on the market are UL certified.
Read the Washing Instructions
Most blankets are machine washable, but not machine dry-able. Check out the instructions so you don't fry your blanket. Don't burn your money in the dryer.
Your Pet Will Love It
While doing research for this story, I came across many reviews that said, "my dog loves this blanket." If you don't want a fuzzy friend to commandeer your blanket, maybe consider a separate blanket for your pet.
The Best Heated Blankets of 2022
This content is created and maintained by a third party, and imported onto this page to help users provide their email addresses. You may be able to find more information about this and similar content at piano.io