Every product is carefully selected by our editors. If you buy from a link, we may earn a commission.
The 10 Best Leather Office Chairs for Working in Style
Your working situation could use an upgrade, so consider the leather office chair.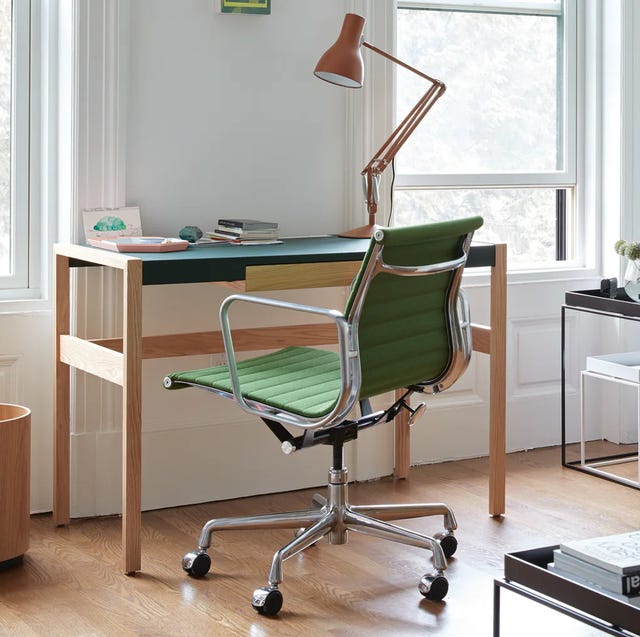 There's plenty to be said about fabric and chair materials. Most office chairs have a wooden frame, aluminium base (often with wheels) and are upholstered with mesh or a mixed material fabric. Leather office chairs are a step above; they provide comfort and ergonomic support thanks to their structure yet have an elevated style due to the material. Genuine leather chairs are made with real leather, and they tend to be more expensive due to the material and the upkeep required. (You'll want to research how to clean them before you wipe them down.) There are other types and subtypes of leather, including bonded leather, leatherette, and faux leather, all of which make the style more accessible. Bonded leather and leatherette fabrics are part genuine leather and part polyurethane leather; both look like the real thing but are a bit softer and can be made in a wider range of colors. Faux leather, of course, is not real in any way; it's a PU alternative that feels almost like vinyl and is popular among vegans or eco-friendly clients.
When it comes to shopping for an office chair, you know what you like best. We all have different desires, and how you work and when you work may impact your ideal features. Consider how you move at your desk; you may want a swivel chair if you're looking at multiple monitors or a chair on wheels if you have a large desk area. Depending on your desk height or office dimensions you may look for a chair with low armrests or no armrests at all. Some other features you'll want to consider are headrests, reclining abilities, and adjustable heights in case you share your desk area or need more support. My ideal desk chair won't look the same as yours, but regardless of what's on your checklist make sure to look for high-quality materials, durability, and a chair that will allow you to sit with proper posture while you get your work done. If you are shopping for something with vintage style, check out these mid century modern office chairs.
The Best Leather Office Chairs of 2022