Every product is carefully selected by our editors. If you buy from a link, we may earn a commission.
The 10 Best Stick Vacuums to Take the Suck Out of Spring Cleaning
These vacuum cleaners suck, but in the best way possible.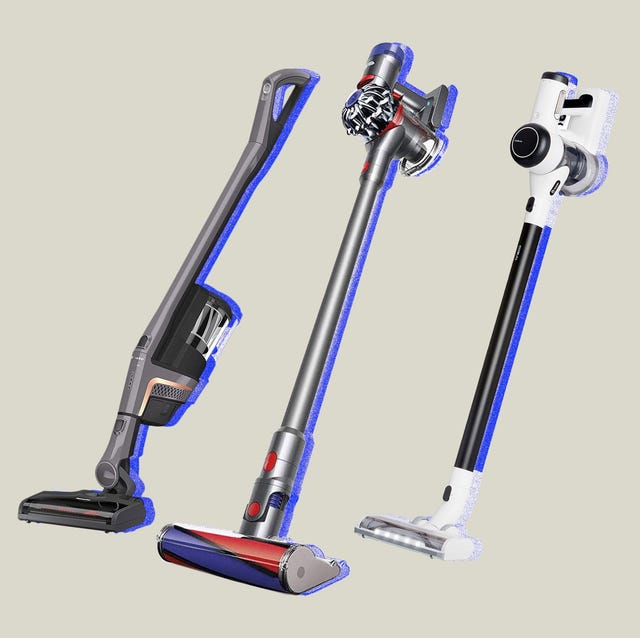 The greatest thing to ever happen to vacuum cleaners was tossing away the cord, making them slimmer and trimming the fat. Dyson may have revolutionized cordless stick vacuums, but the manufacturer is no longer the de facto brand when it comes to getting a good stick vac. Nearly every home appliance brand has a line of cordless stick vacuums these days, and it's easy to see why everyone loves them — they're lightweight, convenient and efficient.
While cordless stick vacs tend to be fairly expensive, we've found that the pros outweigh the cons. A good stick vacuum, like any good vacuum cleaner in general, should be able to work efficiently across multiple surface types and, of course, it should a really good job at sucking up dirt, dust, hair and whatever grime is in your home. To help you find the best vacuum cleaner for yourself, we did some early spring cleaning to help you find the 10 best models worth your time and money.
Stick Vacuum 101
What to Look For in a Stick Vacuum
Battery Life: Arguably the most important thing to look for in a stick vacuum is its runtime. You should know, however, that the runtime denoted actually applies to the vacuum when used at its lowest speed setting. Choose a stick vacuum with a battery life that will accommodate the size of your home. Vacuums can have a runtime as short as 20 minutes, while others can last for a couple hours. If you live in a studio apartment, those short-running vacuums will do you just fine, but that same vacuum probably won't do you any good if you live in a huge home. Another thing to note is that some vacuums will also come with an interchangeable battery, essentially doubling its runtime but adding extra stuff you need to store.
Dust Bin Capacity: Every stick vacuum has a different dust bin capacity, which can influence which stick vacuum you buy. For fewer trips to the trash bin, opt for a dust bin with a greater volume. Smaller dust bins are fine if you have less area to vacuum, but it will be annoying to frequently empty the bin when you live in a larger space.
Attachments: Pretty much every stick vacuum will come with additional attachments whether it's to use on furniture or to turn the stick vacuum into a handheld vacuum. Go through the attachments that come with the stick vacuum you want to make sure they'll actually be of use to you. Otherwise, you're paying for bells and whistles and nothing more.
The Best Stick Vacuums of 2022
This content is created and maintained by a third party, and imported onto this page to help users provide their email addresses. You may be able to find more information about this and similar content at piano.io