Every product is carefully selected by our editors. If you buy from a link, we may earn a commission.
The Best Hydration Packs
Carry your water on your back and you'll never be dehydrated again. Here are 10 great ways to do so.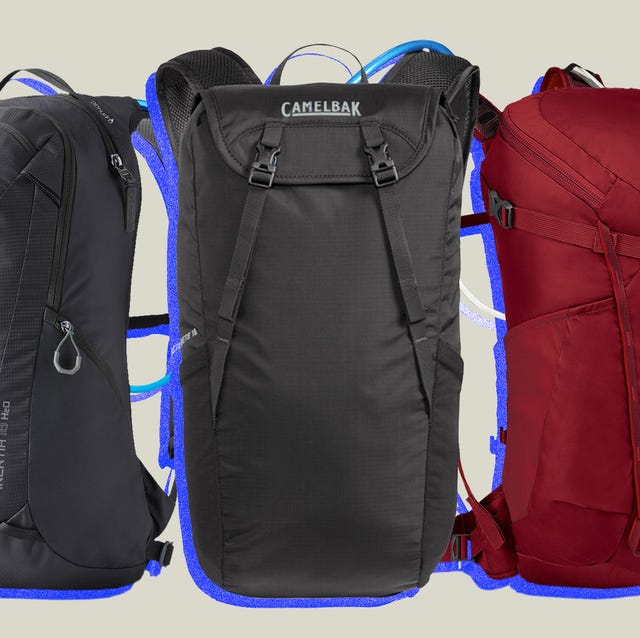 Hydration backpacks are more than a trend. Humans are 60 percent water, and when it's hot and/or humid, you need to continuously replace the fluid you're sweating out. A hydration pack lets you drink without interrupting your flow, whether you're running an ultra or jamming through a music marathon.
"People want to be more self-sufficient, to go on hikes, bikes and runs being able to drink on the move, hands-free, with the ability to toss in a jacket and snacks with the thing you're already carrying," notes Ren Walkenhorst, Associate Product Manager at Hydrapak. "Hydration packs make it easier and more efficient."
Hydration packs are ideal for activities where you want frequent access to a sip, slurp or guzzle of water or sports drink, without carrying a bottle in your hand, or taking off your pack to drink. They also have storage for other gear you need on your hike, bike, run or other adventure.
Packs come in vest, backpack and hip pack styles, with many sizes and features to choose from. "Where there's a lot of movement, a pack's ability to stay stable and stabilize the liquid inside is key," says Mike Valvano, director of Soft Goods and Sport at Camelbak. Consider the questions and options below to find the one that's right for you.
How much water do you need?
Water is heavy, and carrying a lot more than you need can slow you down, but it's important to be realistic. Hydration reservoirs typically range from 0.5 to 3 liters. During strenuous activity, it's recommended to drink a liter an hour. Pick a pack with a reservoir that will accommodate the length of your typical outing.
What else do you need to carry?
Besides water, you may need space for cargo, like a jacket, trekking poles, snacks, first aid or bivy. Buy a bag with the capacity to hold your kit. Overstuffed, even the best pack can feel like a sausage on your back. Choose a pack that fits your gear comfortably, and if you plan to be heavily loaded, pick one with suspension, including a broad hip belt and possibly a frame. Sport-specific gear, like a helmet or trekking poles, requires specific attachments — buy one made for the sport or activity you do most frequently.
How does the pack fit loaded?
If you're running any significant distance in your pack, make sure it doesn't bounce or chafe on the trail. Check pack fit in the store. Adjustability is critical, as is enough structure to keep the load you'll carry from bouncing around.
What else do you need to grab on the go?
Mountain bikers might want access to a multitool and snacks without taking the pack off. A runner might need multiple handheld flasks and instant access to a gel or sunglasses storage. If you have an XL iPhone and you want to be able to reach it, look for a pack with a pocket big and easy to get to. Many packs have pockets on the shoulders, chest and hips that are accessible while you're wearing them.
How often should you empty and clean your hydration reservoir?
It's easy to drop your pack at the end of an adventure and forget about it until the next one. But hydration reservoirs get moldy fast, particularly if you had drink mix inside. Wash and dry your reservoir after every use. And hand wash your empty pack or throw it into the washing machine on delicate for periodic cleaning.