Every product is carefully selected by our editors. If you buy from a link, we may earn a commission.
The 12 Best Bike Helmets for Road, Mountain and Commuting
Whether you're racing on the tarmac, crushing some cross-country trails or just riding in to work, these are the best bike helmets to get the job done.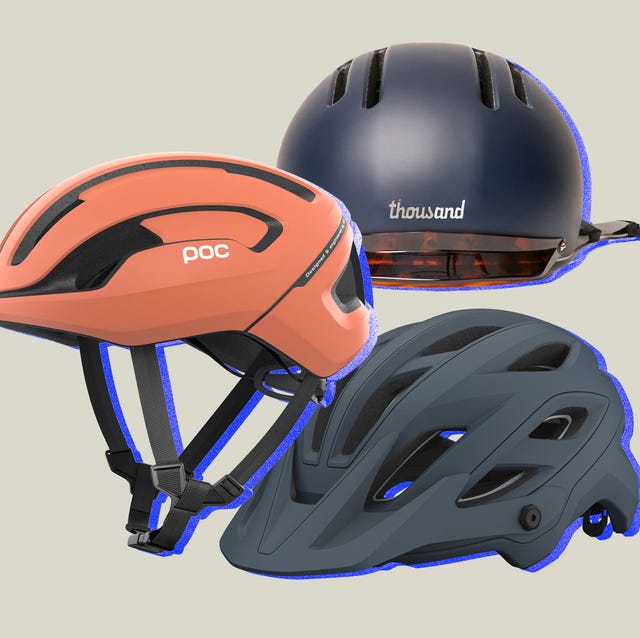 These days, bike helmets are purpose-built for specific types of riding. You can get an ultra-aero road bike helmet that will shave seconds off your mile pace, paying huge dividends over a long ride. You can pick up a mountain bike helmet with top-tier ventilation for staying cool up long climbs that also provide extra coverage for dodgy downhill rides. If you're a commuter, you can get helmets that come with the same tech as road bike helmets that don't make you look like a lycra-clad Tour de France racer. Regardless of what type of riding you do, you need a helmet. We don't care if you're just cruising to the coffee shop or headed out for a 100-mile ride, just wear one. The best bike helmet will fit your needs — keeping you safe while also letting you forget it is even there. Below, we rounded up our 12 favorite bike helmets to get you going.
Best Road Bike Helmets
Best Mountain Bike Helmets
Best Commuter Helmets
What to Look for in a Bike Helmet
Safety Standards: If you're worried about whether this helmet or that helmet will keep you safe, don't. Every helmet sold in the United States must meet the standards set by the Consumer Product Safety Commission, so when it comes to safety, you're getting a quality helmet that will protect you, no matter what you pick. Some helmets will feature more head coverage —mountain bike helmets will have the most — but when it comes to the materials used and how well they will hold up in a bike accident, they're all going to do the job. Keep in mind, though, that if you do get in a crash and your helmet is used, you need a new one, no matter how much you paid. After a wreck, the safety standards no longer apply. One final thing to keep in mind with safety is that a more expensive helmet may in fact have technology that your barebones $40 helmet will not.
Price: While a less-expensive helmet will protect you to the standards set by the CPSC (which are high-quality standards), if you spend more money you will get a helmet that is unequivocally better in every measurable way. This is not to say that you have to spend $250, especially if you're just looking to have the bare minimum protecting your dome. But if you spend more, say around $100+, your helmet is much more likely to be more comfortable, more well-ventilated and feature innovative safety tech that you won't find on a cheap helmet.
Fit: Most helmets come in a few sizes and can be adjusted for a snug fit. To ensure you get the right size, you'll want to take a tape measure, preferably a fabric one used for measuring clothing, and wrap it around your head to find the circumference. Compare that number to the size chart and boom! You've got your size. The sizes for most brands are similar, but it is definitely worth checking out the size chart before placing an order. If you're between sizes, we'd recommend sizing up, because a helmet that is too small is never comfortable. You want to forget a helmet is there, not think about it every second of your ride.
Ventilation: Generally speaking, the more expensive your helmet is, the more well-ventilated it will be. Companies spend thousands trying to make helmets aerodynamic, but they also spend big money to make sure your head stays cool. Even when it is cold out, you'll want a helmet that is well ventilated so that your sweat and excess heat will evaporate up and away from your head rather than drip into your eyes.
The Best Bike Helmets of 2022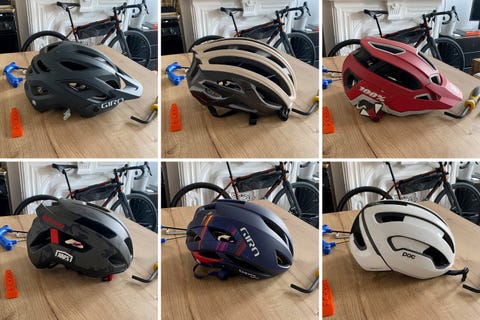 We evaluated helmets our staff members own and use regularly, along with a handful of helmets we deemed worthy of being the best. Through direct side-by-side comparison and actual bike rides, on and off-road, we put the helmets through their paces, judging them for fit, comfort, ventilation and value. Before you ask, no, we did not crash-test these. They do, however, all meet the safety requirements outlined above.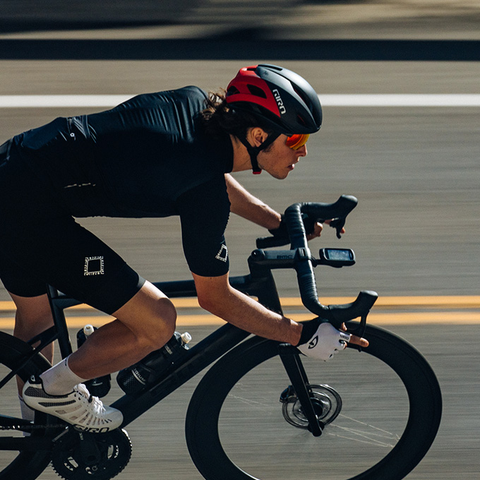 Best Road Helmet That Won't Break the Bank
POC Omne Air Spin
Great Bang for Your Buck
Can Be Used for All Types of Riding
Not the Lightest Helmet Out There
Comfortable, versatile and affordable, the POC Omne Air Spin is the platonic ideal of a road bike helmet. It comfortably fits a cap underneath, has enough vents to keep you cool on hot days and can tackle gravel or commutes just as well as it does the road.
Best Upgrade Road Helmet
Giro Eclipse Spherical
Extremely Aerodynamic
Lightweight
You Forget It Is There
Expensive
Not Widely Available Yet
Our tester says that this is the best road helmet they've ever worn, the only downside being the price. Brand new for March 2022, the Eclipse Spherical is supremely aero, having been tested extensively by Giro to prove its aerodynamic bonafides over longer rides. It is smaller than most other helmets, meaning it not only looks better but shaves precious ounces, making you forget it is even there. Since it is so new, however, supply chain issues make it hard to get your hands on a size other than small. More are expected later this month, though.
Specialized S-Works Prevail II Vent MIPS
Compatible with Specialized ANGI
Well-Ventilated
The S-Works Prevail II Vent MIPS is one of the most well-ventilated helmets we've tested, meaning you'll never have to worry about overheating. It also is compatible with Specialized ANGI Crash Sensors, which, when equipped and connected to your phone via Bluetooth, will notify your emergency contacts when it detects that you've wrecked.
Protects More of Your Head Than Others
Is Only $100
Not Super Well-Ventilated
Made by the extreme sports experts at 100%, the Altis Gravel takes the brand's Altis mountain bike helmet and strips it down to make a road- and gravel-ready helmet that is surprisingly lightweight and has better coverage than most road helmets.
Best Mountain Bike Helmets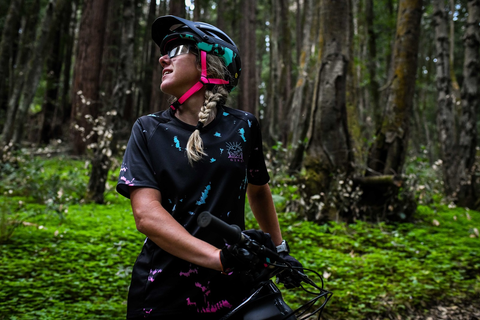 Best Overall Mountain Bike Helmet
Giro Merit Spherical
Super Comfortable on Your Head
Well-Ventilated for Climbing
Giro's new Merit Spherical helmet features its proprietary ball-and-socket spherical technology to provide extra safety beyond what you get from a less expensive helmet. The coverage is as good as any helmet out there and it is light enough and ventilated enough to keep you cool on tough climbs.
Best Stylish Mountain Bike Helmet
Rapha x Smith Forefront 2
Looks Better Than Most Helmets
Lightweight Design
Rapha teamed up with Smith to make its own version of the Forefront 2 that not only provides excellent coverage in a lightweight package but looks better than most of the helmets out there thanks to the discerning eye of Rapha's designers.
Excellent Coverage in the Back
Huge Vents in the Front
Worn on the mountain by one of the most devoted cyclists on staff here at Gear Patrol, the POC Tectal Race brings ventilation, style and coverage together to craft one of the most comfortable helmets you can buy.
Easy on the Wallet
Magnetic Buckle
100% released the 2022 Altec with its unique Fidlock magnetic buckle, which comes in handy when you have full-finger bike gloves on. It also features a 14-point rotational protective system and a lightweight body.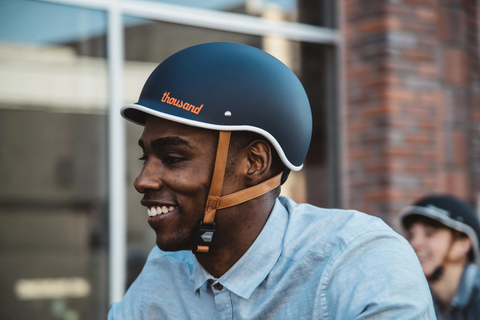 Best Overall Commuter Helmet
Smith Express MIPS
Integrated Rear Light
Added Coverage for Off-Road Rides
Affordable
Smith's Express MIPS features MIPS protective technology, plus a removable visor, adding an extra layer of versatility. It is also shaped a bit more like your standard mountain bike helmet, meaning it can even be taken onto light trails. It also has an integrated rear light that is rechargeable.
Best Looking Commuter Helmet
Thousand Chapter MIPS
Has A Removable Visor
Integrated Rear Light
A Tad Expensive for a Commuter
We think the Thousand Chapter MIPS is the best-looking commuter helmet you can buy, pairing an all-important visor with a matte finish that won't make you look like a hardo on your way to work. This one also features MIPS protective technology, which is a welcome extra layer of protection.
Integrated Front and Rear Lights
Ventilated
Giro's Escape MIPS helmet is a little less fun to look at when compared to the Thousand helmet, but it stands out thanks to integrated rechargeable front and rear lights, which ensures you are visible on early-morning or late-night commutes.
Affordable
Integrated Rear Light
Not as Good-Looking as Its Counterparts
No Extra Protective Technology
The Kali Traffic is a straightforward bike helmet ideal for commuting, thanks to its removable visor and integrated rear light.
This content is created and maintained by a third party, and imported onto this page to help users provide their email addresses. You may be able to find more information about this and similar content at piano.io