Every product is carefully selected by our editors. If you buy from a link, we may earn a commission.
The Best Trekking Poles and How to Use Them
Everything you ever wanted to know about trekking poles, plus our favorite sets.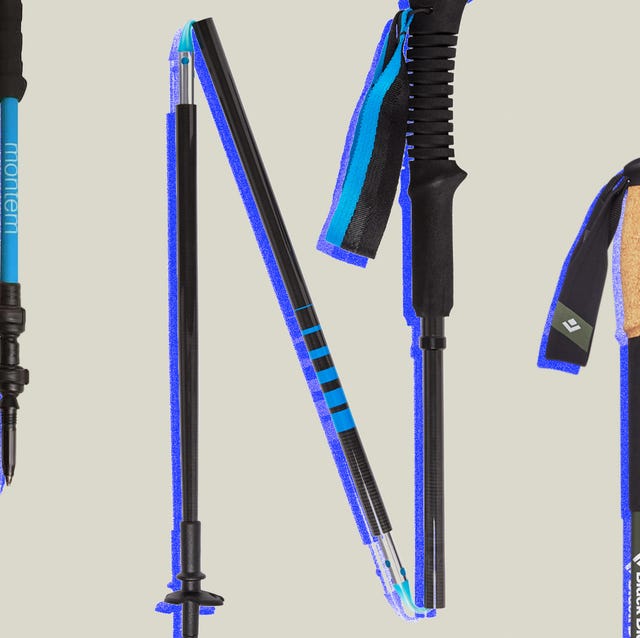 If you've never used a pair of trekking poles for hiking, you're in for a treat. They're useful for so many things: They help improve your balance when you're picking your way along rough or unstable ground, stepping through a fast-moving stream, or pushing yourself up a steep hill. They keep you steady when you're carrying a heavy pack and your stability isn't as good as usual. They also reduce joint impact, absorbing the shock on the lower half of your body, especially on downhills. (A study by the Steadman-Hawkins Sports Medicine Foundation found that poles absorb up to 4.4 percent of the force that would usually reverberate through your whole body while walking.) And trekking poles also bring your upper body into your workout, increasing cardiac benefits.
Whether you're an experienced thru-hiker, a newbie to the trail or an outdoors lover who's worried about joint damage, this guide is for you. To save you time, we cut straight to the chase with reviews of the best poles money can buy. But should that roundup not fully slake your thirst for knowledge, keep reading for more details on when and how to use trekking poles, finding the ideal trekking pole for you, and more.
When to Use Trekking Poles
"When I was planning my thru-hike of the Appalachian Trail, I only knew one person who had thru-hiked before," says Laura Evenson, sales lead at REI and experienced thru-hiker. "Their one piece of advice was to buy trekking poles, so I did. But I carried them in my pack for the first few days without using them. Then someone told me to try them for a week and ship them home if I didn't like them." Evenson never shipped them because they helped her on uphills and downhills, making ascents and descents easier for her. If you're headed out for a day hike on a relatively flat, groomed trail, you may want to leave your hiking poles at home, but for anything longer, they can be useful.
Researchers from the Steadman-Hawkins Sports Medicine Foundation found that using trekking poles improves your posture; this added stability is especially crucial for spinal health and managing back pain on uneven, debilitating terrain. You'll want trekking poles if you're on a trail with massive uphills and downhills. Poles can help to increase your power when you're walking uphill, and they also increase your speed downhill because you don't have to worry as much about being sure-footed. Rivers, streams, loose rocks or debris (maybe even ice or snow): Bring 'em.
What to Look For In A Good Pair of Trekking Poles
Good trekking poles are lightweight, durable, easily packable and adjustable. They should telescope, which means they disappear into themselves or fold up for easy stashing and transport.
One critical element to think about is the handle. "Find a handle you like," says Evenson of the cork, foam and rubber options out there. There isn't much science to it beyond personal preference, although rubber can be more prone to causing blisters and weighs more.
Another feature to consider is the locking mechanism. Twist locks and level locks both do the job, but the former tend to break down more quickly. Lastly, lighter is generally better. The heavier your poles, the more fatigued your arms will be after a long day on the trail. Opt for carbon fiber if weight is your top priority — they're lighter than aluminum (the other most common material), though less durable and, yes, more expensive.
How to Use Trekking Poles
You'll want to carry a pole in each hand for the best balance, cadence and aid to your joints. Using just one pole can overstress one side of the body, Evenson notes. If your pole has a wrist loop, use it. It's meant to reduce the likelihood of blisters and hand fatigue because you won't need to grip the pole as tightly. As you walk, place the pole on the ground several inches ahead of your feet, moving the poles forward in a rotating fashion as you walk. Use the poles to stabilize your body as you move, working to bring them into your hiking cadence.
What Height Should I Buy?
When holding your trekking poles' handles, your elbows should be at a 90-degree angle from your body and your forearms should be parallel to the ground. The good news is most trekking poles are adjustable. Some hikers will adjust their poles for extended uphills and downhills, Evenson says, noting that it's easier to use shorter poles on the uphills and longer poles on the downhills. That's not fully necessary, though: "I just hold them on the top of the handle on my way down, for extra length," she says. If you're between 5'1″ and 5'11", 110- and 120-cm poles (43-47 inches) will be just right. Someone shorter than 5'1″ will want poles that are about 100 cm (39 inches), and someone taller than six feet may want to order extra long poles that extend to or beyond 130 cm (51 inches).
How Much Should I Spend?
Trekking poles can cost anywhere from $20 to $200. Spend at least $60; anything less and they'll break after a few uses. The sweet spot is $150, which typically means carbon fiber lightweight, packable, easily adjustable and durable.
Do I Need Trekking Poles That Fold?
Packable trekking poles are essential because you may not always need your poles during a hike, and you'll want to be able to easily store them in your pack, your car or your garage — and in your luggage when you travel. A folding set of poles will break down to a slightly smaller size than telescoping poles, making them more packable.
How We Tested
We spent about 10 hours researching trekking poles for this guide. We looked at poles that ranged in price from $20 to $200 and read dozens of customer and media reviews of the newest trekking poles on the market. We also spoke with several experts to get their perspectives on the ideal features and use cases for trekking poles.
Next, we ordered a pile of trekking poles to test out on the trail. We took them on several hikes in the Pacific Northwest mountains, weathering nearly 20 miles of rain, mud, sun, wind and dirt. We experimented with each set of poles on uphills and downhills. We used them to help us balance across stream crossings and boulder fields while wearing heavy packs. We also took notes about how easy the poles were to adjust and how lightweight and packable they were. In the end, we anointed these four pairs as the best trekking poles money can buy right now.