Every product is carefully selected by our editors. If you buy from a link, we may earn a commission.
The 13 Best Rain Jackets of 2022
A lot has changed since heavy, unbreathable plastic rain slickers were standard all-weather apparel; today's rain jackets are lighter, softer, more breathable, stretchy and more waterproof than ever.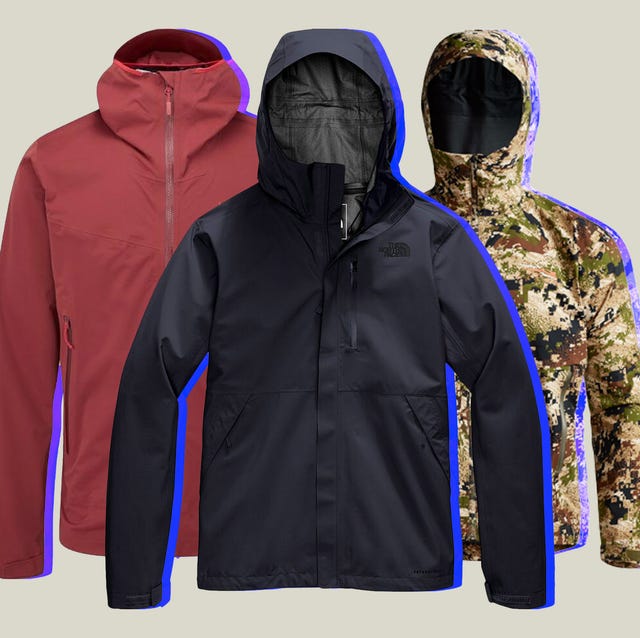 We live in a Golden Age of water-repellency; before nylon shells and Gore-Tex membranes, humans devised hydrophobic clothing using vinyl, oiled canvas and, before that, cured seal and whale intestines. Now, (thankfully) waterproofing happens at a molecular level with advanced membranes that keep water droplets out but let body vapor (think sweat) through.
The advancements have allowed rain jackets to become lighter, more breathable, packable and no less rain-proof. Rain jacket technology keeps getting better too — today, companies are experimenting with new fabrics to make rain shells softer and more comfortable and adding stretch for increased mobility (and less of that trademark crinkly jacket sound).Style hasn't fallen by the wayside either. The new class of rain jacket is light enough, durable enough, breathable enough and waterproof enough to handle multi-day treks through misting rain as well as the inevitable deluge during commuting hours.
Rain Jacket Materials, Explained
The outer textile of most three-layer shells is made of a rugged nylon or polyester that's coated with Durable Water Repellent (DWR). The inner membrane is a microporous fabric, typically made of ePTFE or Polyurethane that acts as the shell's primary waterproof and breathable layer. It's the secret sauce. The backer textile is a thin layer, usually gauze, that's laminated to the back of the membrane, which eliminates the need for a liner.
While the waterproof and breathable technologies are all generally related in the way they function, several brands have proprietary technologies, among them Gore-Tex, Polartec NeoShell, eVent, Schoeller and Dermizax NX. Discerning one technology from another can be difficult, in part because the technology is kept under lock and key, but also because the technology requires an understanding of terms like "phase change" and how things work on a molecular level. To repair a ripped rain jacket, read our guide.
DWR Explained
When you're buying a rain jacket or any outerwear for that matter, you'll often come across the initials DWR, which stand for durable water repellent. DWR is a coating applied to fabrics that lets them shed fluids, and it's commonly used in conjunction with waterproof membranes. DWR works by making the surface of the exterior fabric spiky at a microscopic level, which forces water and other liquids into rounder, beaded forms. That helps them roll off the garment instead of saturating it. DWR isn't permanent, but it can easily be revived. To re-waterproof your rain jacket, read our guide.
Keep reading beyond our picks for information on rain jacket materials.
This content is created and maintained by a third party, and imported onto this page to help users provide their email addresses. You may be able to find more information about this and similar content at piano.io