Every product is carefully selected by our editors. If you buy from a link, we may earn a commission.
The Best Dog Leashes for Every Dog
Keep your four-legged friend safely tethered to you on walks, hikes and all other adventures.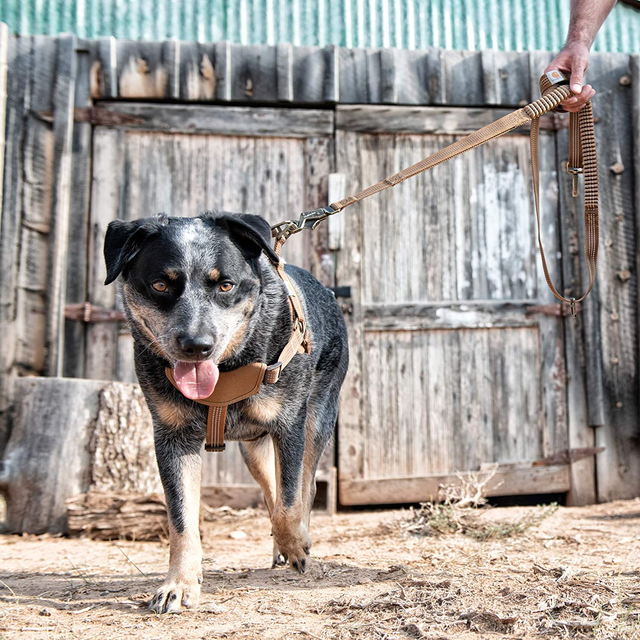 Despite our best attempts to breed them into small, cute, lap-lounging pets, dogs are still, at their core, outdoor animals. And while yours might be perfectly happy lounging around the house all day, getting outside for some exercise is a must to keep your four-legged friend happy, healthy, and long-lived. However, for those without yards (like city apartment folk) or with especially energetic dogs, a quick pop outside to use the restroom isn't going to be enough. Rather, your dog needs to go on walks. And to properly go on walks, you're going to need a leash.
As is the case with just about any piece of gear, there's not a one-size-fits-all solution when it comes to dog leashes (or harnesses, for that matter). Instead, the one you choose will be impacted by your budget, the type of dog you have (breed, age, activity level and more are all factors), your personal tastes and even the kinds of activities you intend to embark upon (no pun intended). But we're also keen on helping you narrow your choices down, as we've done our own research and testing to come up with this guide to the best dog leashes. If your dog needs a lead, you'll find a great one here.
Why You Should (Always) Use a Leash
You might think your dog is well-behaved enough to forgo using a leash in certain situations. However, we caution against simply taking your dog off leash for a number of reasons. For starters, there are laws prohibiting off-leash activities in many cities, parks, etc. Secondly, keeping your dog on a leash can help protect them from dangerous terrain (like perilous cliffs, river rapids, highly-trafficked roads, etc.), wildlife (bears, mountain lions, wolves, coyotes, etc.) and even people and other dogs (you never know how someone might react to an unleashed dog sprinting up to them). Obviously, there are some instances where this is fine, like dog parks, but we ask that you be as responsible as you can and don't take your dog off-leash unless you're absolutely confident it's okay to do so.
Why We Don't Recommend Retractable Leashes
At a glance, retractable leashes seem like a happy medium between giving your dog complete, unadulterated freedom and keeping them close at your side. However, there are far more reasons to consider avoiding them altogether. For starters, the added freedom comes with a behavioral downside: they teach your dog to pull. Second, the extra distance between you and your dog means that, ultimately, you're not really in control of your dog or its actions, potentially putting you both in danger. Third, these leashes can often cause injuries, with the most common including rope burns, whiplash, strangulation, etc. Fourth, there has been an outpouring amongst licensed veterinarians imploring people to avoid retractable leashes for all of the reasons above and more (see examples here and here). Finally (if that's not all reason enough), there have even been cases of recalls because of faulty mechanisms in these types of leashes, which can cause even more injuries to both animal and owner.
More Dog Gear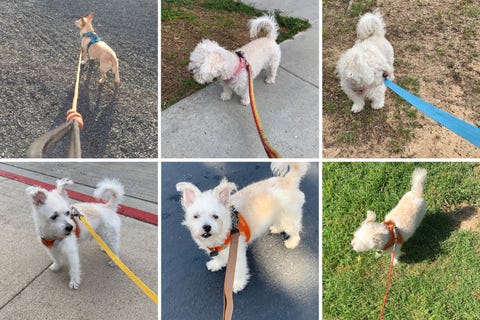 Our testers and their dogs were asked to take our selection of leashes out for weeks, to try them out on daily walks, hikes, travel and various other activities. We also asked that they pay special attention to several factors, including (but not limited to) ease of use, durability, security, versatility and anything else that might help set these leashes stand out from one another, as well as anything that might be concerning to users. After all, we wouldn't want to recommend any leash we wouldn't happily use with our own dogs.
Best All-Around Dog Leash
Carhartt Shock Absorbing Dog Leash
Carhartt is obviously known for its workwear and, more recently, for becoming a clout-bearing name in the streetwear world. But they also make a variety of dog-focused gear, like this outstanding leash. An incredibly superb all-around option, this leash has a rock-solid nylon webbing that's remarkably durable, a heavy-duty clip that's also easy to use, a lower control handle when you need to keep your dog close and it comes with a length in the center that has a little bit of springy give — not enough to let your dog set the pace, but enough to keep you and your pup from getting whiplash. You can even use the additional loop clip for a poop bag dispenser or to tether your dog to something else when you need your hands free (or at the campground). If you're only getting one leash, you can't go wrong here.
Best Upgraded Leash
Ruffwear Roamer Bungee Dog Leash
Ruffwear, if you're not familiar, is one of the absolute best names in dog gear right now — and the Roamer leash exemplifies numerous reasons why this is the case. Along with a comfortable padded handle (which has a durable clip to open the loop for tethering your dog on the fly), it has a control handle closer to the attachment point, a springy length to help prevent injuries and to give your pup a bit more freedom, a super-sturdy and easy-to-use leash clip and more. Unlike the Carhartt, however, this one is also available in two lengths (5.5-7' and 7.3-11') and multiple, handsome colorways. It's also only slightly more expensive than the Carhartt, so the extra investment is hardly a bank-breaker.
Best Budget Leash
PetSafe Nylon Dog Leash
Not everyone needs a spring-loaded, unruly dog-controlling, high-tech leash. Some just want something very basic to get in those daily walks without any fuss. If that sounds like you, go no further than the PetSafe Nylon Dog Leash you see here. It's plenty durable with its nylon webbing construction and metal spring-loaded clip, offers a touch of weatherproofing (nylon is naturally water-resistant), it's available in five lengths and it comes in seven colorways. If you want a no-fuss leash and you don't want to spend a lot, you're just not going to do better than this one.
Best for Training
Mighty Paw Rope Dog Leash
With a thick, durable rope that won't ever tangle, reflective fibers woven into the rope (for low-light usage), a genuine climbing carabiner attachment (which is incredibly durable itself), a comfortable hand loop and integrated water resistance, this leash is absolutely perfect for people trying to train their dogs in the city, on the trails, in the evening or really anywhere else.
Best for Sustainability
Re-WALK Dog Leash
Made by a small, family-owned and -operated brand, the Re-WALK dog leash is, from the top down, one of the best leashes we've ever had the pleasure of using. Along with great durability, convenience (especially for unruly dogs, thanks to the control handle), style and versatility, this leash also benefits from webbing made from 100% recycled plastic bottles. There are a lot of great leashes on the market (and on our list), but this one certainly stands out.
Best Classic Leash
Filson Adjustable Nylon Leash
What this leash lacks in bells and whistles, it makes up with Filson's signature understated styling. Made from durable, hi-vis nylon, this is a no-fuss leash for people who prefer simplicity in their dog gear. Of course, it isn't completely featureless, boasting a quick-release clip (so you can better tether your dog) and a keyring (an ideal spot to attach a bag holder).
Best for Water Dogs
Wilderdog Waterproof Dog Leash
There's nothing particularly radical about this Wilderdog leash. By all accounts, it's quite solid with its durable webbing, metal hardware, comfortable grip and outdoor-inspired styling. But where it really shines is when exposed to water. You see, this leash comes with a rubberized coating that makes water simply bead off of it, keeping it dry and grippy in even the wettest conditions. If you walk your dog near bodies of water or you live somewhere with a lot of rainfall, this could be the leash for you, as it won't absorb water and get bogged down and/or leave a puddle on your floor.
Best for Hiking
Ruffwear Hitch Hiker Leash
On normal walks, you'll want to keep your dog leash in hand. But if you're hitting the trails, you might need your arms free for balance, pacing, bracing and/or even drinking out of your water bottle. This system from Ruffwear allows for that by putting the leash around your waist along with a small fanny pack (for keeping excess leash length in order) and a climbing-inspired rope adjuster to let you quickly, easily and securely give your dog more or less slack (and your dog won't be able to put up a fuss about it). If you have a dog you like taking hiking, especially if you're a trail runner, this is the leash for you.
Best for Small Dogs
Wild One Dog Leash
Especially when paired with Wild One's collection of other matching dog accessories (like its harness, bag dispenser and collar), this leash is one of the most stylish options on our list. It's also tough, waterproof, easy to clean, etc. Our one gripe is that there isn't a control handle or much in the way of padding, making this an option that's probably best suited for well-behaved dogs or dogs that are a bit on the smaller side — since not everyone has a maniac for a pet.
Best for Big Dogs
Atlas Pet Company Lifetime Leash
If you've ever spent a good amount of time around big dogs, you probably already know that larger breeds tend to go through gear a lot faster than small dogs. Even well-behaved big breeds can wreak havoc on less-durable gear, simply because they're so heavy and strong. If you've struggled with this very conundrum, you're going to want to check out the APC Lifetime Leash. As the name suggests, it comes with a lifetime warranty and was built to last just as long. It's made from premium climbing rope that won't break or tangle, has a stainless steel clip and the brand will replace the whole thing even if your dog destroys it. How's that for customer service?
The Best Dog Harnesses for Any Dog
Harnesses are safer and more secure than simple collars, reduce choking and give you, the owner, more control.
This content is created and maintained by a third party, and imported onto this page to help users provide their email addresses. You may be able to find more information about this and similar content at piano.io