Every product is carefully selected by our editors. If you buy from a link, we may earn a commission.
The Best Dog Beds for Every Dog
Give your furry four-legged friend(s) a proper place to rest, just like you would any other family member.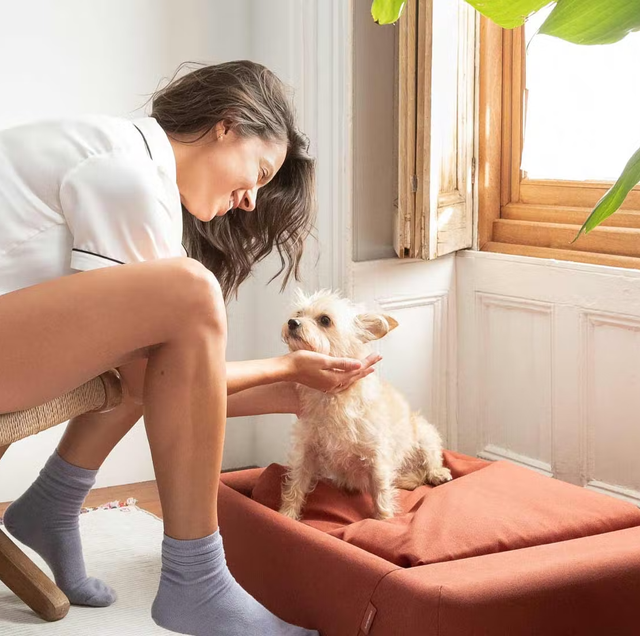 As recently as 2018, statistics showed that over 48 million households in the United States alone included at least one dog — and that number has only risen in the time since. If you count yourself among these numbers, you probably don't need us to tell you that owning a dog can be beneficial to your overall health (mental, physical and emotional), can act as a supplement to your personal and home security (dogs can be, after all, a kind of biological perimeter alarm) and means you get a lifelong companion — at least for the length of your dogs' lives, that is.
But dog ownership is a two-way street. All of those benefits come at the cost of care, kindness and love on your end. That means feeding them right, keeping them fit and giving them some basic creature comforts; they are family, after all. One of the best ways you can take care of your pup is by getting them a proper bed to call their own — yes, more than just a carpeted corner somewhere in the house. But, like people, every dog has different needs. Lucky for you, we've rounded up a collection of the best beds for every dog. Big or small, anxious or fickle, senior or still a puppy, you'll find a sleep solution that's perfect for your K9 right here.
More Dog Gear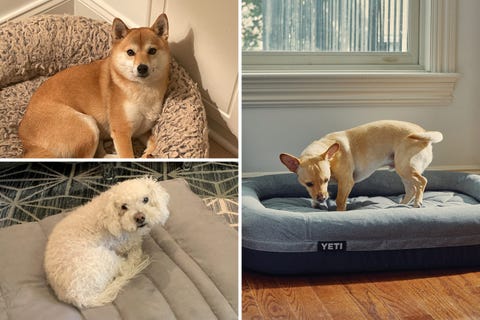 What's the best way to test dog beds? No, we didn't have our testers try and sleep in these beds themselves. But we did have them offer these beds up to their dogs and allowed them to try them out for months and, in some rare cases, entire years. The beds that made the cut here are, largely, the ones our testers' dogs continued to return to, as well as those that stood up to long-term use across a variety of activities ranging from in-home use to travel, camping, etc.
Best Overall Dog Bed
Casper Dog Bed
Made from the same memory foam as Casper's award-winning mattresses, this durable, good-looking dog bed is one of the all-around best on the market. It also comes in three sizes — for dogs from 30 up to 90 pounds, according to the brand — and has a removable, washable cover. All told, this is might end up being the first and last dog bed you buy for your pup.
Best Upgrade Dog Bed
Yeti Dog Bed
Yeti's dog bed, like all of the brand's gear, is brilliant from tip to tail. And while it makes an excellent bed for your home, garage, workshop or wherever else, it was also made with a removable pad that makes it an excellent option for dogs and owners that do a lot of travel. Furthermore, it's easy to clean, the elevated edge is a nice resting place for your pup's head and it offers superb cushioning (nice for dogs that nap a lot).
Best for Affordable Dog Bed
Best Friends by Sheri The Original Calming Donut Dog Bed
With its round shape, thick shag exterior and elevated sides, it's no wonder this bed helps anxious animals feel calm and comforted. If you've got a dog that's prone to nervous habits and can't just chill out, this bed might go a long way to helping them manage the issue. And while you might be worried about the washability of the thick shag, don't be — the small size can just be tossed into the wash, while the whole exterior of the larger sizes is removable and machine washable.
Best Design
Tuft & Needle Dog Bed
With its boxy base and removable pillow (which is perfectly crate-sized for when you need it), Tuft & Needle's aptly-named Dog Bed is perhaps the most beautiful of the options we've come across. It's also available in a trio of sizes and colorways, comes with removable washable covers on both the pad and base and can be purchased alongside a throw blanket (if you want one). For those that find most dog beds to be eyesores, this one is sure to be a breath of fresh air.
Best for Camping
Ruffwear Highlands Dog Sleeping Bag
If you and your dog live particularly adventurous lives, you might want a dog bed that can handle all those big adventures. Enter Ruffwear's Highlands dog sleeping bag, which packs down small for easy transit and expands into a puffy, water-resistant, durable nylon bed. Your dog can lay on top of it on warmer days and nights and crawl inside its insulation (which can be augmented with an additional pad) when the mercury drops. This is also a good option for dogs that prefer to stay outside, even when you're home.
Best for Sustainability
Ruffwear Restcycle Dog Bed
Your dog probably isn't aware of its carbon footprint, but you might be aware of yours. If you are and you want to make sure you're doing your best to offset climate change wherever reasonable, you might want a bed for your dog that's a bit more environmentally friendly, like this one that's made with insulation crafted from repurposed, post-manufacturing closed-cell foam. It's also durable, odor-resistant, cozy, and comfortable — meaning your dog won't have to suffer for the bed's sustainability.
Best for Big Dogs
Big Barker 7-Inch Pillow Top Orthopedic Dog Bed
Most beds come in three sizes: small, medium, and large. And while a small dog can deal with a little extra bed space, XL pups have a much more difficult time with smaller beds. Thankfully, that's what Big Barker specializes in, as you can see from this offering — which comes in large, XL and giant sizes. It also has an elevated headrest for a bit more comfort, comed equipped with a washable microsuede cover and it was made in the USA. If you're drawn to larger breeds like Rottweilers, Great Danes and/or St. Bernards, this might be the bed for you and your dogs.
Best for Customization
Orvis Memory Foam Couch Dog Bed
Made from cushy memory foam and equipped with a hypoallergenic, water-resistant liner that can be removed and washed, this is an outstanding dog bed from a time-tested brand. And while the quality is certainly important, this bed comes with an option not found elsewhere on our list: the bed can be purchased with embroidery — meaning you can put your dog's name on it, should you so desire. With three sizes and six exterior options, you can't really go wrong with this dog bed even if you don't choose to customize it.
Best for Chewers
K9 Ballistics Tough Orthopedic Dog Bed
As anyone even remotely familiar with dogs can tell you, canines can be a rowdy bunch. And some of them never grow out of those puppy habits, like licking, chewing, digging, etc. If you have an unruly dog and you need a bed that can take a beating, you're in luck: this one from K9 Ballistics is meant to be extra-tough and chew-proof (or at least more chew resistant than basically any other dog bed around). It also has the benefit of coming in five sizes for dogs of all statures, four different colors and it has a 120-day warranty — meaning, if your dog damages it at all during that stretch, the brand has you covered.
Best Elevated Option
K9 Ballistics Chew Proof Elevated Dog Bed
Not every dog wants to be close to the ground and engulfed in memory foam. If that sounds like your pup, they might prefer this outdoor- and camping-friendly elevated cot. Made by K9 Ballistics, it's exceptionally durable (courtesy of its aluminum frame and ballistic fabric), still made to fit inside most standard crates, comes with the brand's 120-day warranty and is perhaps the easiest to clean of all the other beds on our list. If your dog is more workhorse than lap-sitter, this might be your best option.
Best for Old Dogs
Purple Pet Bed
There are two major things working in this bed's favor when it comes to catering to older dogs. For starters, it is relatively low to the ground and doesn't have any elevated sides, meaning all they have to do to lie down is simply plop onto it. Second, this bed is made with Purple's signature foam grid that gives support while still remaining plush, which is great for easing the pain in their old joints. It's also antimicrobial, odor-resistant and super easy to clean — all great bonuses.
These Harnesses and Dog Beds for Cars Keep Your Pup Safe When on the Move
Taking Fido on an automobile adventure? Make sure your dog stays secure with a harness or bed that is actually made for your car.
This content is created and maintained by a third party, and imported onto this page to help users provide their email addresses. You may be able to find more information about this and similar content at piano.io