Every product is carefully selected by our editors. If you buy from a link, we may earn a commission.
The Best Camping Showers of 2023
Keeping clean in the wild has never been so easy, or effective thanks to these compact and portable systems.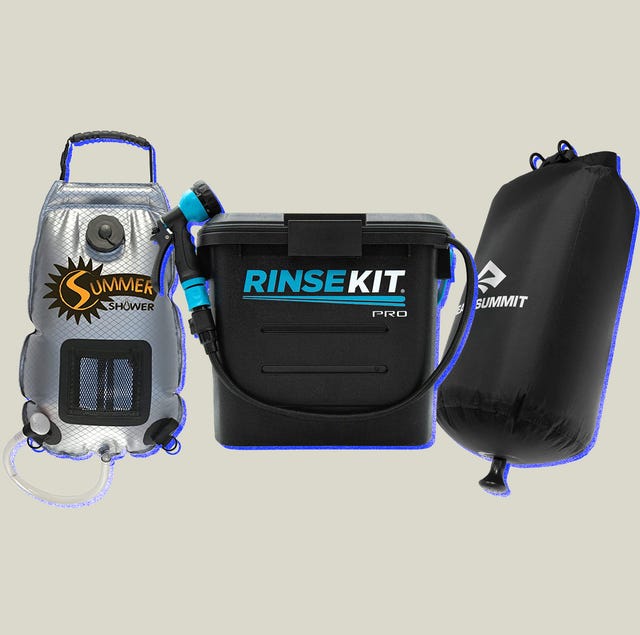 There are two types of campers: those that want to shower in the outdoors, and those that don't. Like all generalizations, there are of course exceptions to this rule, but from our experience, you're either completely fine with being a dirtbag and can get by with a smoke shower, or you require a setup that allows for washing the day's grime away.
Lucky for you clean freaks, the variety in camp showers has exploded in recent years; we've got everything from little pocket showers to full-on shelters that make camping feel like a spa experience. It can be difficult to choose which will be right for you, unless you've had hands-on experience with a few types, but we put this guide together with the hope that through our research and testing, you'll be able to find what works for you.
How Do Camp Showers Work?
There are a few different types of camping showers, ranging from mounted, pressurized options for your rig all the way to pocket-sized pouches meant for the simplest suddsing-up.
As you're shopping for camp showers, you can expect to find three main types: the pocket/ bag shower, shower system and shower tents. Pocket showers are lightweight bags that use gravity to do the work of maintaining a steady stream of water to wash off in. Most pocket/ bag showers are made from the material used for dry bags — usually nylon, which has the optimal weight to durability ratio, finished with taped seams. Fill the bag with water and hang it from a tree branch, car or any fixture that's high enough to stand under while supporting the weight of the water. Most pocket showers have a built-in shower head, which controls the flow of water.
Shower systems are a little more high-tech but come with extra weight. These types of showers are ideal for car camping or for long days near the water — they're too bulky for backpacking or minimal campers but ideal for those with a little extra space. Shower systems use multiple power methods to deliver a warm shower, including solar, battery and propane-powered.
For those that prioritize privacy, shower tents are the best option — most are made with waterproof, durable materials like nylon or polyester and are powered by propane or solar energy. Shower tents take the longest to set up, depending on size and design, but if you plan on camping long-term in one place, it can feel like a luxury to have a designated shower area at camp.